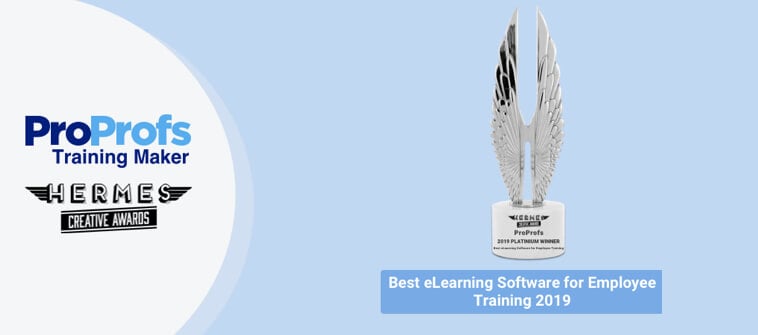 ProProfs makes headlines yet again with the prestigious 'Best eLearning Software for Employee Training 2019' award. Our flagship product Training Maker won the coveted recognition in the Platinum category under Electronic Media/Social Media/Interactive Media/Web Element/E-Learning at the Hermes Creative Awards, 2019. The outstanding achievement was preceded by a neck-and-neck contest between thousands of strong contenders.
Hermes Creative Awards is administered by the Association of Marketing and Communication Professionals (AMCP), which is an international organization made up of creative professionals.
AMCP is one of the oldest evaluators of creative work that oversees rewards & recognition programs and provides judges.
The award is particularly special for the ProProfs team not only because it is one of the largest competitions in the world but also due to the fact that big media conglomerates and Fortune 500 companies have been the proud recipients of several awards from the same body.
Hermes took into consideration some of the compelling features of the product such as clean interface, user-friendliness, mobile-readiness, real-time tracking, centralized online classroom, and reporting & instant feedback in bestowing the award.
As a leading cloud-based SaaS company, ProProfs hosts more than 1,000,000 pages of online content in 70+ languages. Its product line includes eLearning authoring tool, Quiz Maker, Knowledge Base, and Live Chat. The company's tools are used for corporate training and online education programs.
ProProfs firmly believes in delivering a delightful experience to its customers through its suite of web-based software applications.