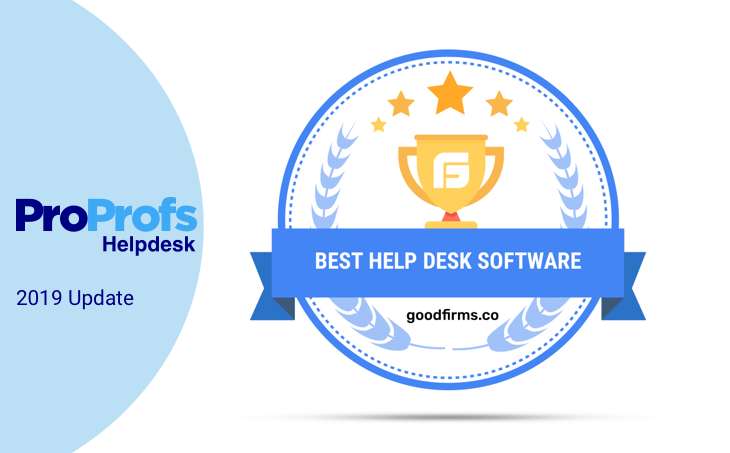 ProProfs has emerged as one of the best help desk software tools among the various tools enlisted by GoodFirms. ProProfs Help Desk stands tall among the GoodFirms' ranking with these splendid features and aims to make an enormous difference in your way of tackling customers.
GoodFirms has thoroughly assessed ProProfs Help Desk and appreciated the niche that the company has created for itself in the Help Desk category. Based on the vision that knowledge should be freely available to people from all walks of life, ProProfs empowers users with a valuable platform to apply knowledge, and help them increase productivity, efficiency, and profitability of their respective businesses.
About ProProfs
ProProfs is an international SaaS-based services company with offices in Santa Monica, California, and Delhi-NCR, India. The company has been catering clients in different geographies with innovative, smart, and service-oriented software. The diversity at the company enables the team to come up with a unique perspective on every problem and the ability to be available to their clients in every time zone.
Backed by the side of experts, the company has served millions of users each month with excellent products. The company claims to have more than a million pages hosted in 70+ languages. It has been expanding its global footprint. Fortune 500 companies such as Sony, Accenture, Acer, Cisco and Dell, along with users from leading educational institutes like Phoenix, Harvard & Yale have highly benefited from ProProfs smart tools.
What Makes ProProfs Help Desk Unique?
The parent-child ticketing feature makes ProProfs Help Desk unique and different from similar products offered by the competitors.
The Help Desk software benefits businesses in these ways:
Enables teams to collaborate with a shared inbox

Reduce trouble tickets by up to 80%

Resolve tickets instantly via chat

Improve service deliverables with reports & analytics
Check out the product profile in detail at GoodFirms.
The points mentioned above can be better understood as –
As you use ProProfs Help Desk, you can effortlessly manage all customer-facing inboxes ([email protected], [email protected], [email protected], [email protected], and [email protected]). The operators thus never miss on a customer request and delight customers by sending them faster responses. The best part is that all customer requests are stored on a single dashboard.

ProProfs Help Desk software comes integrated with a knowledge base and this enables you to reduce trouble tickets by up to 80%; keeping support costs low. Create your own help center, tooltips, documentation, guides and manuals with this knowledge base.

A quick acknowledgment leads to overwhelmed customers and the chat solution offered by ProProfs places prompt support right on the client's website. Chat operators can quickly respond to the questions, right from their desk or mobile app, ensuring all client requirements are met.

Real-time customer surveys make it easy for patrons to rate their service experience instantly. Operators are trained according to customer feedback and improvements are made in service deliverables.
Powered by these exclusive features, ProProfs emerges as one of the best help desk software among the enlisted ones at GoodFirms. Review below shows how this help desk software has been doing wonders for customer support for various companies.

Pricing
ProProfs Help Desk pricing plans vary as per your business type and needs. If you are a startup, who is looking forward to get started with a help desk ticketing system, you may sign up for free and enjoy 15-day trial without paying a dollar. It's 'business plan' is the most popular among the various team, business, and enterprise plans. You may opt for annual plans as they attract a discount of $10.