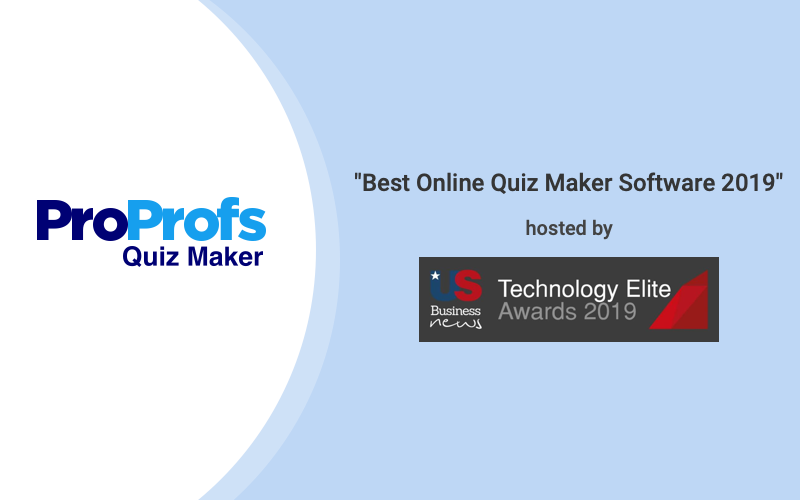 We take immense pleasure in announcing that ProProfs has once again proved its mettle by winning the best online quiz maker software award at the U.S. Business Technology Elite Awards 2019 hosted by the U.S. Business News.
ProProfs received this honorary recognition by the U.S. Business News by outdoing many other leading quiz software.
U.S. Business News announced the award for the best online quiz maker software on October 15, 2019.
The selection was based on a number of criteria, including the ease of creating an online quiz, the ability to deliver instant results, seamless integration with other tools, pricing, and more.
U.S. Business News is the leading magazine for the dealmakers, game changers, and decision-makers in the U.S. business market, with a subscription list of over 175,000 business and professional service providers, including CEOs, partners, managers, business owners, presidents, directors, litigators, and mediators.
The U.S. Business Technology Awards acknowledge distinguished professionals who are on the cutting edge and lead by examples in their industry.
The Technology Elite Awards recognize the efforts of the pioneers and disruptors of modern technology, as well as those who have exhibited excellence and a long-term dedication to the development and advancement in technology.
The Awards welcome contenders from emerging fields including artificial intelligence, IoT and cleantech in sectors such as agriculture, engineering, transport, energy, telecommunications, and healthcare.
Commenting on ProProfs Quiz Maker, U.S. Business News reported, "ProProfs Quiz Maker is the world's simplest quiz maker software that lets you create online quizzes and assessments, configure security and tons of settings, and get AI-powered reports. It's the smartest quiz authoring tool that allows the creation, sharing, and selling of quizzes online."
As the world's most trusted free quiz authoring software, the Quiz Maker is preferred by educators, trainers, educational institutions, and businesses alike. It is noted for its user-friendliness in creating scored quizzes, public quizzes, personality quizzes, opinion surveys, polls, online tests, assessments, educational exams, and more.
At ProProfs, we are committed to delivering a delightful experience to our customers through a suite of simple yet powerful software applications.