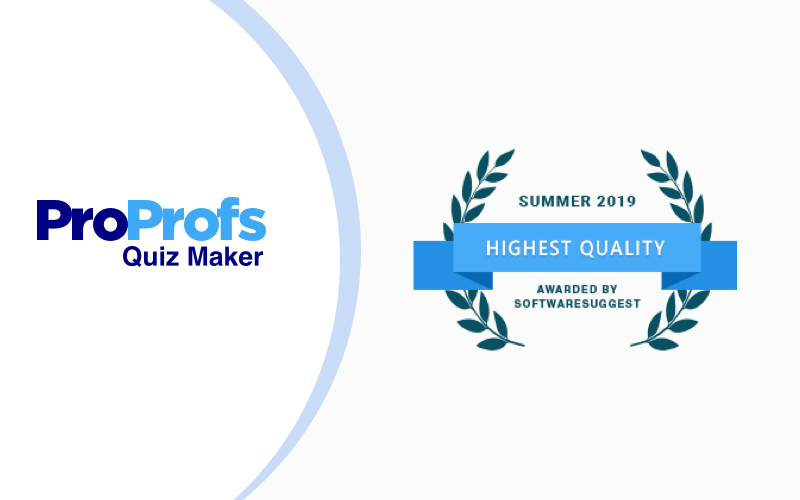 Time and again, ProProfs Quiz Maker proven its mettle as the best online quiz maker software by bagging several awards & recognitions all over the world.
And once again, it has proven its worth by becoming the Highest Quality Software Award Summer 2019 in the Online Assessment Software category.
ProProfs Quiz Maker was awarded this honorary recognition by SoftwareSuggest.
To win the award, ProProfs outshone several other software in categories like- pricing, features, and specifications.
SoftwareSuggest is an online platform for Business Software discovery which simplifies the process by Listing, Reviewing and Comparing Business Software. In the process, it also helps software vendors discover and connect with verified prospects.
The SoftwareSuggest Award is an esteemed representation of the trust placed upon a particular Software product by thousands of users, who give genuine reviews, about what and how they felt while using a product and the unique feature a product provides when compared to its competitors.
SoftwareSuggest has awards for a number of categories including, but not limited to: Customer's Choice, Expert Choice, Excellent User Experience, Budget-Friendly, Rising Star, and more
As the world's most trusted, free quiz authoring software, the Quiz Maker is preferred by educators, trainers, educational institutions, and businesses alike. It is noted for its user-friendliness in creating scored quizzes, public quizzes, personality quizzes, opinion surveys, polls, online tests, assessments, educational exams, and more.
About ProProfs
ProProfs is a cloud-based SaaS company headquartered in Santa Monica, California. ProProfs hosts more than 1,000,000 pages of content in 70+ languages and is a leading platform for online training and assessment with the world's largest library of professional tests & quizzes. ProProfs products include Quiz, Survey, Online Training, Knowledge Base, Live Chat, Project Management, and more. ProProfs empowers users to work better, get smarter employees, and create happier customers. Visit our website.