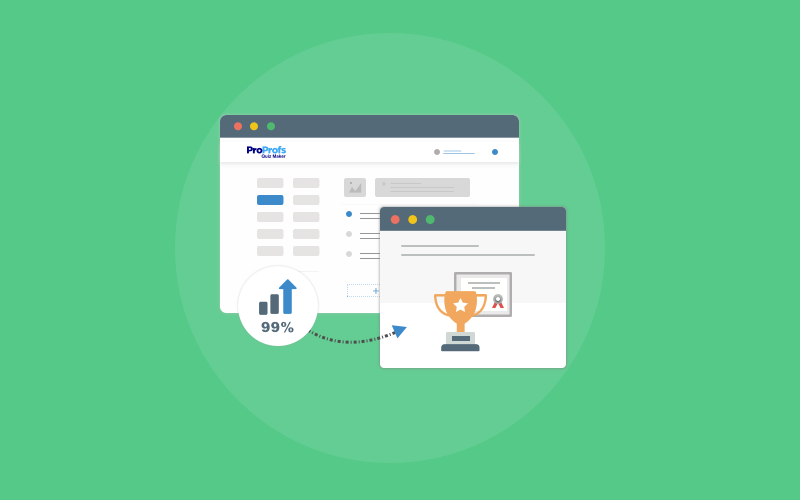 The ProProfs team is proud to announce that our quiz maker tool received a stellar rating and got certified by CompareCamp as a neatly designed, user-friendly tool.
CompareCamp, one of the leading platforms for SaaS reviews, awarded ProProfs Quiz Maker a 9.6 overall product quality score, outshining most of the competitors. This is a significant achievement that indicates the quality of our product in creating fun and engaging online tests, surveys, and polls within a safe and secure environment.
Using their SmartScore system, CompareCamp's experts analyzed all aspects of ProProfs Quiz Maker to deliver an objective review. ProProfs Quiz Maker also fared a decent 94 percent when analyzed on leading parameters such as customization, integration, ease of use and mobility.
What sets ProProfs Quiz Maker from its competition includes comprehensive analytics for pertinent information, test evaluation to identify incomprehensible quiz questions, and consistent software updates. Moreover, the round the clock support team leaves no stone unturned in onboarding new customers and answering their questions on time.
Due to their experts' positive reception, CompareCamp distinguished ProProfs Quiz Maker with the Great User Experience award for 2018. This is an important recognition for our team, as we highly value accessibility in order for various institutions, businesses, and schools to easily create dynamic quizzes and quickly analyze test results.
ProProfs Quiz Maker also received the Rising Star award, indicating that our software has become immensely popular among users, thanks to the ease of operation and a clean, clutter-free interface.
We are highly thankful to CompareCamp for the recognition that would continue fueling our efforts to make ProProfs Quiz Maker a world-class quiz platform.