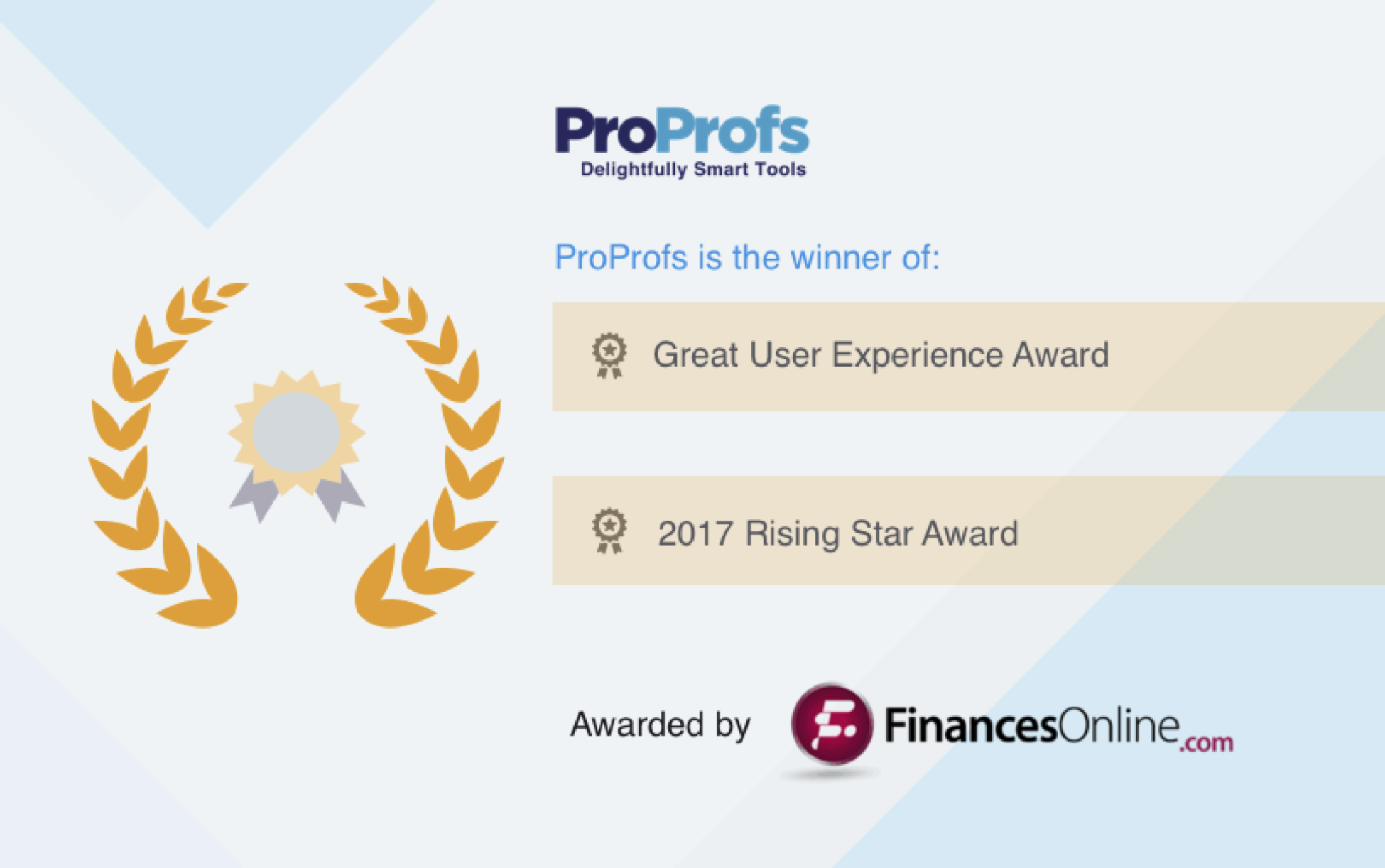 ProProfs Survey Maker continues to delight customers worldwide, bagging two awards in the best survey software category of Finances Online, a trusted B2B products and services review directory. Getting conferred with two distinct badges, namely Rising Star and Great User Experience award for 2017, ProProfs Survey Maker stands out when it comes to creating highly engaging surveys. Apart from scoring an impressive 8.4/10 in the overall user review, ProProfs Survey Maker was also recommended in its what is survey software guide.
Highly recommended for online trainers to corporate managers, ProProfs Survey Maker has everything you need to get the most out of your market research and feedback initiatives. No wonder conducting surveys with ProProfs Survey Maker is a breeze and it also allows you to enhance appeal with dazzling multimedia, logos and call-to-action buttons.
With over 50,000+ surveys created so far, ProProfs Survey Maker is helping educators, instructors, online marketers, and organizations to create highly effective surveys in minutes. Our teams are dedicated to continue the winning streak forward with features such as a drag and drop menu and an option to gain insights into respondent's choices.
We are highly thankful to FinancesOnline for featuring us on the top-10 list of survey systems and the honor and recognition that would continue fueling our efforts to make ProProfs Survey Maker the default choice for our customers.
Try ProProfs Survey Maker today to learn about users' opinions and feedback in detail, so that you can action on the required improvement areas.
The Great User Experience recognition is given to software solutions that offer an especially good user experience through well-designed functionalities and an intuitive interface. Meanwhile, the Rising Star distinction is bestowed to software solutions that noticeably rose in popularity due to positive reception from clients.