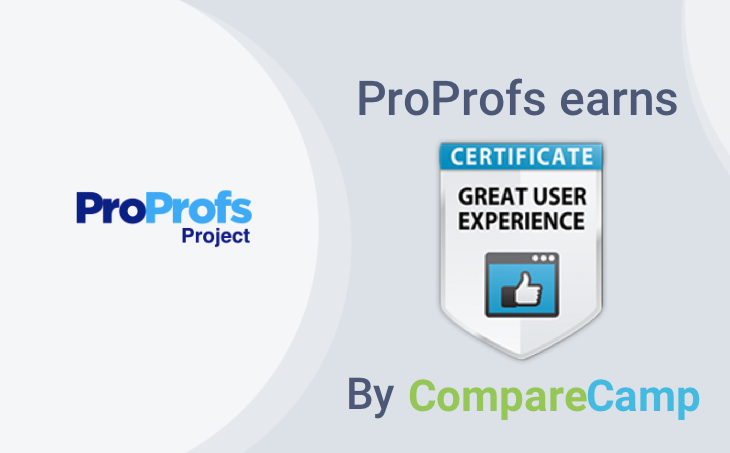 ProProfs has once again proved its worth amidst the crowded competition in the project management software space. Securing the prestigious Great User Experience award for 2018 from CompareCamp, ProProfs Project earned a total score of 83 out of 100 based on the expert opinion of the review platform.
The team behind the ProProfs Project review stated that our software "is an efficient tool for meeting deadlines and driving the productivity of your team," making it ideal for result-driven businesses.
Their experts were also impressed with the software's capability to provide businesses with full control over their projects and ensure all activities are well-optimized. CompareCamp also found our software highly accessible for all types of users, stating:
"this simple project management solution is designed to help you organize your projects and manage your teams more efficiently. Its intuitive interface is easy to learn and understand so your team can quickly start using it."
Because ProProfs Project provides an unmatched balance of usability and powerful functionalities for enabling businesses to better organize their teams and meet crucial deadlines, CompareCamp found us deserving to win their Great User Experience award. This recognition indicates that the PM tool continues to be the gold standard for quality user experience.
CompareCamp also recognized ProProfs Project as a Rising Star for 2019, which is given to customer-approved products that are reliable for all types of businesses.
Visit CompareCamp for the full review and try ProProfs Project today!