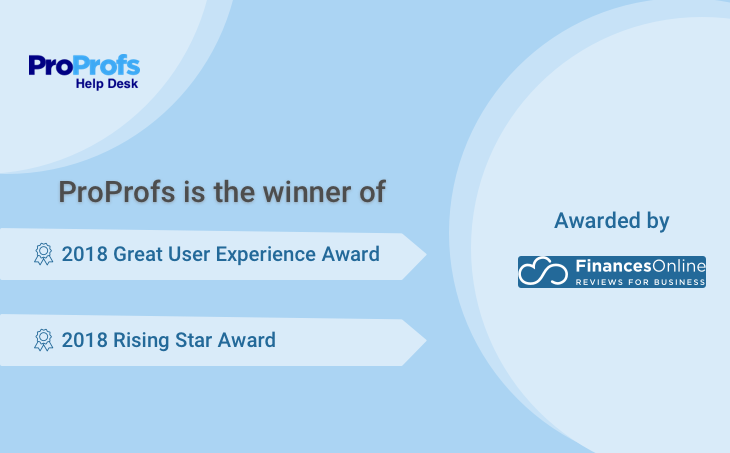 ProProfs Help Desk has recently received a glowing recommendation from FinancesOnline, a reputable review platform for B2B and SaaS solutions.
Business software experts at FinancesOnline assist businesses in selecting the best IT solutions for their needs through detailed reviews, comparisons, and guides.
After conducting a comprehensive analysis of all ProProfs Help Desk features, FinancesOnline came to the conclusion that our customer help desk ticketing system benefits support teams in multifarious ways. Benefits include simplified inbox management, timely responses, fast ticket resolution, and seamless collaboration.
According to FinancesOnline review experts, such benefits deliver "immense customer satisfaction" and the best experience for everyone.
Scoring a high 8.5 rating, FinancesOnline highlighted a few functionalities due to which the ProProfs Help Desk stands out from other solutions in the market.
These include:
Ticketing

– ProProfs Help Desk automates ticket creation, resulting in less time wasted on manual entering of details.
Inbox – Shared inbox brings great transparency on all customer issues and requests. All customer interactions and the current ticket status are also visible to everyone on the team. This way agents can determine how to efficiently resolve all customer tickets.
Reporting

– Managers can track the performance of agents and teams. Tracking performance helps them to determine how to improve overall productivity and efficiency.
ProProfs also made a mark in FinancesOnline's help desk ticketing system comparison list. After FinancesOnline's thorough analysis, their business experts conferred ProProfs Help Desk with accolades of the "2018 Great User Experience" and "2018 Rising Star".
We have received the "Great User Experience" award, as we are a well-designed business solution; delivering an exceptional user experience.
Meanwhile, the Rising Star award is given in recognition of a software's great traction with customers. Scoring a 100% user satisfaction rating in the review site's help desk software research, ProProfs has established itself as a simple yet effective help desk and customer service software. Customer support teams can rely on us to delight customers.
We appreciate customer feedback and would like to further improve our library of software solutions. We encourage you to visit FinancesOnline and share your thoughts about ProProfs Help Desk.