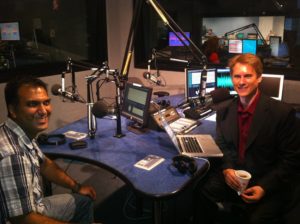 ProProfs CEO Sameer Bhatia was invited by Ken Rutkowski of Business Rockstars, a weekly talk show on KWFB, Talk 980 about start-ups & entrepreneurship. They discussed e-learning and how ProProfs helps companies as well as educational institutions to build and test knowledge.
We are like the YouTube of quizzes.
– Sameer Bhatia
Starting with the role of ProProfs in e-learning, Ken and Sameer go on to discuss how ProProfs is used by teachers for creating online tests and corporate trainers for creating training programs.
Ken Rutkowski: Tell me about e-learning and what's ProProfs doing in e-learning?
Sameer Bhatia: Sure. We provide web-based tools for building and testing knowledge.
Ken: Testing knowledge? Explain that one to me.
Sameer: Our flagship product helps people make online quizzes and courses. So the testing knowledge part is our Quiz Maker. Our quiz engine is really popular. We do millions views a month of just people testing all kinds of different skills. ProProfs is used by teachers looking to create online exams for their students as well as companies looking to create interviews or employee tests.
Ken: Since we are not just talking about school education but corporate training as well. Does you product prevent cheating in online tests as well?
Sameer: Absolutely, we have a whole bunch of controls to prevent cheating in online tests. For example you can uses question banks, reorder questions, shuffle answers or even schedule online tests. The test itself can be timed so that learners don't have enough time to go out and cheat.

Ken: Is it working for you? Is it something you're really proud of?
Sameer: It's a business that we are very proud of and we are growing at an amazing rate. We do over a million views a day, right now.
Ken: It's amazing that number! You must have massive server overloads?
Sameer: Yes, we are like the YouTube of quizzes.
Ken: So how do you grow this? How do you take it to another next level?
Sameer: There are a number of different things. We are adding on many customer acquisition channels and are going into mobile in a big way. There are also a lot of related applications and products that we are developing. For example when you are testing somebody, it's likely to happen before and after teaching in an educational setup or before and after training in a corporate set up. So, we recently added an online training software, which follows the same principles of building and testing knowledge but in the area of training and teaching by creating online courses. Secondly, after you create a course or an online test you need to gather feedback from your learners. So we added a new product – Survey Software, which allows you to gather valuable course evaluation feedback.