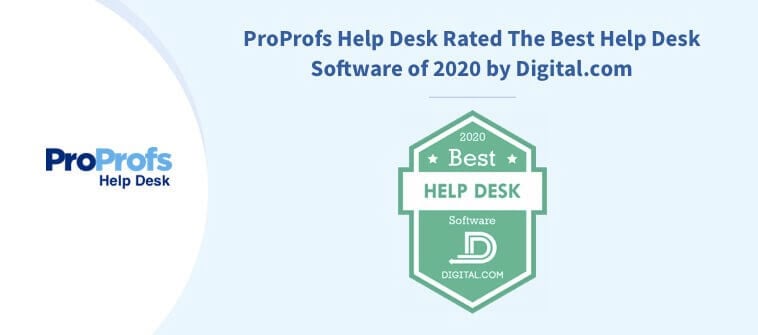 Right from its launch in 2017, the ProProfs Help Desk has proved its mettle as a reliable business software that has empowered organizations to achieve 'customer service epitome'. One of the most popular online review platforms- Digital.com has recognized the ProProfs Help Desk as The Best Help Desk Software of 2020.
Digital.com claims that it arrived at the results after over 40 hours of research on 70+ help desk software companies from across the globe. The platform applies sentiment analysis to every review of online business tools, products, and services.
We would like to extend our sincere gratitude to the team at Digital.com for this wonderful recognition. This feat has encouraged us to work even harder and go the extra mile for our beloved clients and their valuable customers.
ProProfs Help Desk has garnered attention from industry leaders due to its state-of-the-art features backed by awesome human support. This robust tool has features like Shared Inboxes, Insightful Reports, Ticket Management, External Integrations, etc. that come at an unbelievable pricing plan.
ProProfs offers a wide range of delightfully smart tools- including the ProProfs Quiz Maker, Training Maker, Knowledge Base, Live Chat, Survey Maker, and many others. In our quest to build a 100-year company, our teams are working day in and day out to help your business connect better with your customers and employees.

As an ever-evolving SaaS company, we are living up to our promise of fostering delightful customer relationships. Are you?