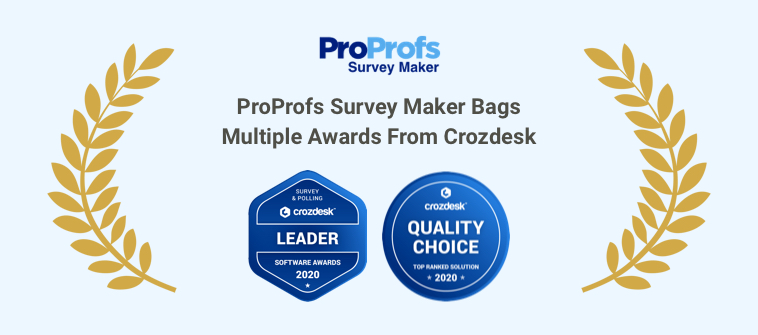 As a company, ProProfs has always strived for customer delight instead of customer satisfaction. In recognition of the efforts towards delighting its customers, ProProfs Survey Maker has been awarded as the leader in Survey and Polling and the Quality Choice badge by Crozdesk.
A leading aggregator of online services, Crozdesk compiles, and rates SaaS-based tools with algorithms' help. They boast a stunning library of online tools and solutions across 250 different categories.
ProProfs Survey Maker is a leading online survey tool that helps organizations gather feedback from their user base. Users have access to over 100+ ready-made survey templates for customer/client/employee feedback in the form of NPS surveys, polls, pop-ups, sidebar forms, or in-app surveys. These surveys can be customized as per the user's needs. It can also be used to create quizzes, tests, and assessments for training courses.
The parent company ProProfs is a leading provider of SaaS-based tools. It's products include Live Chat, Knowledge Base, Help Desk etc, among others. The company has a global presence with its offices in The USA and India. ProProfs' customer solutions are used by customers in over 150 countries.
We would like to thank Crozdesk for recognizing our efforts and recognizing ProProfs Survey Maker as a leader in survey and polling. We would also like to thank them for picking us as a Quality Choice in their annual awards.