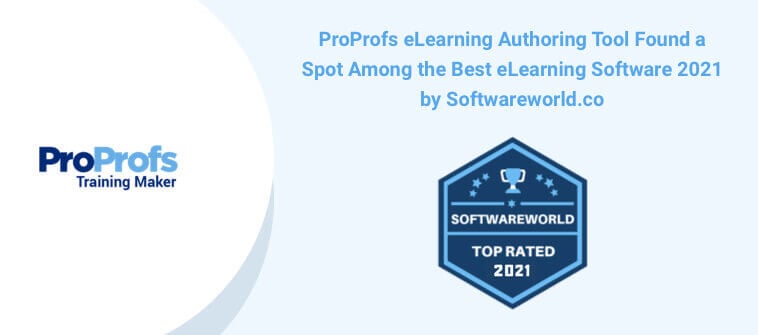 ProProfs Training Maker was featured among the 10 best eLearning software solutions for 2021. The list of the top-rated tools was published by SoftwareWorld.
The fact that it came from a leading software review & rating platform adds joy as it will enhance the product visibility and add more credibility to the solution. The list highlights the features, benefits, and pricing of the authoring tool.
SoftwareWorld makes it easy for software buyers to find and compare the best options on the market at any time. Among other factors, it bases the compilation on unbiased research and user reviews and ratings.
ProProfs eLearning authoring tool is a simple and easy solution that makes course creation a breeze. You can use it for both educational and corporate training programs. While users can leverage ProProfs' premium content library of 100+ customizable and ready-to-use courses, they can also create courses and tests from scratch by importing existing material.
The tool enables users to create, design, share, and track online courses with anyone, anywhere. It comes integrated with a learning management system (LMS) and offers a feature for extracting insightful reports & analytics.
ProProfs is an award-winning and a leading provider of SaaS. Its mission is to help people build smarter employees and happier customers. For this, it provides a suite of software tools, empowering users to plan and implement streamlined learning & development programs easily.
Apart from the authoring tool, ProProfs' product line includes Training Maker, Quiz Maker, Chat, Knowledge Base, Help Desk, Collaborate, Project, Qualaroo, BIGContacts, and Picreel.
The company is driven by its goal of offering delightful customer experiences through solutions that are easy to understand and use.