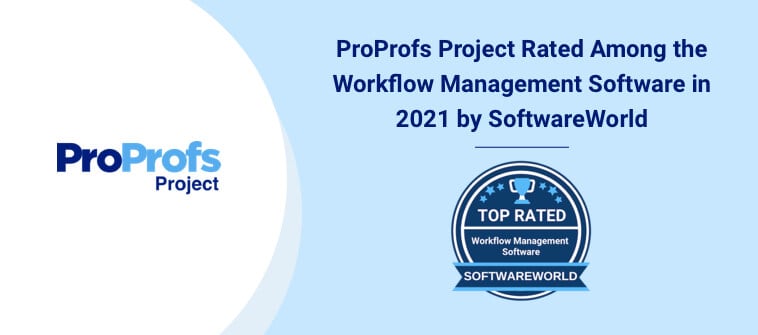 Over the years, ProProfs Project has been the most preferred workflow management software for project managers and teams alike. SoftwareWorld, a leading software review and rating website has ranked ProProfs in its Top Workflow Management Software list
SoftwareWorld showcases best-reviewed and top-rated products comprehensively so that businesses can discover the best tool that suits their business goals and functionality. The platform helps businesses pick the most effective software for smooth and error-free operations.
We are proud to be recognized by SoftwareWorld as one of the best tools for workflow management in 2021.
Our SaaS products like Training Maker, Quiz Maker, Chat, Knowledge Base, Help Desk, Collaborate, Project, Qualaroo, BIGContacts, and Picreel. host pages in over 90 languages and in over 50 countries. The tools are simple to use and offer powerful features while needing no downloading and prior experience.
ProProfs is a feature-rich workflow management software that boasts exceptional features along with an intuitive user interface. Effortlessly set due dates, track projects, and prioritize tasks on its dynamic dashboard. Access Gantt charts, get real-time updates, generate automated invoicing, extract insightful reports, and share files on the go. You can sign up today and check out if the software suits your business requirements. The tool has a 15-day free trial.