PROPROFS.COM LAUNCHES POWERFUL NEW QUIZ MAKER FEATURES ENABLING USERS TO QUICKLY AND EASILY CREATE QUIZZES AND TRACK PERFORMANCE
Largest free library of public quizzes and assessments on the Web now features more than 3 million sample questions and 300,000 complete quiz templates
SANTA MONICA, Calif. – April 24, 2012 – ProProfs.com, the leading provider of comprehensive online tools for building, testing and applying knowledge, today announced a new set of powerful features for its popular Quiz Maker product. ProProfs Quiz Maker will enable users to quickly and easily create quizzes with more than 3 million free sample questions and 300,000 quiz templates to choose from. Quiz Maker will also offer a robust set of reporting features which will allow users to track quiz performance in a number of different ways. In addition, a new grouping feature will allow users to create and track quizzes for separate groups of quiz-takers and host those quizzes in dedicated environments.
"The biggest challenge in creating quizzes, whether for corporate training or education, is thinking of the questions," said Sameer Bhatia, founder and CEO of ProProfs.com. "Our free database of question examples helps users create the best quizzes possible for their individual needs. Coupled with the intelligent algorithms in our statistics dashboard, Quiz Maker empowers instructors and teachers with simple, yet powerful tools that reveal knowledge gaps, helping them create more efficient and productive learning environments."
The new Quiz Maker features are focused on giving users a powerfully-simple, comprehensive tool set that helps them not only gather and manage quiz data, but also apply that knowledge, empowering them with valuable insight about their quiz-takers. With a wide variety of full quiz templates and individual quiz questions to choose from, users can easily create quizzes to meet their individual needs, whether they're an HR manager, instructor, marketer or educator.
Specific features include:
Quiz templates make it easy to create quizzes by customizing pre-made quizzes
"Suggest me questions" feature lets you add your own questions or choose questions at the click of a button from more than 3 million ready-made questions
Powerful statistics dashboard reveals the difficulty level for each question and knowledge gaps
Powerful reporting dashboard generates reports by quiz-taker, individual question, quiz and group or by custom meta data
View quiz data by average time spent per question, percentage of correct/incorrect answers, and more
Create and track quizzes for separate classes or groups and view historical data for each
Instant and automatic grading and marking tools make the grading process quicker and easier
Robust security & privacy options such as access controls and password protection for a safe and secure learning environment
With Quiz Maker, ProProfs is offering the same powerful features that come with enterprise solutions for a fraction of the cost, without requiring users to download or learn expensive software. Users can create public quizzes for free, or pay a low monthly fee for additional privacy and reporting features which range from $4.00 – $10.00 for educators and $20.00 – $70.00 for enterprise businesses. And since ProProfs supports multiple platforms and browsers, quizzes can be accessed from multiple devices, facilitating anytime, anywhere learning.
For more information about Quiz Maker and these new features, visit www.proprofs.com/quiz-school/
About ProProfs.com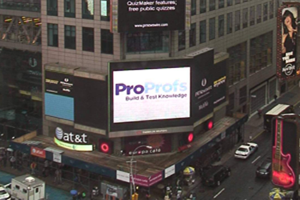 ProProfs is the leading provider of comprehensive online tools for building, testing and applying knowledge. Through its Quiz Maker, Survey Maker and Training Maker products,ProProfs offers trainers, marketers and educators powerfully-simple features without requiring users to download or learn expensive software. With the largest library of public quizzes and assessment tools on the Web, as well as a powerful tracking and measurement dashboard, ProProfs empowers users with a valuable feedback engine to apply knowledge, helping them increase productivity, efficiency and profitability. ProProfs is a privately-held company based in Santa Monica, Calif.