Purchasing a suitable quiz software service for your organization can be challenging. In a competitive economy, you can give your organization an added edge and benefit from the many advantages offered by ProProfs Quiz Maker.
ProProfs Quiz Maker is comprehensive, easy-to-use and affordable and allows users to increase productivity, efficiency and profitability. Outlined below are the top 10 reasons to choose ProProfs Quiz Maker:
1. World's Largest Library of Pre-Written Questions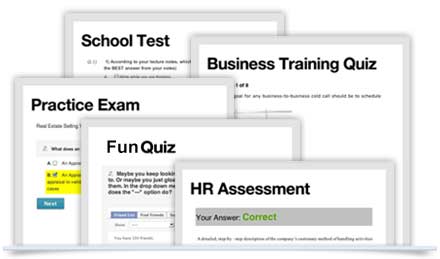 Having trouble thinking of questions for your next quiz? ProProfs is the world's only quiz maker to offer you question suggestions on ANY topic that you can add to your quiz with the click of a button. Simply click "Suggest Me Questions" button while creating a quiz and get instant questions on whatever is the topic of the quiz that you are creating. With more than 3 million quiz questions and 300,000+ ready-made quizzes, ProProfs offers the largest library of public quizzes on the Web. More than 1 million registered users are actively engaged in contributing to the ProProfs community library of questions. This provides you access to the world's largest library of pre-made questions that you can add to any quiz. With a wide variety of templates to choose from, users can easily create quizzes to meet their individual needs.
2. World Class Service & Support
Tired of navigating your way through the Web-site to find what you need? ProProfs provides excellent service and support that includes the following:
• Phone support: 8AM-4PM EDT
• Email support: 24/ 7 through global support team
• All plans include free updates, bug fixes & unlimited support
• Self-help resources such as video tutorials, example, product guides & knowledgebase
3. Backups & Data Security to Ensure Your Data Is Safe
At ProProfs, local and remote backups are performed daily so you have the peace of mind that your quiz information will not be lost due to hardware failures or any other reason.
• Daily local backup
• Daily remote backup
• ProProfs uses state-of-the-art computer servers, hosted at a secure location that maintains multiple power feeds, fiber links, dedicated generators, and battery backup
• Our product software and infrastructure is updated regularly with the latest security patches
• Our network is protected by an enterprise-class firewall
• All plans include remote data back ups to keep your data safe – at no additional cost
• ProProfs Quiz Maker also provides users with various security options at a quiz level that ensure only authorized users get access such as password protection, SSL encryption, individual student/trainee accounts and quiz expiry dates.
View our system performance (uptime & response time): Trust ProProfs
4. Data Portability Policy Ensures You Do Not Feel Locked In
As your organization grows and changes, the information stored in your quiz service may also change or may need to be exported to other systems such as learning management system, CRM, HRIS etc.
Download or print your quiz any time
Permanently delete your quiz at any time
Download the quiz results / score data to CSV/ Excel
API to insert quiz results into your database real time
5. World's Largest Quiz Maker with Millions of Quiz Takers
With a large community & over a million views per day on ProProfs.com, all our products are designed to scale for a large project. As your company grows you will want assurance that the service you purchase will be able to accommodate that growth. If your company grows very quickly or if a certain quiz becomes very popular, ProProfs has the infrastructure and bandwidth to adjust to heavy use.
ProProfs is used by many Fortune 500 companies and large universities to create online tests.
Powers millions of quiz takers across hundreds of thousands of quizzes routinely .
Global speed & performance monitoring from London, multiple locations in USA, Australia and more.
Multiple servers and extensive infrastructure designed for scalability.
No additional charge for large number of users. ProProfs is designed to scale!
As your organization grows and you require more users, ProProfs Quiz Maker grows with you, requiring no additional hardware, software, or bandwidth in order to deliver additional quizzes to more users.
6. Integrates Seamlessly With Your Website to Offer Excellent User Experience

By embedding a ProProfs quiz in your website, visitors will be drawn into participation
Quizzes can be run on your website under your domain & branding
Single Sign On API allowing potential quiz takers to be automatically identified by the quiz after they have logged in to your website
An optional clean hosted page with just your quiz on it. Add your logo if desired
Quiz takers can participate in a quiz or survey directly on your website, without ever knowing that ProProfs was the service that provided the quiz
7. FREE Seamless Updates and New Features
Since browsers and technology continually change, keeping up with changes is essential. At ProProfs we have updates and new releases routinely to ensure you get product that keeps up with the pace of change.
All plans come with updates included
All updates and upgrades are done seamlessly by our team – without any disruption to you.
You need no patches to install or run, leaving you with more time for your work
Bug fixes are done typically within 24 hours of being reported
Small weekly updates are rolled out in such a way that makes them manageable for end users and easy to adjust to in smaller chunks. These small revisions are welcoming, timely and generally requested directly by our users.
You do not pay for upgrades, yet still have access to the cutting edge technology. This means that five years down the track you're not stuck with an aging system.
8. No Questions Asked – 30 Day Return policy
Many services offer a demonstration version of their quiz software in order to allow potential users a "test drive." This is a great way to find out if a service has all the features necessary for your company. However, demonstration versions do not always include every feature. You may decide to purchase a service, then discover after the purchase that something you need is not included after all. At ProProfs we are so confident of our product that we offer a no questions asked 30 day money back policy and a 7 day free trial.
ProProfs Quiz Maker offers a risk free payment plan
If you cancel your order within 30 days, for any reason, there is no charge
ProProfs guarantees your satisfaction or your entire purchase if refunded
In addition, if after purchasing the service and using it beyond the first 30 days you decide not to renew ProProfs Quiz Maker you will incur no future charges. Your current contract will run to the end of the agreement period, and no renewal shall be initiated. If service is canceled in the middle of a contract, fees are not prorated.
9. Super Simple Yet Powerful
ProProfs Quiz Maker is designed for use by a non-technical person – from a business person to a teacher. A few years ago, organizations had to spend tens of thousands of dollars on complicated enterprise software to get the same powerful features that ProProfs offers for a low monthly fee in a simple, easy-to-use, website.
No software to install
Practically zero learning curve to use ProProfs
Unlimited customer support
Flat pricing with no overage fee
Ready-made question banks so you can leverage pre-written questions
From the product and pricing model to customer support, ProProfs keeps the user experience simple, every step of the way.
10. Works Across Operating Systems, Devices & Browser Compatibility!
With so many methods used today to access the Internet, it's very important to make sure a service is accessible to the highest percentage of users.
Works on all operating systems: Windows or Mac or Linux
Supports all major browsers: Chrome, Firefox, Internet Explorer, and Safari
Supports most mobile devices & tablets, including iPhone, iPad, Android
BONUS: Makes You A Better Instructor
Other sites for quizzes , survey creation or training software sites only offer users ways to gather and manage data. ProProfs goes one step further by giving users powerful tools to apply that knowledge, helping them increase productivity, efficiency and profitability. ProProfs' powerful statistics dashboard empowers educators & trainers with valuable insight about their aggregate class performance (with data such as difficulty level of each question, why learners get a certain question wrong, time spent on each question etc), showing them precisely where to adjust teaching to improve class performance.
In Summary
Got more questions? Visit our help center for additional information on our product or see pricing and plans.