Want to create beautiful surveys that get you more responses? Or maybe a survey that matches with your overall brand identity? With ProProfs, you can do both by creating custom survey themes, which show off your brand colors and logos. You can also customize background images, fonts and colors, so that the survey looks and feels like a part of your website.
Custom survey themes are great for branding as well as for event-based surveys such an Office Halloween Party Survey. You can also save these custom themes and reuse them time and again.
Create a custom theme by going to My Themes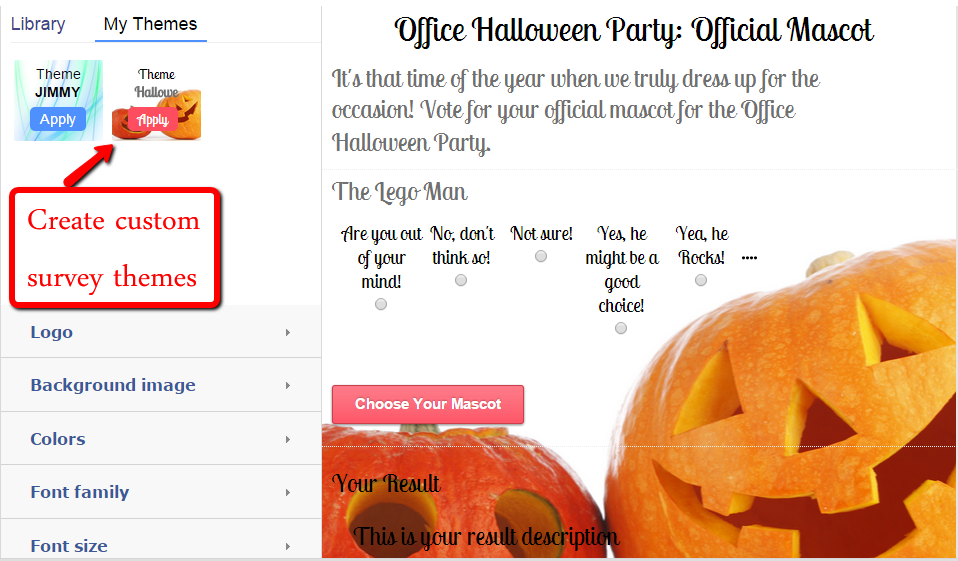 How it works
You can change and customize different elements of your survey, such as the color scheme, font family, and even the call to action. Let's look at the different ways of customizing your survey theme.
Logo – Brand your survey by easily uploading your logo.

Background image – Add a background image to make your survey look attractive.

Colors – Personalize the colors of the text in your survey. You can change the colors of the survey title, description, questions, answers and results.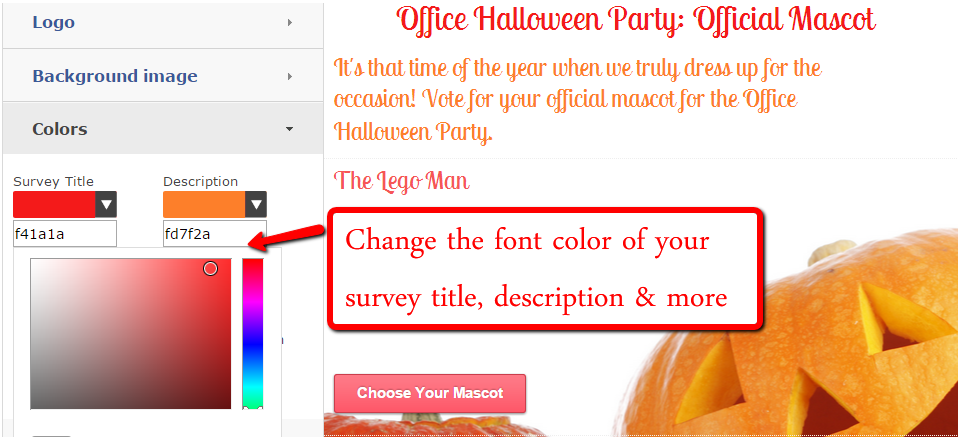 Font Family – Select the one you like best from over 20+ font styles.

Font Size – Choose the font size you love.
Buttons – You can also write a compelling "call to action" and change the button's color.

Tips to customize your survey
As shown above, you can customize different elements of your survey. Here are some pointers that you can keep in mind, while customizing the theme.
Match the color scheme, font family and size of your survey to your website
Add a high-quality background image, including your brand's logo
Customize the call to action button with relevant text and colors, so that it stands out
What are the benefits?
Brand your survey – Customized survey themes makes your brand stand out. You can create surveys that show off your logo and colors to increase brand impact and awareness among respondents.
Get more respondents – You can create highly attractive surveys with custom themes. An internal research revealed that visually appealing surveys have 85% more response rates.
Personalize your survey – With custom survey themes, you can create personalized surveys that speak to a specific target audience. These are apt for particular occasions and even match your website's look and feel.
Create a survey with your own custom theme