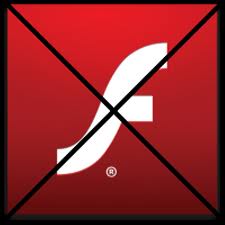 Though a Flash-based quiz creator allows you to upload attractive images, videos and media to your quizzes making them more interactive, however, the disadvantages of creating flash quizzes far outweigh its advantages.
This is the very reason why we avoid Flash with our quiz creator and through our superior video encoding technology convert Flash-based videos to HTML5, ensuring that all the multimedia included in your quizzes run across multiple platforms and mobile devices.
Here are 5 reasons why you should avoid a Flash-based quiz creator:
1. Your quizzes take longer time to load
Before you go ahead and create a flash quiz, remember that these quizzes take a long time to load. This can be a very serious impediment to online assessments. Learners taking an online test will lose valuable time if the pages do not load quickly. Even more so in the case of timed quizzes, where learners have to finish a test within a specified time duration.
2. Flash player download required
A great inconvenience for learners taking a Flash-based quiz is that they might require to download Flash player if it is not already installed in their systems. However, not all learners have the time or inclination to download and then resume the tests. In fact, this demotivates and distracts learners. You should avoid creating flash quizzes to ensure that none of your learners are inconvenienced.
3. Does not work on mobile & tablets
In recent years, one of the major developments in elearning has been the growth of mobile learning. Nowadays, learners prefer to use their smartphones than their PCs to access the Internet. In such a scenario, to create a flash quiz is like opting for a regressive technology, as it greatly hinders the learning process as most mobile devices such as iPhones and iPad do not support Flash.
4. Incompatibility issues with browsers and emails
Since Flash technology is widely used in creating advertisements, some web-browsers and email sites may block the images and videos in a Flash quiz regarding it as spam. Some web-browsers which require the latest version of Flash technology to be downloaded will also not be compatible with Flash quizzes.
5. Difficult to optimize for search engines
If you are an online marketer who is looking to create a quiz and then promotes it in your blog or website, then you should definitely avoid a Flash-based quiz creator. Once you create a flash quiz, your troubles begin as it is difficult for you to keyword optimize such quizzes Flash quizzes are not ranked high by search engines and it may even result in your quiz not showing up in search engines at all.
We support a number of features to overcome the disadvantages of using Flash, and ensure that you have the freedom to upload different kinds of media and content to your quizzes, as well.
How Does ProProfs Handle Flash Negatives
a) Video Conversion & Encoding
We encode videos to multiple formats, so our video player does not require Flash. Your learners can easily access the videos in your quiz from their iPhones or tablets.
b) Documents Viewer
When you upload documents, our document viewer can show MS Word, PPT, PDF and a variety of other formats, across many devices without requiring any flash or software downloads. Everything works in the browser (native support).
c) Flash Embeds
Sometimes, games or quizzes created in Flash do not work on any other media besides those supported by Flash technology. With ProProfs, you can easily embed such content inside your quiz and it will still run on any media platform. We encapsulate Flash inside a regular webpage as opposed to using it for powering all pages like Flash based quiz makers do.
d) Flexible Embed
You can even take the embed code from any other site like Scribd, SlideShare, etc, and add the content to your quizzes, to make them more interactive and fun, without the overhead of Flash.