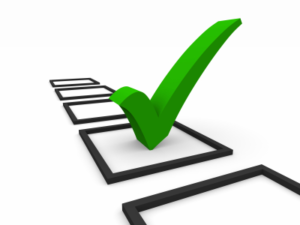 ProProfs Polls is an easy-to-use, effective poll software, which can be accessed from anywhere at anytime; and supports powerfully simple features for creating online polls and gathering instant feedback. Educators, online marketers and HR managers can easily set up engaging and interactive online polls for gathering feedback from their learners, customers or employees using ProProfs Poll software.
Key Features of ProProfs Poll Software
Easy-to-use
Creating a poll with ProProfs Poll software is super easy. Simply choose a question type (multiple choice, checkboxes or essay question), type the answer options and you're done. There's no software to download and learn so anyone can create a poll, without any prior HTML skill.
Add videos and images
You can also add images or videos to your polls to make them more engaging and meaningful. For example, let's say you created a poll titled "What's your favorite coffee drink?", you could add attractive images of different kinds of coffee to the answer options and even add a video about how coffee is made.
Instant Feedback
With ProProfs Poll Software you get instant feedback and results. As soon as a respondent takes your poll you get to see the results such as the total votes or votes by percentage for each answer option in your poll. You can even show the results to your respondents by adjusting the poll settings.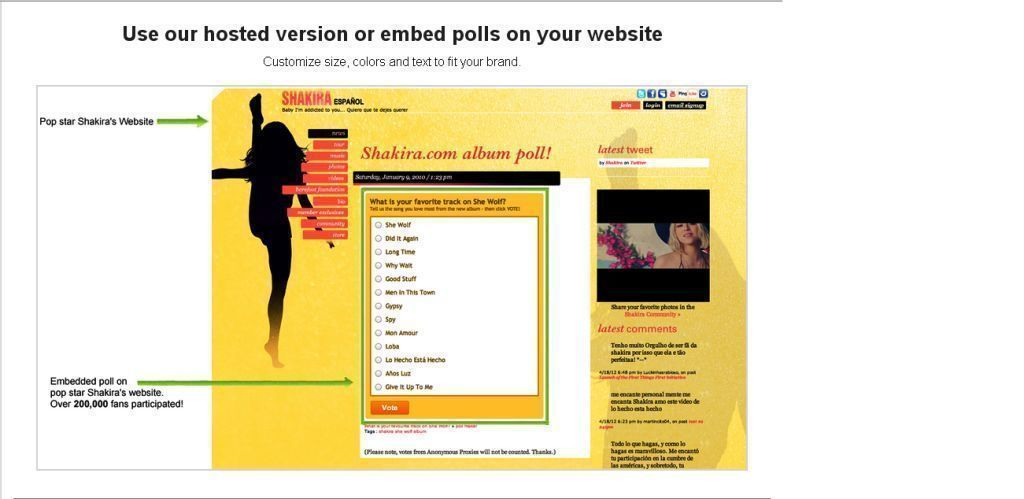 Easily brand and customize your polls
You can easily add custom colors and themes to your polls to perfectly match that of your website or blog. You can see how pop star Shakira's website used our Poll software, and made it look like a part of their website by adding custom colors and themes. Such custom polls ensure that your visitors take the poll without ever leaving your website. You can also customize the poll completion page to show Facebook and Twitter links or even add a custom message, such as a thank you note, for your respondents.
Comprehensive security features
ProProfs provides you advanced security options whereby you can create private & password protected polls which can be accessed only by those with whom you share the link to the poll. You can also block repeat voting by the same I.P. address or computer, so that the same person does not vote twice and your results are more accurate.
Advanced reports & tracking
You get detailed reports and statistics related to a poll such as the date and time the poll was taken, I.P. addresses, city, state, country and the total number of responses. You can also view the stats as a pie chart and even download the poll votes and results. This helps you to accurately interpret the results of your poll.
Anywhere anytime access
ProProfs Poll Software is a web-based software which can be accessed 24/7 from anywhere and any device. The polls you create are compatible with multiple browsers, operating software and mobile devices making it possible for respondents to take the polls from anywhere, at anytime.
Easy to share and embed
Once you create a poll with ProProfs Poll Software, there are multiple ways in which you can share it with your audience. You can share it directly by emailing them the link to your poll or you can also run the poll on your blog or website by using the embed code we provide. You can also share the poll via social networks.
Watch our video tutorial or create an online poll for free, now!