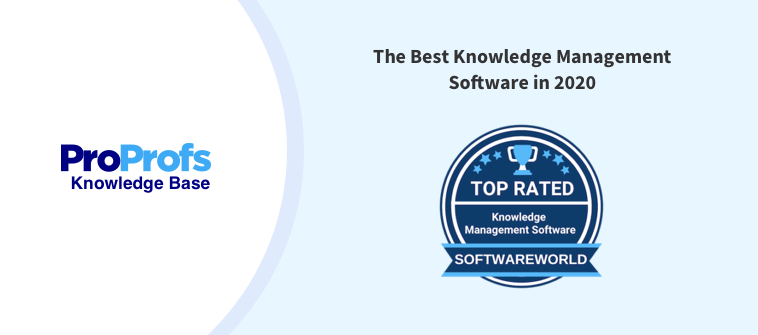 ProProfs Knowledge Base continues its success story with yet another award in the realm of Knowledge Management. The software secured the 8th position in the list of the best knowledge management software 2020 rolled out by Software World. With a score of 95 out of 100, the knowledge base tool has proved its high user satisfaction and active social media presence.
Software World is a leading software review platform that analyses and compares software solutions across industries. It provides an unbiased comparison to help organizations select the right solution for their business needs. It is a matter of great pride for ProProfs to get recognized by a reputable platform like Software World.
ProProfs has always strived to achieve customer delight through its robust tools. Our Knowledge Base software has helped businesses improve their customer support, employee collaboration, and knowledge management. The tool helps companies empower their customers and employees with self-help by creating an online knowledge base, documentation, FAQs, manuals, and more.
The tool is loaded with features across categories like content authoring, designing, collaboration, and publishing. It's incredibly easy to use, fully customizable and provides a powerful built-in reporting system. Its integration with ProProfs Help Desk and Live Chat helps businesses provide a 360-degree support experience to their customers and employees.
The parent company ProProfs is one of the leading SaaS solutions providers. Its offerings include Knowledge Base, Live Chat, Help Desk, Training Maker, Quiz maker, Qualaroo, Survey Maker, and Project.
As an organization, ProProfs always strives for customer delight over customer satisfaction, and we will continue to do so in the years to come.