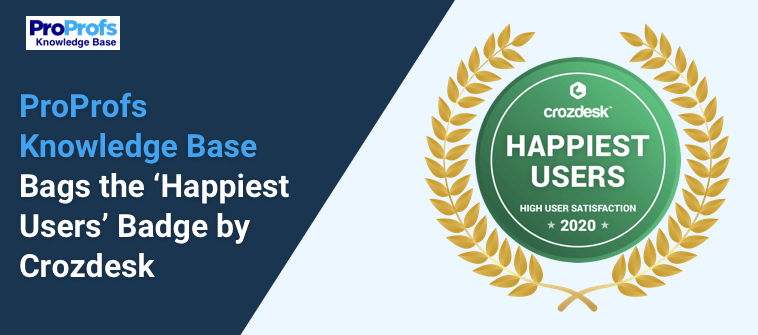 ProProfs Knowledge Base continues to script its success story with yet another achievement this year. The simple yet powerful tool earned the popular 'Happiest Users' badge 2020 for its positive user satisfaction.
This prestigious badge is awarded to only those solutions that have achieved high user satisfaction and happy customers on Crozdesk and even other platforms. To earn this badge, it's mandatory for a tool to reach an average user rating of 4.5/5. That's a major reason only 10% of the solutions manage to secure this illustrious badge.
Besides the Happiest Users Badge, Crozdesk, a leading trusted software discovery platform, presents other badges such as Quality Choice and Trusted Vendor to quality and trustworthy solutions. Since 2014, it has been helping buyers find, compare, and choose the right software product.
ProProfs Knowledge Base, a simple yet powerful tool, earned this award due to its out-of-the-box features, easy to work nature, and compelling integrations. All of this combined deliver an enhanced user experience. The tool helps in creating a self-help knowledge base, documentation, manuals, and guides for customers and employees. Users can access a range of professionally-designed templates to kickstart the content creation process.
Another critical aspect of the software is that it integrates beautifully with sibling tools ProProfs Help Desk and Live Chat. This forms a powerful pack of tools that helps in delivering exceptional self-service experiences.
The parent company ProProfs is a market leader in SaaS-based tools. Its bouquet of solutions includes Knowledge Base, Live Chat, Help Desk, Project, Survey Maker, Qualaroo, Training Maker, and Quiz Maker.
Since its inception, ProProfs has aimed to delight its user base and help them achieve happier customers and satisfied employees.
We'd like to thank Crozdesk for recognizing our continued efforts in this direction. This is a matter of great pride for the entire organization, and we will make sure that we continue delighting users with our solutions.