ProProfs is thrilled to announce another milestone, we have achieved as a company! FinancesOnline, a popular business software review platform, has awarded us with multiple awards of excellence including the Supreme Software Award for 2016 and the 2016 Experts' Choice Award.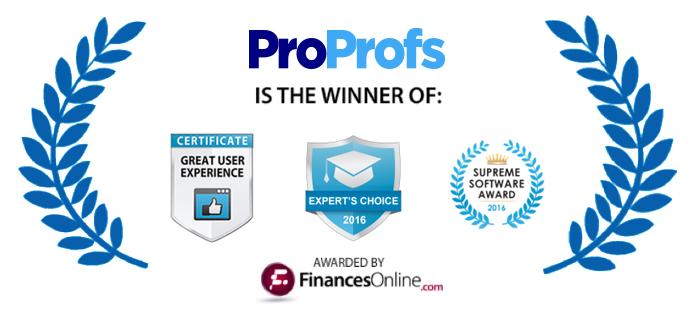 The awards were given to us by a select panel of experts from FinancesOnline. In ProProfs Knowledge Base review on their site, they tested our product in various scenarios. The panel examined the efficiency of our tools by creating documentation for customer support & inter-departmental knowledge management. They discovered that our knowledgebase software can provide numerous knowledge management solutions such as creation of wikis, online documentation, user guides & more.
"ProProfs Knowledgebase is the perfect tool to enhance employee productivity and knowledge", said experts at FinancesOnline.
ProProfs Knowledgebase was also honored with the Great User Experience Award for best customer support software listed in the FinancesOnline's B2B software reviews.
"We are delighted and honored to be awarded by FinancesOnline's panel of experts and thought leaders," said Sameer Bhatia, Founder & CEO of ProProfs. "Our vision is to make the world a smarter place by developing robust and user-friendly knowledge management tools. We will continue in our endeavor to create tools that help companies build a smarter and more knowledgeable workforce", he added.