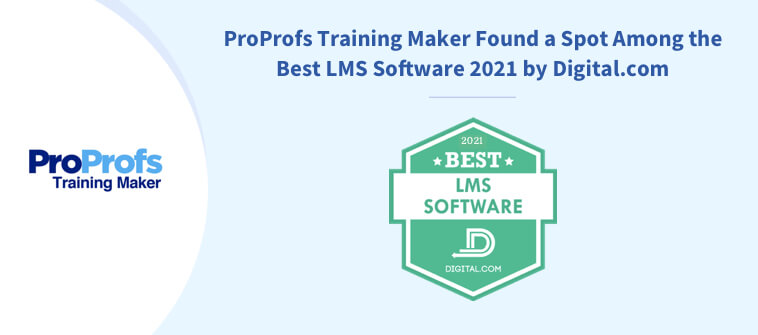 ProProfs did it again. Its flagship product Training Maker was listed as one of the 20 best LMS software of 2021 by Digital.com.
The final list of software is a result of over 40 hours of intensive research on 140 software companies. To arrive at the list, Digital.com looked at learning management systems that support core functionalities, including multiple learning methodologies, SCORM compliance, and mLearning capabilities.
ProProfs was awarded a spot in the software roundup that featured many top players such as TalentLMS, iSpring, Docebo, and Moodle.
ProProfs Training Maker is the world's easiest cloud LMS offering learner-centric solutions. The tool comes with a premium library of 100+ ready-to-use, professionally designed, customizable courses and templates. You can easily create, design, share, and track online courses and tests and administer them anytime, anywhere.
Besides Training Maker, ProProfs also provides tools for quizzes, virtual classrooms, knowledgebase, customer support, collaboration, reporting, and more.
ProProfs is a leading SaaS company with over 15 million users in 150+ countries. Fortune 500s such as Acer, Sony, DHL, and Dell are among its long-time clients. The company is driven to create delightfully smart tools complemented by awesome support to enable users to work better and get smarter employees and happier customers.
This is indeed a moment of joy and pride for everyone at ProProfs. We would like to take this opportunity and extend our gratitude to Digital.com for recognizing ProProfs' continued efforts in the field of learning solutions for businesses.