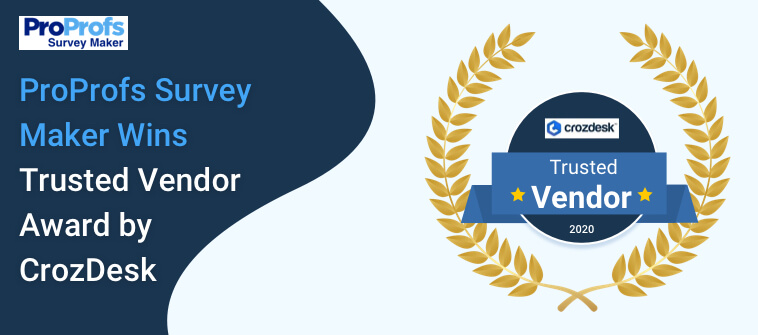 In another addition to ProProfs' already glittering cap, ProProfs Survey Maker has been awarded as a Trusted Vendor badge by Crozdesk.
Crozdesk is a leading service aggregator that rates and reviews products with the help of algorithms. They rate products across all industries and boast a library of over 250 software categories.
ProProfs Survey Maker is an online tool that helps you conduct and analyze surveys. It provides you with access to professionally made templates for a variety of surveys. It allows you to gather customer/client/employee feedback in the form of NPS surveys, polls, pop-ups, sidebar forms, or in-app surveys. You can also use it to make quizzes, tests, and assessments as a part of your screening process.
The parent company ProProfs is a leading provider of software as a service tools catering to customer support and management. It is based out of California, USA, but also has offices in India. Apart from Survey Maker, ProProfs offers tools like Quiz Maker, Training Maker, Help Desk, Project, and Knowledge Base. With a highly talented team of developers, ProProfs has been delighting customers in over 150 countries.
Trusted by industry giants like Dell, Sony, and Yale, among others, ProProfs is driven by a 100-year mission of empowering users to become smarter and more efficient.
We would like to thank Crozdesk for recognizing ProProfs as a Trusted Vendor.