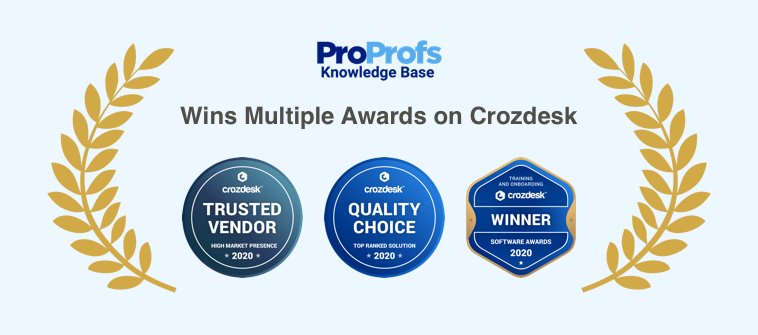 ProProfs added another feather to its cap of achievements. It is a matter of great pride for us to be awarded the "Trusted Vendor" badge by Crozdesk for the high market presence of our knowledge base software in 2020.
Besides, Crozdesk also awarded ProProfs Knowledge Base software the number 1 position in its list of Top 20 software products of 2020 for training and onboarding.
Crozdesk is a popular business software discovery platform that helps buyers across the globe in finding and comparing a variety of software products spread across 230+ categories. Using AI and machine learning algorithms, Crozdesk provides unbiased software recommendations, expert reviews, and analyst-grade reports to help buyers make the right choice.
Globally renowned brands like KPMG, Microsoft, Samsung, and many others use this platform to list their offerings and elevate their brand visibility.
The "Trusted Vendor" badge by Crozdesk is presented to vendors who have a substantial market presence that is determined by an estimation of the number of users in a vendor's kitty. Crozdesk calculates this number using its AI ranking algorithm, so the figure is bound to be accurate and relevant.
What's exciting about this badge is that it is awarded to only 20% of the tools listed on Crozdesk. This is a testament to the fact that ProProfs Knowledge Base software has managed to grab a spot on this list, which speaks volumes about its market presence.
As far as the list of training and onboarding software is concerned, the winners are determined using the unbiased Crozscore ranking methodology that gauges whether a product is fit and relevant for the training and onboarding category.

ProProfs Knowledge Base Software is a simple and powerful tool with a friendly user interface, bespoke features, smart settings, and robust integrations both with in-house and third-party tools. The tool is suitable for small businesses, large enterprises as well as professionals looking to create self-help platforms like knowledge base, documentation, help sites, manuals, and more.
Designed for people with all skill levels, ProProfs Knowledge Base software is the one-stop solution for reducing support tickets, managing business knowledge, improving agent productivity, and improving collaboration at the workplace.
The parent company, ProProfs, is a market-leading provider of SaaS-based solutions in the domain of knowledge management, customer support, and online learning. Besides Knowledge Base, ProProfs offers tools like Help Desk, Live Chat, Survey Maker, Training Maker, Project, Quiz Maker, and Qualaroo.
Trusted by various global brands, ProProfs aims to keep your customers delighted and make your employees smarter, with the help of its power-packed tools.
We are pleased to be recognized as the "Quality Choice" and "Trusted Vendor" by Crozdesk, and we will ensure that we keep the trust of our users intact in the future as well.