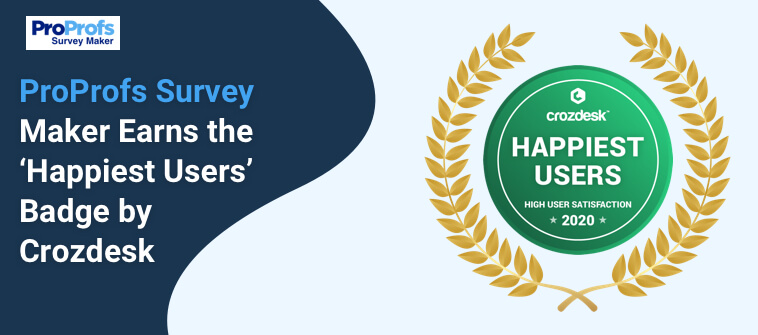 ProProfs Survey Maker has added another feather to its headgear of achievements this year. The bespoke tool won the prestigious 'Happiest Users badge by Crozdesk', for its army of delighted customers and positive user satisfaction.
This illustrious badge is awarded to only those products that get an average user rating of 4.5/5 across all its ratings. A meager 10% of tools earn this badge every year, which testifies the high worth it holds.
Crozdesk, a leading business software discovery platform, presents this badge every year to a handful of products that manage to score a high user satisfaction rating on average. Using its AI and machine learning algorithms, Crozdesk offers unbiased software recommendations, helping millions of buyers compare software products, and make the right pick.
The fact that ProProfs Survey Maker got recognized for the 'Happiest Users' badge speaks volumes about its mission to move beyond customer satisfaction and focus on achieving customer delight. ProProfs Survey Maker is a market-leading tool that has successfully helped brands create over 50,000 surveys.
Businesses can use this tool to capture customer and employee feedback via NPS surveys, pop-up surveys, sidebar forms, and in-app surveys. Users can also add scoring and branching logic to these surveys, and customize them as they want.
The parent company ProProfs provides a suite of market-leading SaaS-based tools that are spread across customer support and online learning realms. Besides ProProfs Survey Maker, businesses can leverage other powerful tools like Knowledge Base, Chat, Help Desk, Qualaroo, Project, Training Maker, and Quiz Maker for serving customers and employees in a better way.