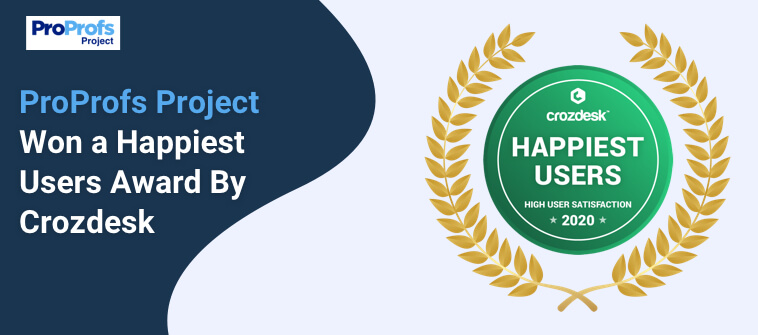 ProProfs has been striving for customer delight since its inception, and this sets us apart from those organizations that don't go the extra mile and keep their focus only on customer satisfaction. Thanks to continuous efforts, ProProfs Project, a project management application, has won Crozdesk's Happiest Users Badge.
This badge is given only to those companies that keep their customers delightful and receive a multitude of positive reviews on Crozdesk. You will be surprised to know that only 10% of the solutions have been acclaimed until now. So, yes, ProProfs Project is unique in its kind.
ProProfs Project is a cloud-based project management tool that is packed with powerful features and requires no technical expertise, as it is simple to use. Features that catch the eyes are 'Gantt charts,' 'Time tracking,' 'File sharing,' 'Calendar view,' etc. Even the free plan is available, which you can use forever. Its paid plans have economical pricing, which puts budget-related concerns to rest.
ProProfs offers a wide range of SaaS products, including Quiz Maker, Training Maker, Knowledge Base, Live Chat, Survey Maker, etc. It clearly shows the products of this company can cater to the needs of businesses across all industries. It has customers over 150 countries, which shows how popular its business solutions are.
We would like to thank Crozdesk for appreciating ProProfs Project and awarding it with the Happiest Users badge!