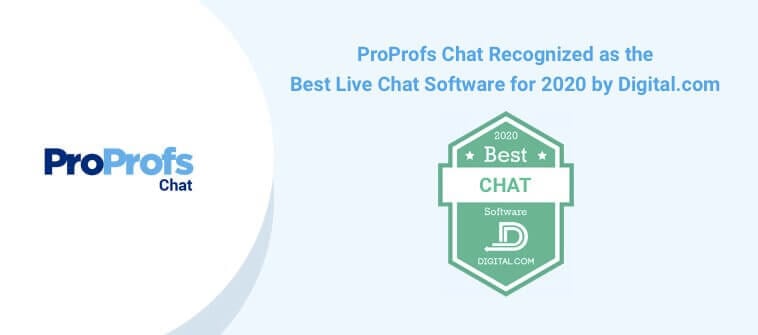 ProProfs Chat was recently rated as the Best Live Chat Software of 2020 by a popular online review platform Digital.com.
The online review platform claims to have arrived at this conclusion after 40+ hours of research on more than 90 live chat software companies operational across the web. They even evaluated and listed the best live chat software solutions on the basis of what businesses look for when choosing a live chat solution for their business.
Digital.com also evaluated the solutions on the basis of the functionality like customer support, sales conversion and reporting. This implies when they evaluated ProProfs Chat on the basis of factors like customer support, they tried to understand its ability to intake and solve customer complaints quickly to help improve customer retention and reduce the cost of customer support.
The online review platform also evaluated the live chat solutions on their ability to send customizable auto-message triggers to cut down on cart abandonment or be the final push to set up a sales demo with a lead to increase sales conversions.
And if you think they stopped there, then that's not the case. They even evaluated the existing options on the basis of their reporting abilities. They tried determining whether the live chat solutions collected the data needed to create effective strategies and determine areas for improvement.
If anything, we'd like to extend our sincere gratitude to the team at Digital.com for not just considering us but also for this amazing recognition. This only motivates us to work harder and help our customers find their required services hassle-free.
ProProfs Chat is known as the feature-rich customer support software that helps its users reach their prospects proactively in real-time. Our delightfully smart tools range also includes ProProfs Knowledge Base, Help Desk, Survey Maker, Polls, Training Maker, Quiz Maker, and others that are designed to help businesses across all industries simplify internal and external communication processes.