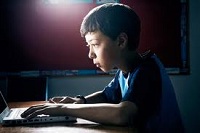 We're proud to share a fantastic review of ProProfs Quiz Maker on Wired Educator. Here are some excerpts from the review published on their website:
Review Title: "Create Awesome Online Tests & Quizzes with ProProfs"
What Wired Educator wants you to know is the ProProfs is ideal for educators. It is the perfect solution for creating and implementing meaningful online quizzes easily. We love it!

Creating a quiz on ProProfs is a breeze. I was so impressed that I could create an online quiz on my very first visit that had such diversity. The quiz looked great too. The directions are built within the quiz navigation so you learn while you create. You don't waste any time and you see all of your questions and answers easily. Whoever designed this knew how teachers think!

Watch This Video To Know How to Use Online Quiz Maker for Teachers
ProProfs routinely asks users for feedback and they make changes based on what they hear. Very nice. ProProfs also offers different type of data to look at the test students took. You can see what question was most missed, etc.

Wired Educator Grades ProProfs: "A"

Comments: A great tool for administering online tests and pop quizzes. Easy to use from the start. Easy for students of nearly any age to navigate. Lots of nice features. Great design.