Have you ever created surveys or forms for online market research or an in-person questionnaire that really needed a signature field? With our e-signature feature, you can easily get the signatures of your respondents while creating registration forms, application forms, a non-disclosure agreement, a sales contract, online petitions or even online training. These can also be used to create contract forms, registration forms, incident reporting and human resources forms.
The feature allows respondents to add their signatures using their mouse or touch screen and includes additional fields to add other important information such as their name, company name and designation.
When to use e-signature
You can use e-signature for legal forms or applications. If you wish to confirm that a particular set of job applicants have filled in your form or you need the feedback of certain lawyers, for example, then ask them to sign on it before submitting. This way, you receive accurate details as well as their informed consent on a questionnaire or even get a – business contract or lease signed in minutes instead of wasting days scanning and faxing papers back and forth. Because it works great on mobile devices, the e-signature feature is also an ideal solution for those using iPads, tablets and smartphones.
Note: e-signatures are legally binding in most countries and states, but we still recommend consulting with your lawyer.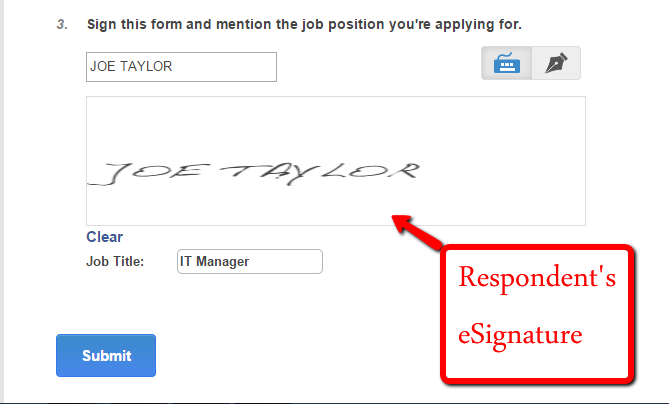 Along with the e-signature of respondents, you can also capture details such as:
Where was the form signed
Email addresses, job titles and company name
To learn how to add an e-signature option to your surveys and forms,
click here