ProProfs is popularly rated as the best online quiz maker software. Take a tour & discover for yourself!
Quiz Maker is the easiest way to make a quiz for corporate, education or fun. Get all the features you need to create quizzes of professional quality in one powerful tool.
Support for Multiple Question Types
Use true or false, fill in the blank, short answer, essay, long answer, checkboxes, yes/no, multiple choice, matching, personality quiz & more with ProProfs quiz maker program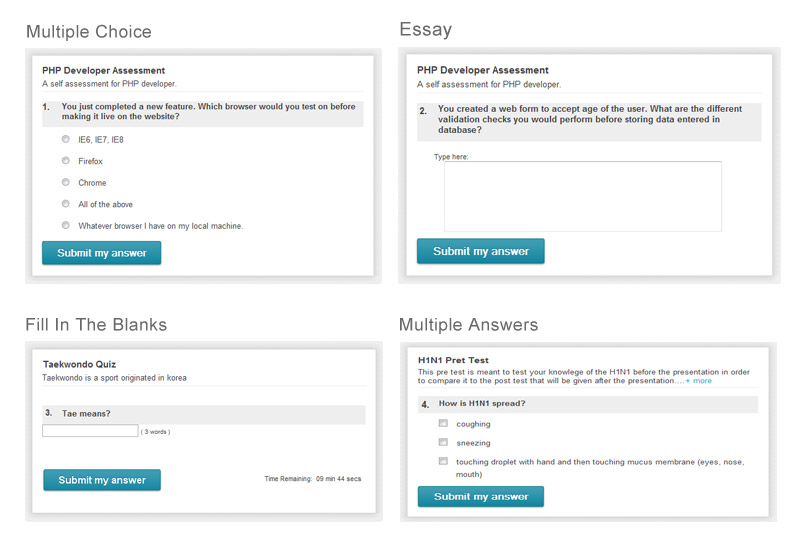 Add Videos, Pictures, Documents & Powerpoints To Questions
Add videos, pictures, articles, powerpoint & documents (word or pdf). You can place this anywhere in the quiz, such as a video to watch at the start of quiz, in between specific questions or at the end of quiz.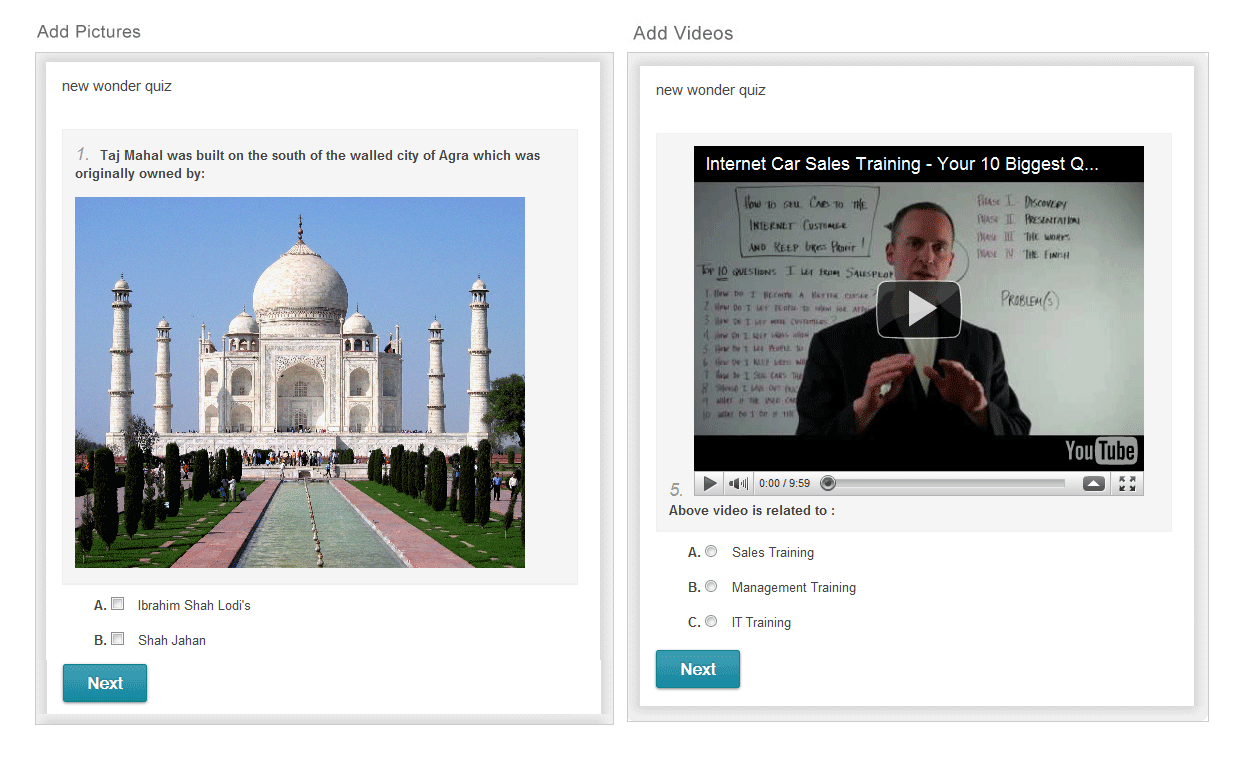 Track Who Took Your Quiz
Record name (and any other information) of who took your quiz including their score, answer sheet,
IP address, time spent location & more. Email notification supported.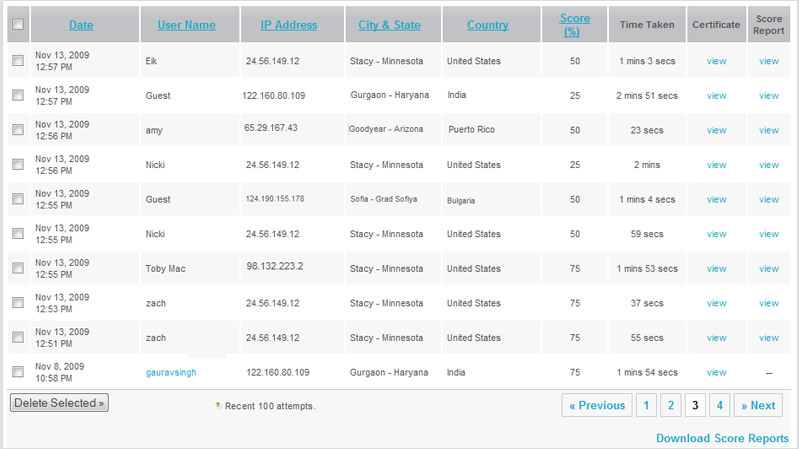 Store, View & Download Quiz Results
Store the complete answer sheet, certificate and scoring data online. Download results of all quiz takers
in many formats including excel.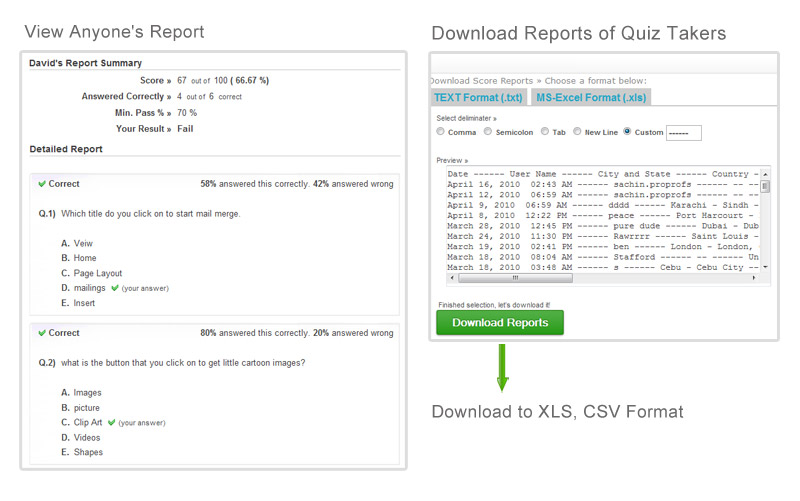 Friendly Quiz Analytics
Obtain stats on the difficulty level of each question, time taken to complete, quiz popularity, location of quiz takers & more.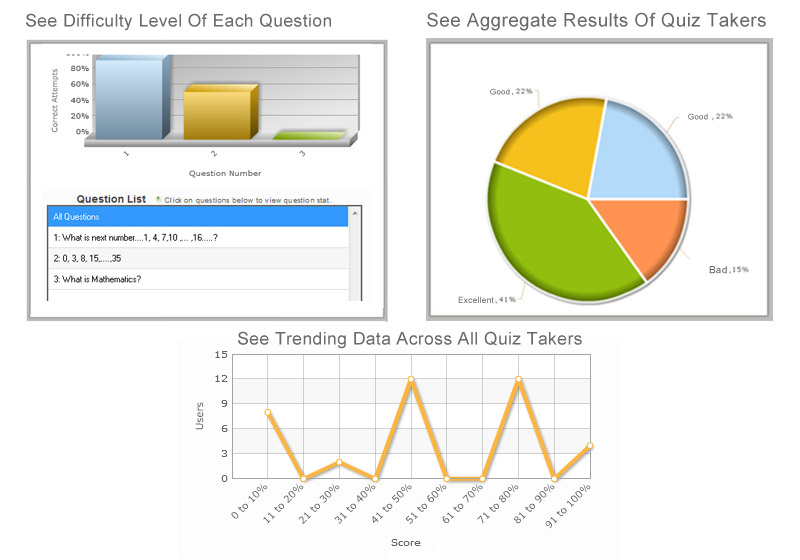 Custom Quiz Certificate
Customize appearance & when to issue the quiz completion certificate. Store online, or allow download/print.

Upload custom certificates with your branding & signature that are dynamically created with quiz taker's name, score etc.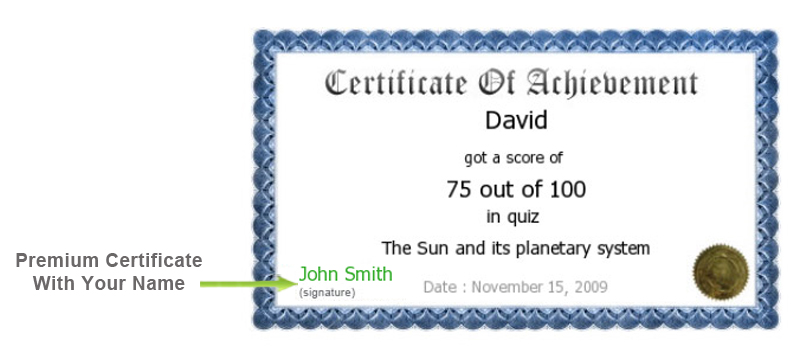 Embed Quizzes on Your Website or Use Our Hosted Version
Link to your hosted quiz, share via email, facebook, twitter or embed the entire quiz on your website
(with custom colors and branding), blog or class management system.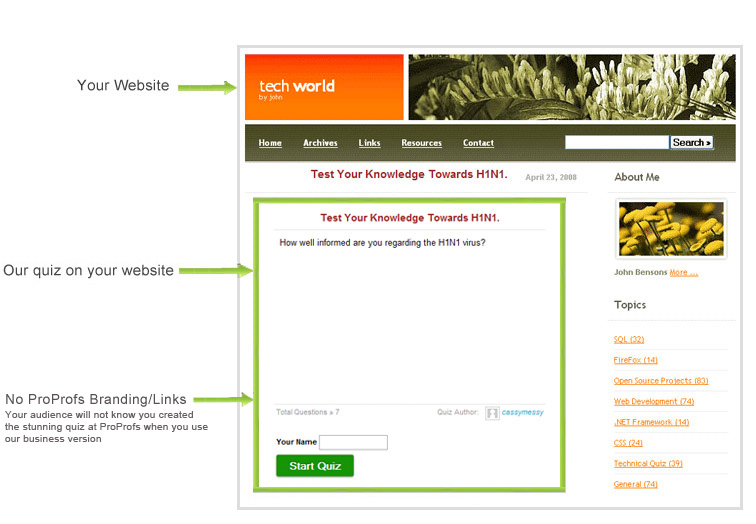 Automate Grading & Customize Scoring
Set maximum score, automate grading, time limits and customize results. Make a quiz in practice mode, fun mode or test/exam mode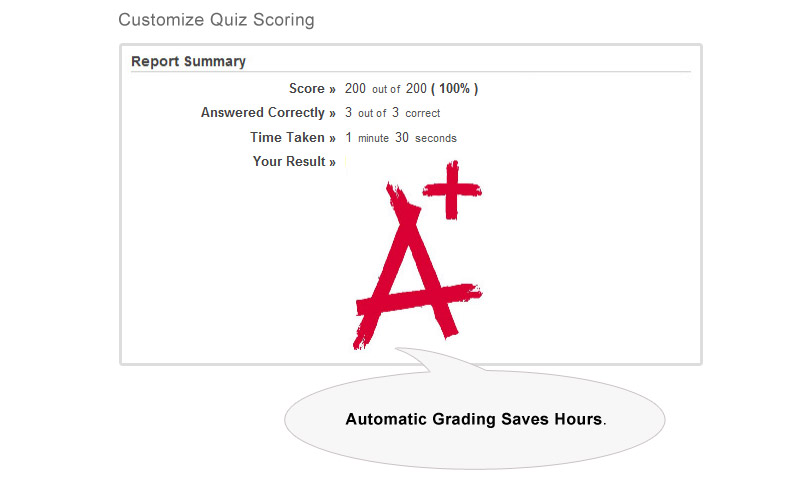 Secure & Private Quizzes With No Advertisements
Create professional quizzes that are completely private, password protected, access controlled & advertisement free.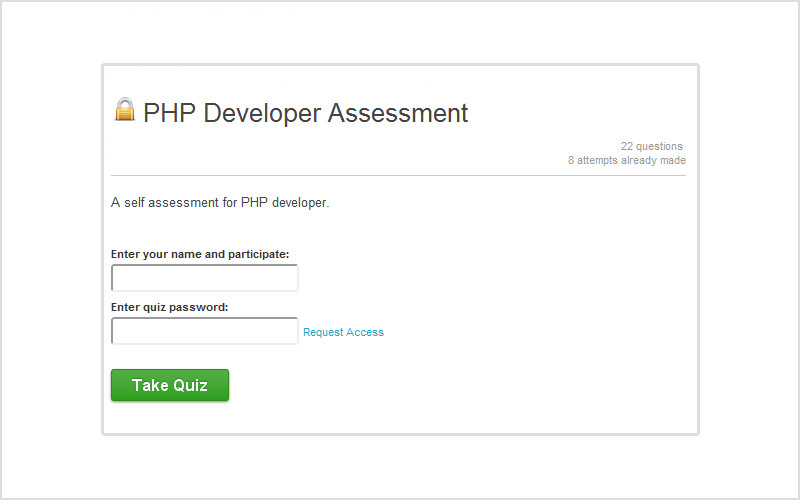 Earn by Selling Your Quizzes & Tests

Sell quizzes risk free. No merchant account or set up fee. Keep 80% revenues collected.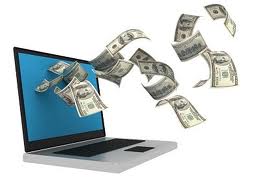 Customize Quiz Results
Give quiz takers any custom result based on their score. Give branded results or just make quizzes more viral & fun.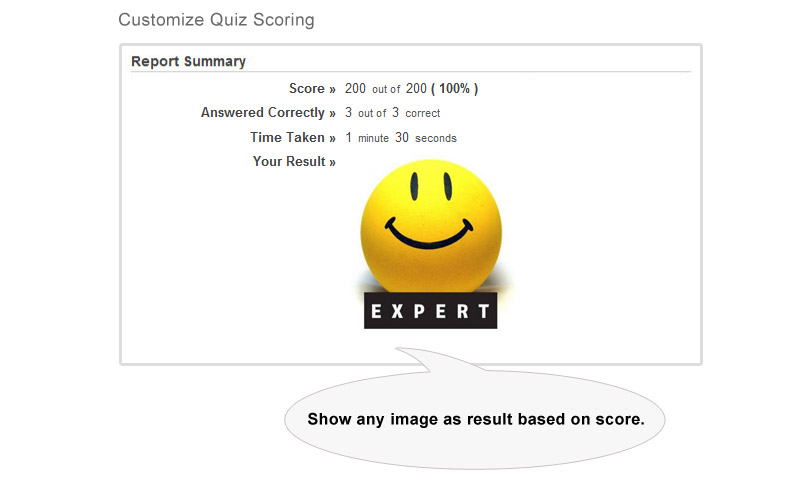 100000+ Ready To Use Quizzes & Assessment Questions
Access over 3 million ready to use questions and assessments. Modify, add, delete as needed from the world's
largest library of quiz templates & questions.
Works across all devices including iPad, iPhone, Android, Laptop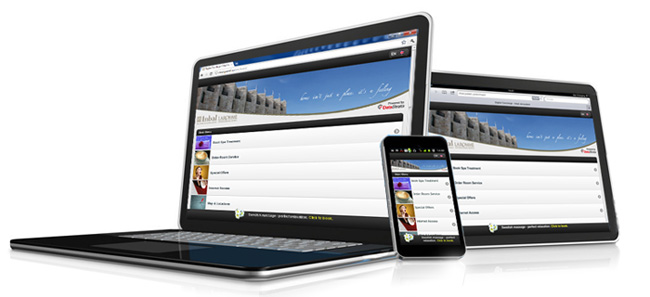 We support over 50 Languages
Make quizzes in over 50 languages and set the language for quiz buttons & instructions.
Afrikaans
Albanian
Arabic
Belarusianan
Bulgarian
Catalan
Chinese
Croatian
Czech
Danish
Dutch
English
Estonian

Filipino
Finnish
French
Galician
German
Greek
Hebrew
Hindi
Hungarian
Icelandic
Indonesian
Irish
Italian

Japanese
Korean
Latvian
Lithuanian
Macedonian
Malay
Maltese
Norwegian
Persian
Polish
Portuguese
Romanian
Russian

Serbian
Slovak
Slovenian
Spanish
Swahili
Swedish
Thai
Turkish
Ukrainian
Vietnamese
Welsh
Yiddish
Do All This and More...

Conduct Customer or Employee Training
Develop quizzes for any customer training, employee skill testing and to gauge employee satisfaction. Embed branded, corporate-style quizzes on your website for easy use.

Perform Competency / Compliance Trainings
Develop quizzes for any competency & compliance training. Maintain an online record, or download / print, who took the quiz and their scores for any kind of audit.

Make Practice Quizzes
Create a practice quiz for students utilizing numerous question types. Reduce students' stress by disabling scoring on quizzes so the focus is on learning instead of results.

Make Your Quiz Private & Secure
Create secure password-protected exams and prevent cheating with built-in controls on who has access to the quiz, when and for how many attempts. Secure online platform lets you track users, add images and analyze results online.

Perform Skill Assessments
Identify gaps in knowledge with quiz analytics. See difficult and easy questions, spot trends and know which subject to cover in less or more depth.

Develop Pre-Employment Skill Assessments
Conduct pre-employment testing and interviews with secure, branded online quizzes embedded directly into your website. Screening becomes a breeze when you mix question types. Additional features ensure proprietary corporate answers are never revealed to potential candidates.

Generate Traffic & Interest Your Website Readers
Brand quizzes with your logo, formatting and relevant links. Viral marketing will take over when others post your quizzes on Facebook and Twitter. Your quiz also gets listed at ProProfs, ensuring even more traffic.

Have a Little Fun
Express yourself, connect with friends and have a little fun with the quizzes you create. ProProfs gives you the ability to embed quizzes into your site or blog, upload your own images, coordinate colors and display custom results. Keeping in touch has never been easier or more fun!
You've Got Questions. We Have Answers
Can I post a quiz on my website?
Yes, you can even brand the quiz and customize the look and feel to make it blend with your site. No programming is needed - just copy & paste a code we provide.
Can I create private quizzes?
Yes, your quizzes can be public or private & secure.
How do I share a quiz?
You can give the quiz takers the URL of the quiz. Quiz takers need not have an account on ProProfs and can enter details like name etc before starting the quiz for tracking purpose. For private quizzes, you would also need to provide them quiz password.
Can I capture information about quiz takers?
Yes you can capture any information you want such as email id, employee id or any custom field that you make.
Can I create branded quizzes & certificates?
Yes. You can brand quizzes with your logo and customize the certificates.
How long do you store data?
If you stop your subscription, your are downgraded to the free version. Your quizzes are never deleted and you can continue to have unlimited quiz takers per our free plan. However the premium features get disabled if you do not renew your subscription and any stored data (such as quiz taker's attempts & score data) is deleted.
Do I get notified when someone takes my quiz?
Yes there are many notification features that you can set as needed.
Is my data safe and secure?
Yes. Our state-of-the-art computer servers are hosted at a secure location that maintains multiple power feeds, fiber links, dedicated generators, and battery backup. ProProfs product software and infrastructure is updated regularly with the latest security patches. Our network is protected by an enterprise-class firewall and all ProProfs plans include remote data back ups to keep your data safe.