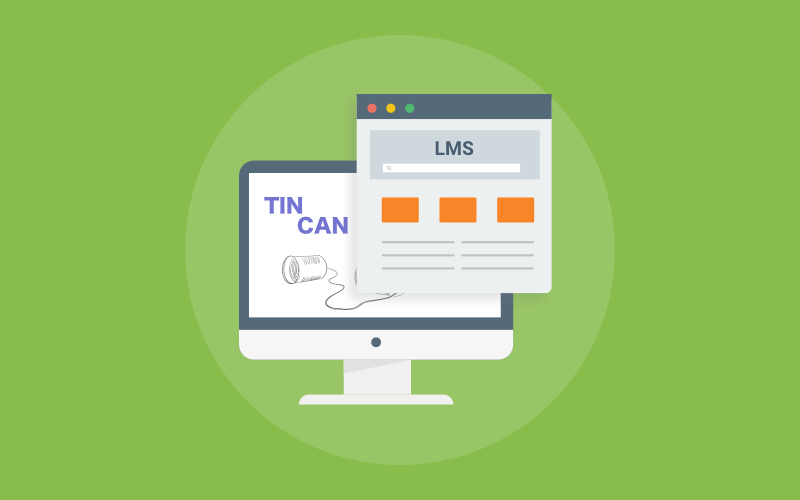 Gone are the days when learners would walk up to a library and solely rely on books in the pursuit of learning. They still do, but now, most of the learning happens online with intermittent access to offline resources. The millennial generation expects to learn a concept in the best possible way, no matter the learning medium. They want to claim complete freedom in the way learning happens. As Greek Philosopher Plato quotes, "Necessity is the mother of invention," the desire to be able to learn without time, space, location and medium constraints paved the way to a new learning model called Blended Learning.
Read More:- A Beginner's Guide To Tin Can API
Every eLearning expert is embracing the blended learning approach using blended learning software to provide a gratifying learning experience and to improve the learning outcomes. In fact, instructors are slowly transitioning to a Tin Can Compliant LMS to have better control on the eLearning content. Although Tin Can offers a number of benefits over SCORM such as data interoperability and browser-independent tracking, not everyone is aware of its role in Blended Learning. Let's find out more about blended learning and whether Tin Can is capable of supporting the blended learning approach.
What is Blended Learning?
Blended learning is a hybrid teaching methodology that combines both online and face-to-face teaching to enhance learning experiences. While factual learning happens online, blended learning enforces the concepts in an offline model with discussions, lectures, quizzes, and even role play.
In a blended learning approach, both students and instructors actively participate in learning activities that make learning both interactive and effective. Learners aren't restricted to a limited number of resources to facilitate learning. They are free to learn from multiple mediums that may or may not involve a LMS software such as text, videos, flashcards, and podcasts to supplement their understanding and absorb the concepts better.
On top of that, blended learning respects individual learning preferences as students can decide what to learn and when. Although there is no consensus about the elements of blended learning, it mainly involves:
Developing online and offline course content
Studying the core concepts either online or offline
Identifying the mode that explains the concepts better
Supplementing course understanding with practical methods such as discussions and role plays
Assessment and Grading
Continually improving the learning experiences
---
Read More:- What is Blended Learning? Components, Models, & Advantages
---
Can Tin Can Support Blended Learning Initiatives?
As discussed before, modern-day learners aren't restricted to a single platform for learning. Rather, they resort to multiple methods to supplement their learning initiatives. Until you track such learning patterns, you can't create online courses that cater to the learners' expectations in one shot. This is where Tin Can comes into the picture as a cutting-edge blended learning software. While SCORM being an older eLearning standard can record only what course a learner attempted and when, the scope of Tin Can goes beyond that. Here's why Tin Can supports blended learning:
1. Tracks Learning Beyond LMS Environment
Tin Can records learning experiences in a typical "Subject"+ "Verb"+ "Object" format that stretches beyond your traditional LMS environment. The moment any student accesses a different resource hosted outside LMS, Tin Can records the activity in a Learning Record Store for later retrieval. Sample learning experiences may include:
Reading an ebook
Listening to a Podcast
Watching a Youtube Video
Moreover, Tin Can requires an internet connection only while writing data to the Learning Record Store and not otherwise.
Read More: 10 Best Learning Management System (LMS) Software
2. Supports Mobile Learning
Mobile learning is an integral component in blended learning as learners prefer to take a course anytime and anywhere. Not only Tin Can allows content creators to launch and distribute courses outside LMS, but also tracks diverse aspects such as multiple attempts or scores for any given course. No matter whether learners take courses on smartphone or tablets, it's trackable with Tin Can.
Read More: 10 Best Online Course Platforms
3. Reports Learner Interactions
Tin Can fosters a personalized learning environment as teachers can know what piece of eLearning content is motivating or demotivating the learner. With Tin Can, you can determine how much time a student spent on a particular module and the point when they switched to a different resource to facilitate learning. Once you know what type of learning students prefer, you can incorporate those elements in your online course to enhance its appeal.
4. Promotes Social Learning
Posting questions on social media or forums are also a part of blended learning. You can derive insights from the type of questions and resources that a learner posts on social platforms and tie them up in your upcoming online course. Doing this not only allows you to create more personalized courses but also helps to improve the overall course quality.
Redefine Learning Experiences with Tin Can
Most eLearning experts still rely on SCORM to empower learning initiatives, but it's time to move on. Even though blended learning has come to the fore, it can sometimes become a distraction. It's not that learners want to explore additional resources for learning, but the inability to understand or comprehend a concept forces them to do so. Until you track how learners interact with the different elements in your course, you can't figure out the pain areas. Tin Can pinpoints the exact improvement areas through rich LMS reporting so that you can fill the gaps and convert your course into a "one-stop" learning resource for the learner.
Do you want free Training Software?
We have the #1 Learning Management Software for complete learning solution starting at $0