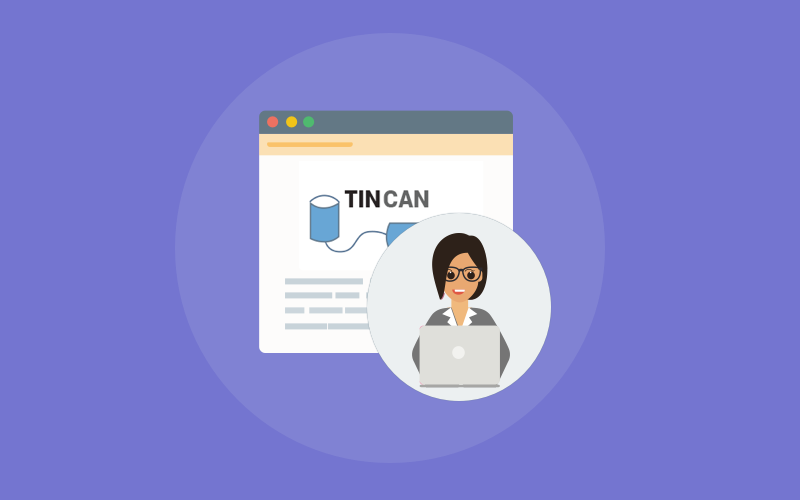 Imagine a scenario, where you are asked to memorize Newton's laws of motion. I am pretty sure many of you would use the conventional method - ie. repeating the laws in order until they are engraved into your memory, while some of you may use an acronym or acrostic.
It's true that memorization techniques and learning methods usually vary from one individual to another. Unfortunately, the conventional learning methods do not have the capabilities needed to track and even report these alternate learning avenues.
This is where Tin Can API comes in handy to address these concerns.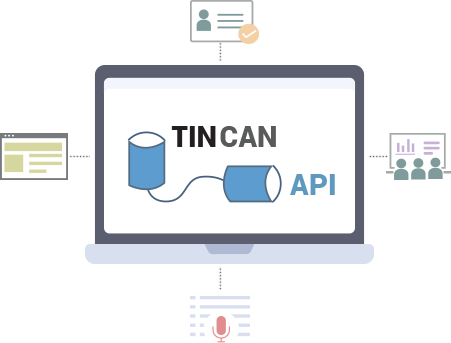 What is Tin Can API and How Does it Work?
Watch this to know:

Also popularly known as xAPI or Experience API, Tin Can API is the shared language for systems to talk to each other. It comprises of an "activity provider" telling what people did (whatever it was) and a learning record system that listens and records.
This eLearning specification allows data to be collected from learning experiences (online and offline both). It captures data that talks about the learners; activities and then communicates the data to other systems.
Simply put, Tin Can API (also the successor to Shareable Content Object Reference Model) is simple and flexible. Mobile learning, simulations, game-based learning, real-world activities, experiential learning, social learning, offline learning and collaborative learning that can be effectively communicated with xAPI.
Furthermore, tracking general activities is possible with Tin Can due to the new approach to statements in the form of Noun, Verb, Object (for instance, "Tim watched a video on process engineering design"). In theoretical words, Tin Can API captures almost everything that is going on, correlate those activities, analyze and share insights.
Sounds Awesome right? Want to understand this better with a practical example of this awesomeness? Here you go…
Your sales team picked up content on a specific topic from different systems. They searched, identified, consumed and finally shared the content across varied platforms.
With the availability of Tin Can API, your L&D team will be able to run an in-depth analysis on the content that was selected by different people. Tin Can let them find out who searched and shared what, how, where and when. This modern elearning specification will let them correlate all the data in regard to sales performance activities and reach a conclusion about knowledge, skills acquisition along with evaluating its impact on sales.
With Tin Can API, the possibilities of data collection and engaging in a detailed analysis are endless. Given the simplicity it offers, it allows people to focus on the learning the business needs to attain desired results.
Yes, you can do a lot of things with Tin Can API, which is fabulous.
Alright, let's take a look at the 8 great things that you will be able to do better with Tin Can API.
---
Read More:- A Beginner's Guide To Tin Can API
---
Track Learning Activities not Hosted on an LMS
Sounds unbelievable right? With Tin Can LMS, eLearning content (or any other learning courses) can be accessed from anywhere and the content can be taken in any form. Well, it means that even if your students are not logged into an LMS, you can still track their learning progression with the help of a Learning Record Store(LRS).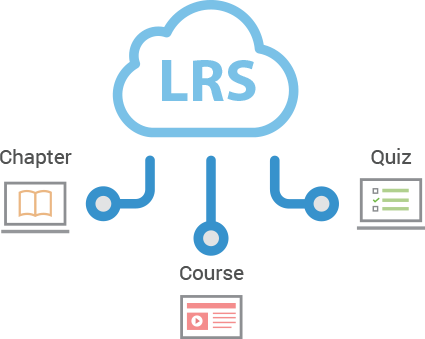 Not sure what an LRS does? It primarily stores all the learning activities like accessing training programs, learning resources, scores, achievements and so on.
Gives Freedom to Course Designers to Create Content just the Way they Want
Tin Can API brings much relief for the developers because this eLearning specification ensures that they don't rely on the browser and associated browser-based technology. They can choose the technology (and don't have to solely rely on JavaScript) and allow trainers to track learners actions, scores and achievements (if any).
Infuses Sense into Disconnected Learning Scenarios
With Tin Can API, you don't have to worry about the continuous linkage of the eLearning course to the server. Believe it or not, the learning activities can be held locally and played back to the LRS, when it is later connected. It allows offline, social and mobile learning in general.
Allows Hassle-Free Platform Transition (i.e. Computer to Mobile)
Say, for instance, you are traveling and can't access the computer. No worries. With Tin Can API, you can choose the platform as per your convenience. You can start the course from a desktop, resume it on mobile and probably finish it on a laptop. This eLearning standard ensures that the learner's progress and training activity is easily tracked, irrespective of the device he/she uses.
Supports Blended Learning
The smallest of training activities can be easily recorded with Tin Can API. If a student accessed information and learned from multiple sources - via simulations, games, online courses, seminars and so on. Tin Can have the ability to record these activities, learner's progress (any achievements).
With Tin Can, an instructor gets the opportunity to access the informal learning activities, ensuring a holistic evaluation of the learner's learning endeavors.
Make Learning more Advanced
Yes, it has proven its mettle as a more efficient learning specification compared to its predecessor ie. SCORM. It can capture and do everything that SCORM can possibly do. Moreover, it offers greater flexibility by adding new nouns, verbs, and even objects. It is able to capture statement-based activities that are sent from the content to the LRS. In fact, the statements can be elaborative in nature and can comprise context-related information such as date and time.
With Tin Can API, the LRS won't need any details beforehand about the eLearning content - the location, kind of courses or how much the learner will take. It is able to capture everything you need.
Learning of any Type is Possible
With Tin Can API, it is possible to successfully record on the job and informal training, both. It can support all type of activity statements. Writing a grant proposal, attending a lecture, going through a business book or any other kind of learning activities can be added to an LRS offering a holistic picture of learning - be it formal or on the job. Tin Can work across different capacities.
Adapt to the Technological Advancement
I would say that Tin Can is a better option if you are keen to future proof your online learning content. It will grow, modify and adapt itself to future demands. It won't become stagnant.
Does this mean that Tin Can API will replace SCORM in the near future and is it time for businesses to switch to xAPI? Well, presently, Tin Can not replace SCORM but it would be able to bring additional functionality and reporting abilities that SCORM is not able to handle.
Currently, xAPI can complement SCORM and conventional LMS tools. For businesses that aren't focusing on mobile learning or require tracking behavior, it's fine if they stick to a conventional LMS software. But if you are keen to collate a rich kind of data about your users ( and willing to modify learning based on the results), then Experience API is most suitable for you.
Summing up
Tin Can API isn't just an update of SCORM. It is much rather a paradigm shift in learning management that has been unlocking the possibility to harness data keeping mind the changing times. In place of trying to make decisions on the basis of some data points, xAPI helps in taking well-informed decisions which makes it more capable.
Did I miss anything? Please share your opinion in the comments section below.
Do you want a free Training Software?
We have the #1 Learning Management Software for complete learning solution starting at $0