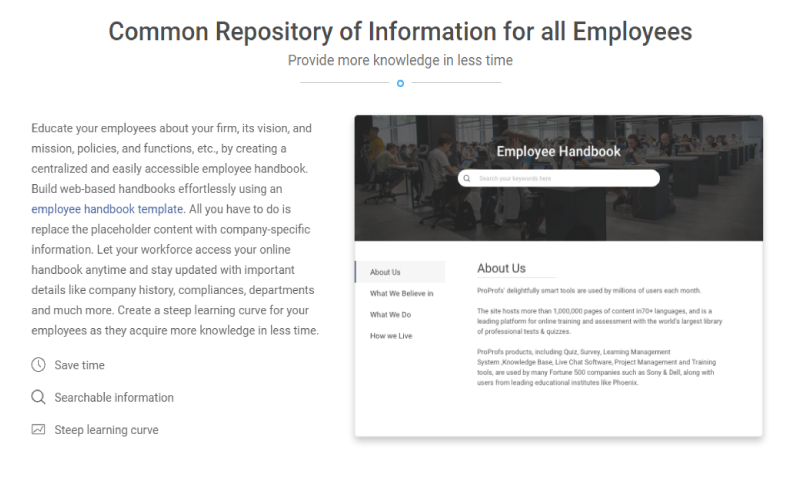 You might have hired the creme de la creme of candidates having strong experience and educational background, but surprisingly, you are still disappointed, due to unachieved goals and low employee engagement. Add to this the high turnover that aggravates the problem even more.
In spite of having the right talent for your business, what is it that's hindering your growth?
A talented squad of employees is not enough for the growth of your firm. What you need is a platform to train your employees so that they blend well in your organization and are able to make optimum utilization of their skills.
This is where an online employee handbook comes to the picture.
A glance at web-based employee handbook
An employee handbook is an online platform, leveraging which, employees can hunt for the information they need, anytime and from any device. With an online handbook in place, you ensure that your workforce doesn't have to wait for responses or information and lose quality time in the meanwhile.
Creating a compelling employee handbook will enable you to empower your employees with self-help so that they can get the information they want instantly, without depending on external support.
The benefits you derive from an employee handbook
An online employee handbook provides your employees with a roadmap to follow while working in the organization. It's a convenient tool that gives them access to a pool of information about your company, its history, mission and vision, rules and policies, etc., at one single place.
It also helps them understand their job responsibilities better and provide them with a clear view of the company's expectations from them.
Employee handbooks also promote a healthy and professional company-worker relationship. Besides helping employees understand their roles in the firm, they give them a transparent picture of what they can expect from higher management during promotions and appraisals.
Another reason why you should invest in creating an employee handbook is to provide new joiners with a smooth onboarding experience. We all know how wallet-smashing corporate training can be. A fully-functional employee handbook in place will save you from exorbitant expenses of conducting training sessions, as your employees will have access to a platform that will enable them to self-educate on everything related to your firm.
In a nutshell, a powerful employee handbook
Increases productivity of your workforce

Saves a significant amount of time of your employees

Provides centralized knowledge exchange

Boosts peer-to-peer learning
How to build an employee handbook?
To achieve the desired results, it's crucial that an employee handbook is crafted with precision, keeping into account every minute detail.
A few tips to help you get started with creating an employee handbook -
Structure it meticulously -

Frame your guide in an organized way for easy navigation. Include sections and subsections at the beginning of the handbook so that readers have a clear idea of its contents. Ensure that the categories you include are relevant and to the point.

Avoid ambiguity to keep confusion and misunderstanding at bay. Placeholders in the middle of the handbook are instrumental in segregating information and giving a breather to readers.

Include valuable information -

The content of your handbook ought to be of finest quality. Ask yourself several questions before putting in the information like Is this important for my employees? What information might they need on a regular basis?

Or you can also reach out to your employees and ask them these questions directly.Talk to them on the kind of content they look out for frequently and what they would like you to include in the handbook, for easy reference. Once you are through with the research, couple it with your findings and kick-start with your guidebook. Don't miss out on basic information like HR policies, leave and employment policies, etc.Your handbook should go in the order of

basic to specific

, means, basic sections like company values, mission, vision, history should be covered initially and gradually lead the reader to specific content like project guidelines, department-wise information, etc.

Embellish with themes and designs -

Your handbook is the source through which you can create an impactful impression of your brand in the minds of your employees. It represents your firm, hence, make sure that you

bind your handbook using the right font, theme, and design

that goes well with your branding guideline.

A hueless and lifeless handbook won't be able to retain the attention of your employees, therefore sprinkle the right amount of colors just so your handbook looks pleasing to read.
Include a section on feedback -

So you managed to create a handbook that comprises of every possible information that your employees might want to search for. You have positioned the content in the right places, and your handbook is infallible, according to you. But your thoughts and your employees' views on the guide can differ, can't they?

Asking readers for feedback in the handbook itself, will give you a different perspective and help you improve your online guidebook. Taking feedback can be done in many ways. You can either include a separate section in the handbook, where readers can fill in their inputs, or you can monitor the search pattern of your employees, using

Google Analytics

, to gain valuable data like the most searched article or the most visited page, etc.

Choose the right employee handbook software -

For building an impressive employee handbook, a software that's supported by leading-edge technology is a prerequisite. While on the hunt for the right software, ask yourself a few questions like -
Is it compatible with mobiles, laptops, and tablets?

Does it have a

superior search functionality

?

Does it provide a smooth and intuitive user interface?

Does it provide

integrations with powerful tools

, for instance, Google Analytics?

Do different browsers support it?

What kind of settings does it provide?

Are designing options available?

Does it have the feature to set conditions on content for limited access?
You can add more questions to this list, depending on what you are looking for.
In a nutshell -
Embracing new technologies like online employee handbooks can be a boon to your business. Besides streamlining work processes, a carefully-crafted web-based handbook can significantly enhance the productivity of your employees by saving their hours and energies, that would get wasted otherwise in trivialities.
Underpinned by smart software, an employee handbook is one of the best ways to bring all your employees on a single converging point, imbibe in them the attitude of self-learning and drive them and your organization towards the path of excellence.
Do you want a free Knowledge Base Software?
We have the #1 Knowledge Base Software for delightful self-service help center starting at $0