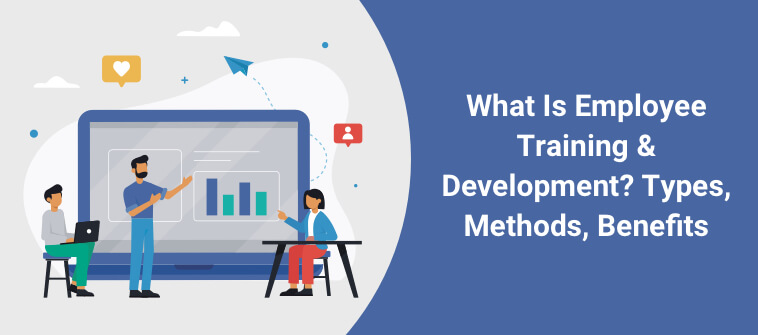 Employees are the biggest asset of every organization. Realizing this, companies are
spending more
than before on employee training. The only way to improve performance, ensure retention, and achieve business growth is through employee training.
To make the most of such programs, you first need to know the ins and outs of employee training and development.
This blog post provides a breakdown of all that you should know about the topic. Read on to find out.
What is Employee Training and Development?
To know the importance of training employees, you should first understand what employee training and development is.
Employee training and development is a planned and systematic process of developing role-based knowledge and skills in employees.
Examples are technical training and leadership training. Such training programs are tied to:
improved employee performance

better decision-making

achieving business objectives
Employers use various methods to train and develop their employees, including classroom training, eLearning, role-plays, videos, group discussions, and so on.
Regardless of the industry you are in, employee training and development should be precise and measurable.
Watch:What Is Employee Training?

Why Deploy High-Impact Employee Training?
Among other factors, technological innovations and changing market trends necessitate ongoing employee training and development. Such programs are also important for keeping the workforce motivated, reduce churn rate, and increase productivity. Over time, they should be able to transform your business.
Quality employee training software can be immensely helpful at such a time.
Here are some reasons why you should deploy impactful training:
Well-formulated training provides an opportunity to identify, analyze, and bridge skill gaps. Based on this, you can come up with specific learning objectives for each learner. This, in turn, can help improve their performance and impact your business positively.
Hiring qualified candidates is time-consuming and costly. The next best option for this is to develop your existing workforce.
As a practice, you can offer career development programs in employment contracts to add value to the job offerings and foster a sense of loyalty. This can benefit your business with better employee retention.
---
Read More:- LMS: Enabling Tailored Employee Training for Best Results
---
A thoroughly planned and executed employee development program is also significant for staying up to date with industry trends. Your survival capacity is determined by how updated you are and how fast you can adapt to shifting sands.
Only quality employee training can empower you to be pragmatic, face competition, and come out triumphant.
When you are serious about employee training and development and invest in it wisely, it reflects in your profit margins at the end of the day. This is because there is a close link between enhanced employee productivity and customer delight, and delightful customers are everything.
In other words, a successful training strategy is a must for building a pool of smart employees, brand development, and better ROI.
If you want to find out how to administer training to a large group, this free course will help you.
Types of Employee Training and Development
There are at least half a dozen types of employee development training that almost all companies deploy. They are:
It starts with orientation and goes on to cover other activities such as HR paperwork, training on company policies and culture, facility tours, introduction to team members, and job training.
The primary aim of onboarding is to integrate new hires into a company successfully. It should be thorough and engaging for you to see results. (check out how much an LMS helps your onboarding process)
Basic Skills Training
Basic skills are skills that all employees are expected to possess regardless of their educational background. Hence the importance of this training. It includes training in basic computer skills, organizational skills, and written and verbal communication skills.
It involves training on all the technical aspects of an employee's job. These skills are often job-specific and necessary to perform a task correctly.
Computer knowledge is an example. This training is generally designed to help employees work faster and more efficiently in their day-to-day roles.
This training encompasses personality development, communication skills, social skills, and emotional intelligence.
Interpersonal skills training programs like this help mold employees so that they can work harmoniously with others in a professional environment.
Product & Service Training
Product & service training is recommended for both new and existing employees.
Product knowledge is important for salespersons as it plays a major role in closing sales deals. For the rest of the employees whose daily tasks revolve around a company's product and service, this training is equally significant.
Programs such as sexual harassment training and workplace safety training come under this category. They are mandated by laws and regulations, which may vary from one state to another.
Companies need to comply with state and federal-mandated training requirements. This type of training is conducted periodically.
Popular Employee Training Methods For Workplace Training
After learning why employee training matters, you should know how to train employees. There are five different training methods that many companies use in combination with each other or as a blended form.
Instructor-led training is the most widely used traditional method of imparting training in which an instructor takes the lead. Live discussions and question & answer sessions are characteristics of this training method. The face-to-face interactions give a personal touch to training.
On the other side of the coin is computer-based training, also known as eLearning, online employee training, or web-based training.
This training uses electronic devices, including computers, laptops, tablets, and smartphones as well as an Internet connection. One advantage of this training is that learners can access training courses for employees anytime and anywhere.
Generally, companies rely on computer-based training courses to deliver this type of training. ProProfs offers a library of 100+ ready-to-use courses that you can share with your learners right away with a few customizations.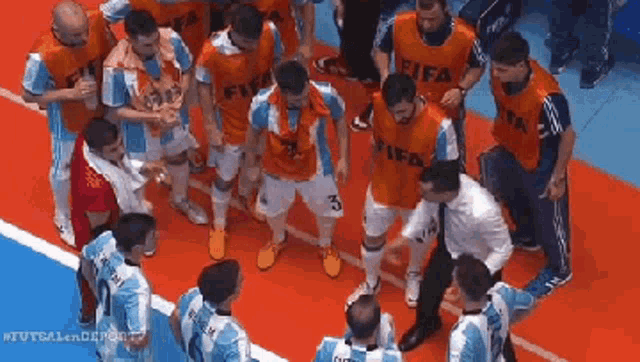 Done either in person or online, coaching & mentoring provides a one-on-one learning experience to employees. It is usually between a new employee and an experienced colleague.
Trainees find this method more comfortable and personalized than the one that takes place in a physical classroom setting.
This is simply learning from others in a social environment. Activities such as group discussions, Q&A sessions, role-plays, and team-based brain games are some examples of this kind of learning.
Multiple individuals are involved in the learning process characterized by observation, imitating, and knowledge sharing.
There are several elements that make training interactive. It can be team-based learning activities, quizzes, surveys, simulations, and so on. They make learning fun and engaging, thereby increasing the chances of success.
Advancement in educational technology has contributed to greater interactivity in training.
---
Read More:- How to Develop Your First Employee Training Program
---
Benefits of Employee Training and Development
There are countless benefits to staff training and development. Basically, they empower and prepare a business for the competition with well-groomed employees.
This is perhaps one of the greatest benefits of training employees.
No matter what the position and role of an employee are in an organization, there is always something new to learn from time to time.
Training plays a monumental role in identifying and closing the skill gaps in the workforce. This enables them to adapt easily to new professional requirements and business environments.
When employees receive the right training at the right time, it paves the way for improved performance. This is because training empowers employees with the necessary knowledge and skills to perform their jobs proficiently and effectively.
Such professionally trained employees, in turn, bring measurable results.
Greater Creativity & Innovation
Interactions with instructors, as well as co-trainees and a variety of activities during a training session spark creativity and innovation in employees. This aids them in their jobs, especially when they encounter challenges and issues. They can apply ideas in new ways to overcome those problems.
Engagement in the Workplace
Training increases workplace engagement by keeping boredom in check. Restricting employees to routine tasks can breed monotony over time. During such times, learning & development opportunities can be the best antidote. It keeps them busy in rewarding activities that promote their professional development and career growth.
Regular training of employees can help develop their performance, provide job satisfaction, and reduce turnover. It, thus, eliminates the need for hiring and training new employees. This saves business time and costs.
A well-trained workforce also delivers on what is expected and keeps customers happy. All this ensures ROI and sound financial standing of a company.
Characteristics of Top-Rated Employee Training Programs
Employee development programs differ from one organization to another. Having said that, there are certain traits that every quality employee training program displays. They are:
Company-Wide Needs Assessment
A needs analysis of trainees, particularly their skill gaps, forms the foundation of all sound training programs. You need to conduct thorough research across your company, for example, through surveys. This helps companies in identifying who needs training, how, and when.
Such exercises are generally conducted to assess current performance and expected performance. For example, unhappy customers can be a clear indication that your customer support team badly needs sales training.
Alignment With Business Objectives
Along with employee development, every corporate training program has another higher purpose - meeting business objectives.
Whether it is maintaining a healthy cash flow or achieving sustainable growth, a company always strives toward that objective. So, it is obvious to see businesses aligning workforce training with specific objectives through strategies.
This is another mark of a first-rate employee training and development program.
For any employee development program to be meaningful, it must be measurable. You should be able to quantify what's achieved and what remains at the end of each program.
Standard training would rely on certain business metrics against which the organizational goals can be measured. This enables employers to know the overall effectiveness of training.
Relevant & Updated Content
Companies unanimously agree that one of the best ways to make the most of employee training is to use relevant and updated content. They should reflect the latest industry trends to make sure that your employees pick up the contemporary skills that modern workplaces demand.
This will also make learning more engaging and easily applicable to daily tasks.
By using virtual classroom software, it becomes easy to not only add learners and assign courses to them, but also to regularly update the content.
How to Create Employee Training Courses Online

Support of Senior Management
Yet another hallmark of an extraordinary employee training is it enjoys buy-in from senior management. It receives much-needed support from the leadership from day one.
This is significant as it motivates employees to participate actively in any training program that the company offers. It also drives home the message that the company treats employees' learning & development as a priority.
Reinforcement Post-Training
Post-training reinforcement is an integral part of any successful employee training program. It is to ensure that employees actually apply to their work what they learned during training. Otherwise, it would amount to conducting training just for the sake of it.
Without this phase, employees would soon forget the training. You can assign small activities regularly to help your employees recall and retain training lessons.
Take Your Employee Training to the Next Level
These are the key elements that make up employee training. A thorough understanding of them and application in your training programs can give a boost to your efforts to transform your workforce into a winning team.
In case you need employee training software to streamline employee training, we can help you. ProProfs LMS offers complete online training solutions for enterprises of all sizes.
Take a quick tour or schedule a demo. Call us @ (855) 776-7763, and one of our representatives will take it from there.
Do you want a free Training Software?
We have the #1 Learning Management Software for complete learning solution starting at $0