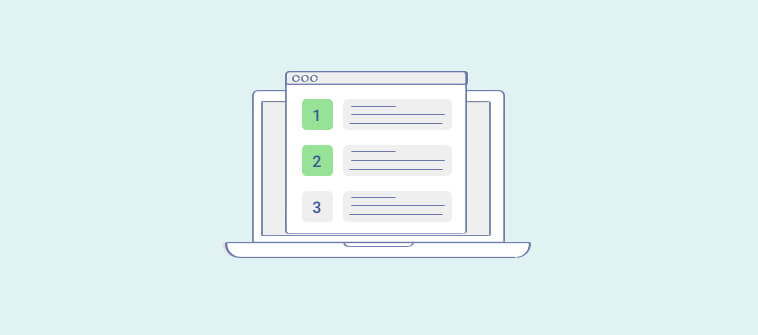 There is a process to everything - right from the simplest ones such as making tea or Maggi, to more complex ones such as baking a cake, filling out a form, or applying for a scholarship.
What's a process? A very basic question, but what we don't realize is that whatever we do on a daily basis is a process of some of the other kind.
Quickly shifting our focus to businesses.
For companies to run effectively, they have to ensure that certain processes are followed. And for that, documenting the processes is essential.
What Is Process Documentation?
A process document is nothing but a detailed and comprehensive document comprising steps to execute a specific business process or complete a task. Processes define the route to accomplish a goal. This goal can be anything right from inducting a new employee in an organization to how to train employees on your company's policies.
A carefully crafted and finely structured process document lays down a definite path that employees can follow while working on a particular task. It gives them step-by-step instructions regarding what needs to be done and how to do it.
It increases the productivity of employees by empowering them to complete tasks effectively and in a timely manner.
Why Do You Need Process Documentation?
Well-documented processes provide a solid foundation for a firm, whether it be a startup that's new to the business, or an established organization.
A company's internal processes can be about -
Hiring employees

Onboarding recruits

Applying for leaves

Getting the benefits of policies

Conducting training, and much more.
When processes are documented and are easily available for use by employees, it streamlines the work, reduces the risk of loss of information, or committing grave mistakes, keeps your employees up-to-date, and helps you scale faster.
Want to know exactly why is process documentation important? Here's your answer.
1. Process Documentation removes hiccups arising due to employees abruptly leaving your organization
Yes, that's true.
Take a hypothetical situation wherein someone from your social media team leaves your organization suddenly, at short notice. And, to add to your dismay, the person was an expert in promoting your firm over LinkedIn. He had his own ways and methods about marketing your brand on this professional network. Now that he is gone, his knowledge goes with him, leaving you in a lurch.
Some enlightening - this situation would not arise, had the process he followed, was documented on a central platform.
This is why processes need to be well-documented. So, even if some employees leave, others don't have to bear the brunt and start everything from scratch.
2. Reduces mistakes to a bare minimum
Processes documented on a centralized online platform enhance the capabilities of employees and makes them adept at accomplishing tasks. When they follow processes written by experts or those who initially worked on something, mistakes are bound to get reduced. In fact, they can even get erased from the picture completely.
This is because, every single step, right from the most basic to the one that finally closes a task, is written clearly in an online process document, leaving little scope for mistakes. And even if flaws occur, employees can always go through the process again and make the required corrections.
3. Keeps you ready for the worst
There is always a risk element associated with businesses. Markets keep slashing and recovering; companies keep drowning and swimming again - so the crux is surviving the tough business terrains, is no child's play. You need to be well-prepared for disasters that can knock on your door anytime.
But, situations can be prevented from turning worse if you take appropriate actions on time. And, an online process document can help you sail through the storms easily.
When everything that needs to be done in a particular situation is clearly documented, all you have to do is follow the steps. You can even make a few revisions in the steps - looking at the intensity of the wrong ones, and the situation will get reversed if not immediately, but definitely.
What if one fine day, you wake up and find that many of your revenue-generating clients have decided to leave your firm, due to a market rumor. How will you cope with it?
So, situations like these can arise, but having your business processes well-documented can turn out to be a big relief.
4. Process documentation improves efficiency and productivity at work
Providing your employees a centralized online platform where they can learn about various processes, is the best thing you can do to keep them efficient and productive at the workplace.
Understanding a process can take time if every time, seniors or managers have to do one-on-one sessions with juniors. The time can greatly reduce provided all processes are documented clearly.
So whenever employees have doubts, all they have to do is refer to the process document, and get answers instantly.
5. Well-documented processes help new employees get familiarized with your work dynamics
Organizing training sessions for new hires can burn a hole in your pocket and affect your balance sheet. But, with a full-fledged, well-structured, and comprehensive process document, this expense can be greatly reduced.
The question of training new hires in person doesn't arise if you already have an online system in place that provides the same information that an offline training session will offer. The only difference is that the former is more like a self-help thing, meaning, your recruits can self-train and get versed with the various processes followed in your organization, all by themselves.
Now that we know why you need to have business process documentation, let's dive into how you can build one for your business.
How to Get Started?
First things first, you need to literally work on the quality of your processes. Ask yourself a few questions such as -
Are the business processes efficient and employee-friendly?

Are they capable of bringing the right results?

Does there exist any fault or flaws in your processes?

Is there a predetermined process for every function in your organization?
Such questions will give you a reality check regarding the quality of your business processes and whether they address the issues effectively.
Once you gain clarity, you may start with the document creation part.
Here are 6 major steps that can help you produce a finely-structured and comprehensive process document.
Step #1

Choose an appropriate process documentation template
Pick a template that best suits your requirements. Templates provide a predefined structure, with a dummy content. You can replace the dummy text with information about your processes.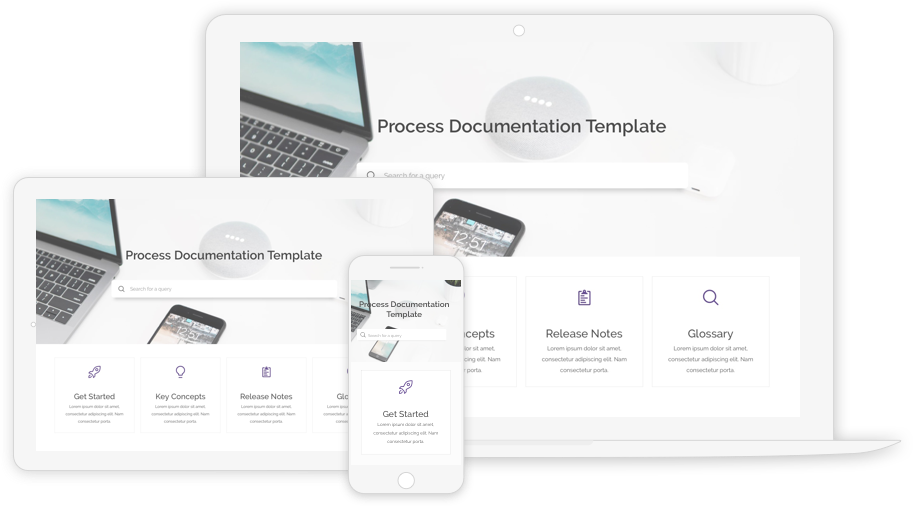 It provides you a framework. You simply need to start putting content in it, either by writing or by uploading existing content, if you have any.
Templates come in different shapes and forms, so make sure that you pick the one that you feel will do justice to your requirements.
Step #2

Pen it down

Once you know which template is best suited for your business processes, it's time to start writing.

Many people prefer to take the pen and paper approach before taking things on the computer. If you are one of those, you can first create a brief about your processes on paper. It will clear the clutter and bring in more clarity around what you want and don't want to include in the process document.

Once you are done with this, get started with your online process document.

Writing content is extremely simple with MS Word-like editor that comes with a powerful knowledge base tool like ProProfs. You can use the online editor to write and edit content and add multimedia to the document.

It has a wide array of formatting and styling options. Leverage them to design the content for your process document.
Step #3

Fine-tune your process document

It's essential to give a well-defined structure to your process document, more so because it is all about business processes, which need to be adequately explained, to get the best results.

The first step to structure it well is by adding a table of contents at the beginning of the document. Divide the entire content into sections and sub-sections. Come up with some significant umbrella processes which you can keep as the major sections of the document.

Under these sections, mention all the processes that fall under each of them.

You can have various steps as part of the processes, with screenshots to ensure that readers get a holistic understanding.
Step #4

Tap expertise by bringing teams together

As different processes are handled by different teams, it's best to include all your workforce in creating and managing the document. This way, you will be able to capitalize on the expertise of various employees, which will keep you assured of the quality of the content written.

The best way to do this is by assigning certain roles such as -
Contributor

Editor

Administrator

Viewer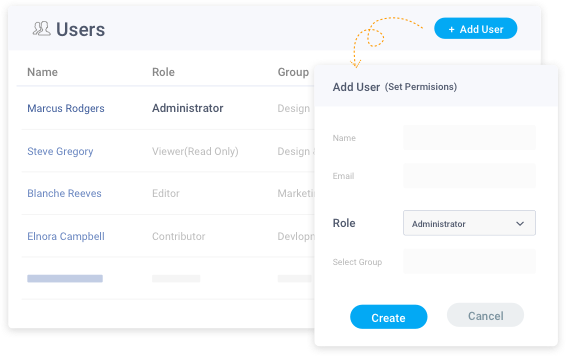 Once you assign roles, the permissions of different users will be determined, and they will know their duties well. So, contributors can comprise a group of experts from different teams who will directly contribute content to the document. Editors can be another set of employees who will be responsible for editing the content to maintain its quality, and administrators will foresee the entire work - right from adding users to deleting them.
This will bring all your workforce under one roof, and help them work with combined synergy to contribute knowledge and ensure that quality of content is maintained at all times.
Step #5

Track article status

How do you know that articles are reviewed multiple times before going live? Workflows provide the best way to keep track of the status of articles.

Workflows allow you to set the status of articles, and track them at each stage. For instance, an article can be put as 'In Draft' if a writer is still working on it. If it's submitted for review to the editor, its status can be changed to 'Under Review.'

You can even set the custom status for articles, depending on which stage they are in. If your content piece is sent to the design team to improve its aesthetics, you can keep the status as - Sent to Design.

Workflows help you track the articles, right from the time they are written, till they finally get published in your process document.
Step #6

Keep improving your process document

Creating a process document is not a one-time activity. You have to keep improving it with new and updated information.

What if the processes you have documented are old, and new processes are already in use in your firm. Your employees look for information around the new processes, using a specific set of keywords, only to realize that there is no such content in the document. This can give rise to new problems, and might even affect the task an employee is working on.

To avoid situations like these, it's best to revisit your document and improvise it time and again.

Reports work best in this case. They provide you insights into -
Article Health

Document statistics

Content relevance

Author activity
They give you details around -
Total searches made

Failed and successful searches

Keywords that failed to return results

Poorly rated and popular articles

Broken links, and much more.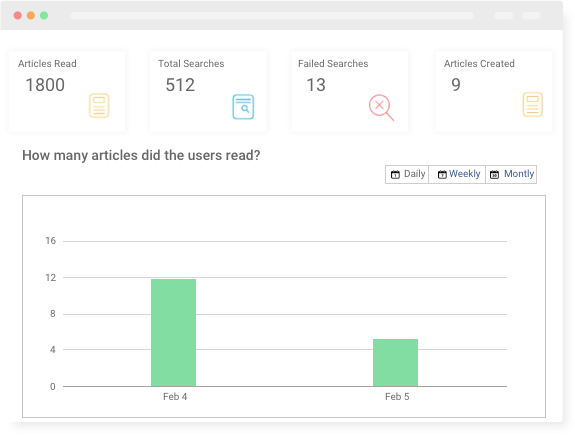 Leverage this information to know what your employees are exactly looking for and accordingly bring changes in your business process documentation.
So, these are just six major steps, but there is a lot more when it comes to creating a process document.
Read: How to Create & Write Process Documentation Easily
Business Process Documentation Best Practices
Simplicity works best, so keep your document as simple and straightforward as you can.

Engagement is a must, so ensure that you balance it out by keeping a mixture of text, images, videos, and screenshots.

Brevity is key, so ensure that your sentences, as well as paragraphs, are short and simple.

Customization is crucial, so make it a point that you customize your document for all your employees spread across different geographies.

Quality check is a must, so don't forget to get all your articles reviewed for faulty facts and figures, grammatical errors, and any other flaws.

Better to clone than write from scratch, so you can make use of your existing word docs, PDFs, presentations to import useful content right into your document.

Feedback is essential, so make it a point to collect feedback from employees and implement what seems right.

If you are a novice at creating a process document, kickstart with a single process, and then gradually expand to include various other processes in your document.
For all of this, what you need in the first place is process documentation software - not just any software, but something that promises excellent results.
When choosing such a tool, you can scour for features like-
Online Editor

Contextual Help

Team collaboration options

Customization and configuration features

Multiple language support

Insightful reports

Capability to work across devices and browsers

Integrations with ticketing software, survey and chat tools
These are some fundamental features that are a must-have in any process documentation tool you choose. How your process document will turn out depends largely on which tool you are using to create it. So, be cautious, goal-focused, and research-ready while selecting the best documentation software.
All the best.
Do you want a free Knowledge Base Software?
We have the #1 Knowledge Base Software for delightful self-service help center starting at $0