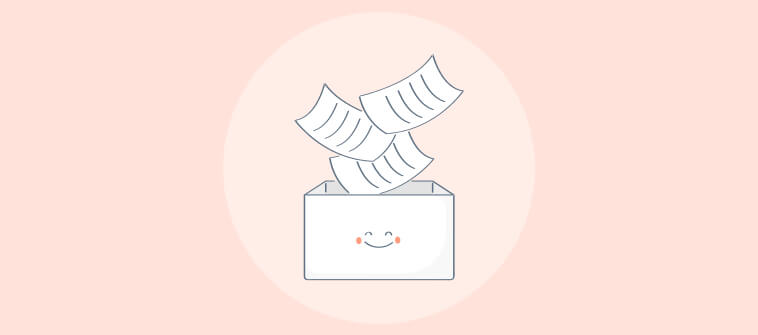 Your products are beyond brilliance. They are feature-rich, powerful, and intelligently designed to fulfill customer needs.
But simply creating stellar products doesn't guarantee great customer experiences.
Your customers should be able to use the product successfully, with minimum hassles. That's when you can proudly say – "We have achieved our ultimate goal – customer delight."
Online user documentation is a proven way to work this out. It's a critical self-help tool that educates customers about your product and helps them combat any challenges they encounter.
It's a great business tool that can take your product user experience to a whole new level.
Read this blog to learn everything about user documentation:
What is User Documentation

Benefits of User Documentation

How to Create Compelling Documentation for Your Customers

Elements of User Documentation
What is User Documentation
User documentation is an online self-help document that provides everything customers need to use your product successfully.
It covers every valuable information about your product, such as:
Its anatomy and design

Features and how to use them

Use cases of your product

Risks associated with your product

Possible challenges that customers might face

Solutions to all these challenges and more.
A comprehensive user document guides customers on the right path and helps them achieve the desired results. Whether your product is as simple as a rolling pin or as complex as accounting software, a user document is crucial to ensure customers are on the right track.
Benefits of User Documentation
User documentation forms a core element of the overall customer experience. Let's take a look at the bouquet of benefits it offers you and your customers.
1. Great for Customer Onboarding
When customers buy a product, they have little to no idea of how to use it effectively. Although this isn't always the case, it happens only when customers are completely new to a particular product type.
An online user document helps new customers get acquainted with a product and make the most of it. It guides them through its features and uses cases, risks, potential problems, and how to fix them.
Read: The Ultimate Guide to Customer Onboarding
2. Improves Customer Experience
Besides new user onboarding, user documentation helps existing customers fix any bottlenecks they face while using a product.
Whenever they run into an issue, no matter how big or small, they can turn to your online documentation to seek the right solutions. It makes problem-solving quick, convenient, and hassle-free for your customers.
3. Your Support Staff Can Heave a Sigh of Relief
Is your support team drowned in tickets all the time? Are most of these tickets about common or primary customer issues? Well, here is good news.
An online self-help document empowers customers to solve issues on their own. That means they are less likely to raise tickets for basic issues. Your ticket volume can come down significantly, and agents will have all the time in the world to focus on serious customer issues that need immediate attention.
These are the three significant benefits of creating end-user documentation. Besides these, it also helps in elevating your brand visibility provided your document is optimized for search engines.
Let's now understand what goes into creating a stellar user document.
How to Create a Comprehensive User Document
Your user documentation should be comprehensive and provide accurate help to customers. That's when customers will start using it frequently for problem-solving.
Your customers should be able to trust the information provided in the document. That can happen only when you work on every aspect of the content, right from content quality to its design and presentation.
Here are 8 simple steps to build documentation of top-notch quality-
1. Get a Suitable Tool
Having the right documentation tool is half the battle won. It will help you navigate the challenges smoothly while creating user documentation for your customers.
Selecting the right tool from the scores of options available online is like tracing a needle in a haystack. But, worry not. We are here to help you.
To find the right tool, check out a few major features, such as:
MS Word-like editor

Beautifully-designed templates

A strong search system

Enterprise-grade security

Option to customize the content

Workflow rules

Option to publish across multiple platforms

Multiple language support

Integrations with third-party live chat and ticketing tools such as Zendesk, Salesforce, and more.

A robust reporting system, and many more.
In a nutshell, your documentation software should be a powerhouse of stellar features that work together to produce a stunning user document.
This video is all you need to understand how to select the right documentation tool –

2. Find a Template That's Just Right For You
An ideal tool offers beautiful user documentation templates to help you kick-start the content creation process. You need to find a template that fits your requirements.
There's no point picking an employee handbook template if your goal is to create user documentation, right?
Templates provide a predefined structure for your documentation. You simply need to add your company's logo, change the headers if you want, and replace the dummy content with valuable information.
Easy, right? Imagine if you were given a plain document and had to create everything from scratch, right from the table of contents to headers and footers. The effort would have tripled.
Templates save you a lot of time and energy, making the entire process utterly seamless.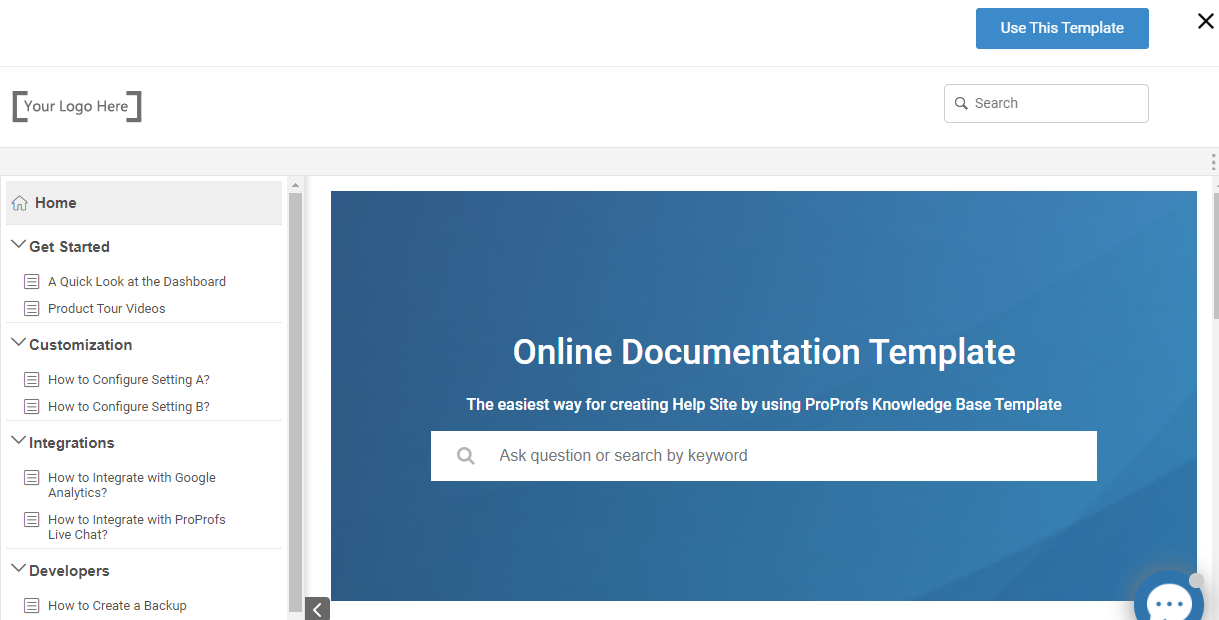 3. Fill it With Useful Information
Once the template is ready, the next step is to write down every information you think customers might need while working with your product. Write in a way that customers can connect to your content and use it for problem-solving.
Have a few major sections and their subsections. Create detailed articles on each of the sections, covering every possible information. While writing content, you need to know the difference between useful and insignificant information. Add only those details that customers will most likely need to be successful with your product.
Create a logical hierarchy of sections. Do not overwhelm customers by providing complex information in the beginning. Follow the basic to complex approach that helps them understand your product in a simple step-by-step document.
These simple hacks will help you create useful content the right way:
Be as specific as possible

Create benefit-oriented headers and sub-headers

Use simple and clear language for better comprehension

Use the active style of writing as much as possible

Create fluff-free and flawless content

Use bullet points to explain more in fewer words

Do not assume that customers know everything. Provide every useful information regardless of how basic it is.
That's how you can create rich and relevant content that addresses customer concerns in the right way.
Online Banking Help's user documentation shows us how to do it.
4. Customize & Add Visuals
A vibrant document with quality content is any day better than a plain black and white document, isn't it?
No matter how well-written your document is, it won't leave the right impact if it lacks the necessary visual elements. While writing content, ensure that you add relevant images and videos to different sections. It will complement the written content, making it easy for customers to absorb and understand the information.
Unleashed makes great use of images and videos in its documentation. It uses media at relevant places to demonstrate processes in detail.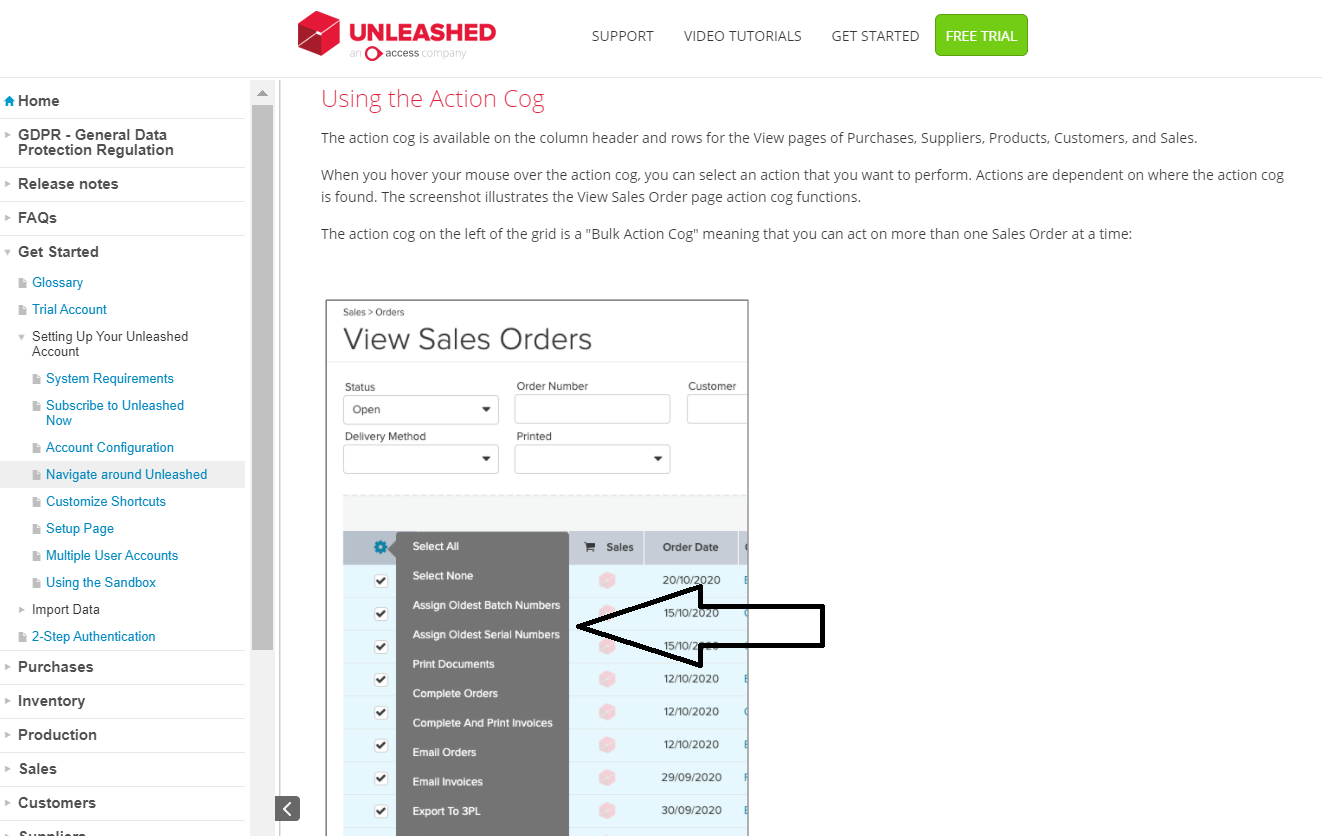 You can even customize your document, giving it the look and feel that aligns with your brand. Add your brand's logo to the document. Use fonts, themes, and colors that reflect your brand. For instance, if your website is all blue and gray, prefer this combination even in your end-user documentation.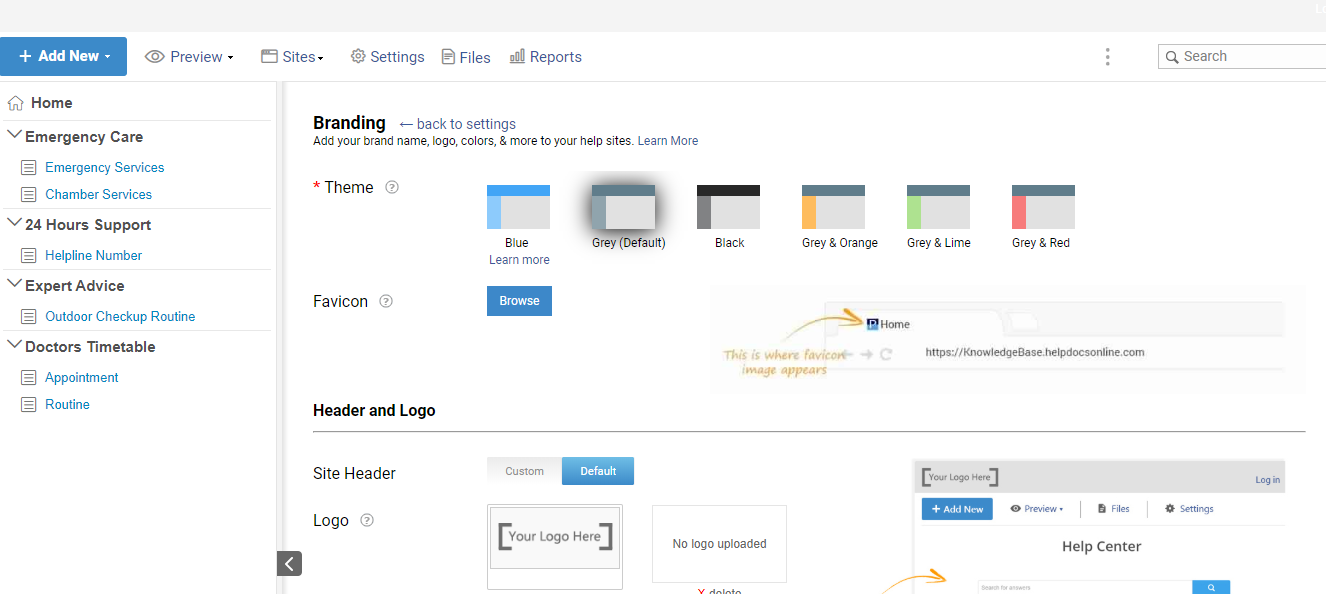 Watch this video to learn more about documentation designing-

5. Set Workflow Rules to Produce Flawless Content
Customers don't take time to form brand perceptions. Give them a memorable experience, and they will remember you for a lifetime. Provide inaccurate, faulty content, and they will lose trust in your documentation, and by that extension, in your brand.
You don't want that to happen, right?
One of the easiest ways to avoid errors is by passing every article through multiple review cycles. Setting workflows can be of tremendous help here.
All authors working on the content can set workflow status such as – Draft, In Progress, Ready for Review, and Published. This system infuses transparency in the process and gives clarity around which articles are reviewed and which aren't.
They can even create a custom status to seek help from fellow writers or editors in editing the content.
The status should be set as 'Published' only when articles pass all the stages of review.
A simple way to ensure that only error-free content goes live.
6. Gather Customer Feedback
You've created an awesome user document, but how do you know if it's really helpful for customers? What if customers aren't finding it relevant enough? What if they find the information inaccurate and misleading?
It's crucial to ask for customer feedback to have a clear idea of how adept your documentation is in addressing customer issues.
You can do that in two ways. One way is to add a standard feedback question after every article. It can be – " Was this article helpful?" with Yes/No as the options.
If a customer clicks on 'No', a comment box will be displayed to provide feedback.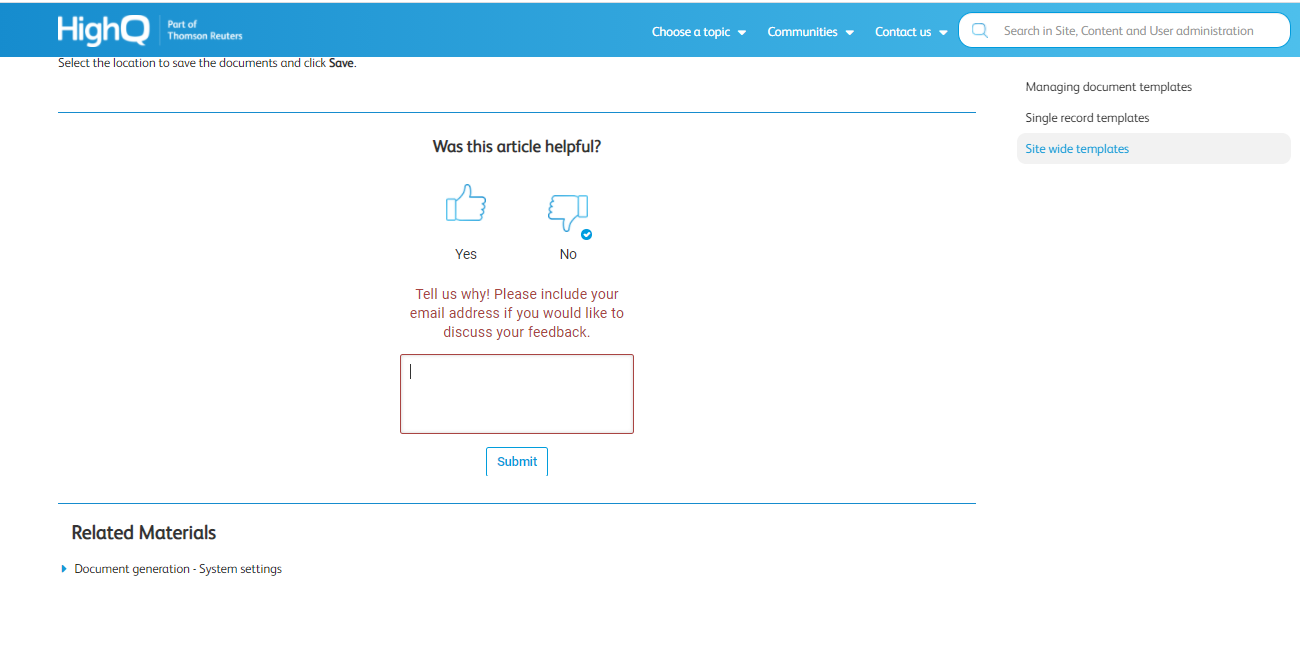 The second option is to add feedback forms at strategic places in your documentation. You can add them when a customer shows exit intent or is browsing a particular page for a long time.
These surveys can be of different types – Net Promoter Score survey, sidebar forms, in-app or scored surveys, and more.
Adding these survey forms to your documentation gives customers a ready option to give feedback or raise a ticket for unanswered questions.
Here's how it looks.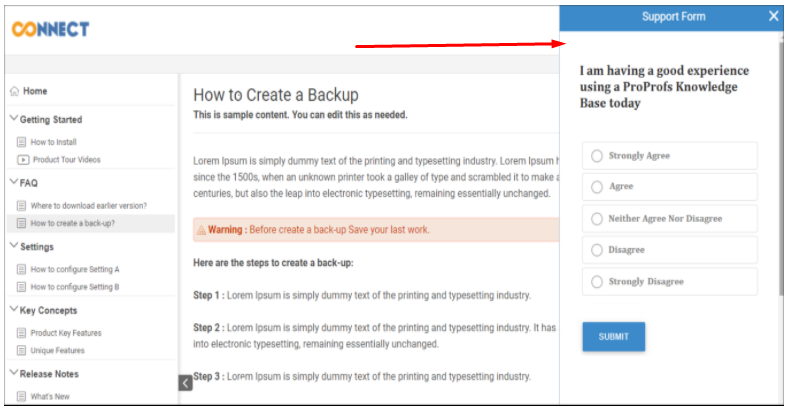 Read More: 5 Ways to Collect Customer Feedback and Make the Most of It
7. Optimize it for Search Engines
Many times customers prefer the easy route to find your help document. They simply type a keyword or a question on Google. At this point, it's important that your documentation appears in the first few results. That's precisely why you cannot afford to ignore SEO optimization.
Creating quality and accurate content is the first step towards achieving SEO optimization. Next, you need to add relevant keywords across all articles. Avoid stuffing them forcefully in the content.
Internal linking forms a crucial part of SEO strategy. Articles that are related to one another in any way can be interlinked. All customers need to do is follow the links till they get the information they want.
You can even get backlinks for your documentation on high DA third-party websites. This works wonders in boosting the online visibility of your document.
Read More: The Ultimate Knowledge Base SEO Guide for 2020
8. Analyze, Improve, Repeat
Building user documentation is a continuous process. Information can turn obsolete real soon, especially if your product undergoes developments and improvements from time to time.
You need to ensure that every progress or change needs to be recorded in your documentation. Customers should get the latest and most relevant information if you want them to continue using your product.
Analyzing your documentation's efficiency is, therefore, of prime importance. They provide detailed insights into various aspects of your documentation, such as:
Articles rated positively and negatively by customers

Keywords that do not provide accurate results

Broken links in your documentation

Total number of searches made by customers

New articles created and much more.
These built-in reports present a detailed analysis of your document's performance, giving you a clear picture of which articles need to be improved and updated.
This video explains how documentation reports work-

Elements of a Stunning User Document
For user documentation to exceed customer expectations, it needs to have a few essential elements, such as:
1. Simplicity
The more simple, minimalistic, and to-the-point your document is, the more customers will love it. It should convey the message in the most simple way possible. Simplicity is the most attractive ornament your documentation can don!
2. Visuals
As explained above, adding images and videos at relevant locations is essential to increase customer engagement. A lackluster document is a big NO as it can drive your customers away!
3. Searchability
Your documentation should offer a Google-like search experience to customers. It should have a prominent search bar where customers can type questions and get instant article suggestions. Information should just be a few seconds away!
4. Accessibility
User documentation should be accessible on all devices – mobile phones, tablets, as well as laptops. Customers should be able to find help from their favorite devices!
Besides these, your user documentation should be well-designed and, most importantly, comprise quality and helpful information.
Read more: How to Create Powerful Sales Documentation
Delight Your Customers With Instant Self-Help
Today's customers like being self-reliant. They want everything – food, clothes, or help of any kind, in a few swipes and clicks.
User documentation is one of the most effective ways to satiate customers' need for speed.
It provides instant answers to all their questions, relieving them from the conventional time-consuming calls and emails.
To create an impressive user document, start by choosing the right software. Once you have a powerful tool, pick a suitable template that matches your requirements. You can create sections and fill them with appropriate information. Next, you need to customize the document with your company's logo, suitable themes, and fonts.
Create quality and customer-centered documentation with ProProfs Knowledge Base software to keep your customers delighted!
---
Frequently Asked Questions
1. What is included in user documentation?
User documentation comprises every information about your product – features, use cases, safety measures to take, and a step-by-step process to use it.
2. What is the main benefit of user documentation?
User documentation empowers customers to help themselves. This reduces the chances of customers raising tickets at least for common questions. Your agents are relieved from answering the same questions again and again.
3. Which is an example of documentation?
Customer-facing documentation of Leap, HighQ, and Unleashed are some of the best examples. Their online documentation is comprehensive and provides every information customers need to resolve any issues they have.
---
Do you want a free Knowledge Base Software?
We have the #1 Knowledge Base Software for delightful self-service help center starting at $0