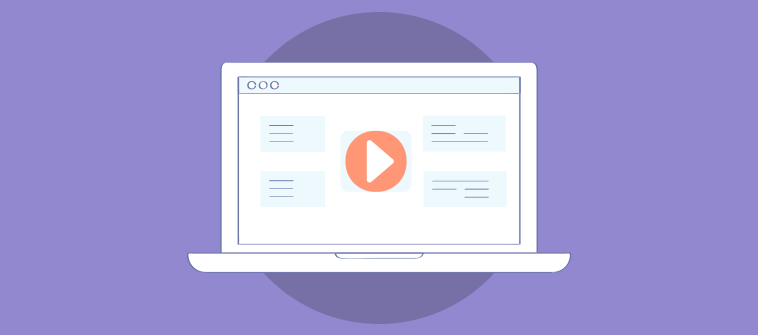 Video has become one of the most cost-effective ways to promote, train, and support customers. If used the right way, it can both save you money and make you money.

– Shep Hyken
Video is the new BIG THING. If you aren't using videos to improve customer experience, you're probably missing out on a lot of opportunities.
There is a reason video consumption has skyrocketed – videos are engaging, attention-grabbing, and leave a lasting impact on customers.
People have a higher attention span while watching videos, which results in increased knowledge retention. Given the rising consumption, this medium has become an indispensable part of marketing strategies, and here's why:
Why Use Videos in a Knowledge Base?
The answer is quite straightforward –
1 minute of video = 1.8 million words –
Forrester
It's no surprise that videos are ruling the roost. The effort to read lengthy paragraphs and go through a text-heavy document is painstakingly high.
The primary objective of creating a self-service knowledge base is to help customers become self-sufficient. Adding video content to it makes it interactive and easy to use.
In fact, over 50% of customers prefer videos more than any other content format. Here's the proof –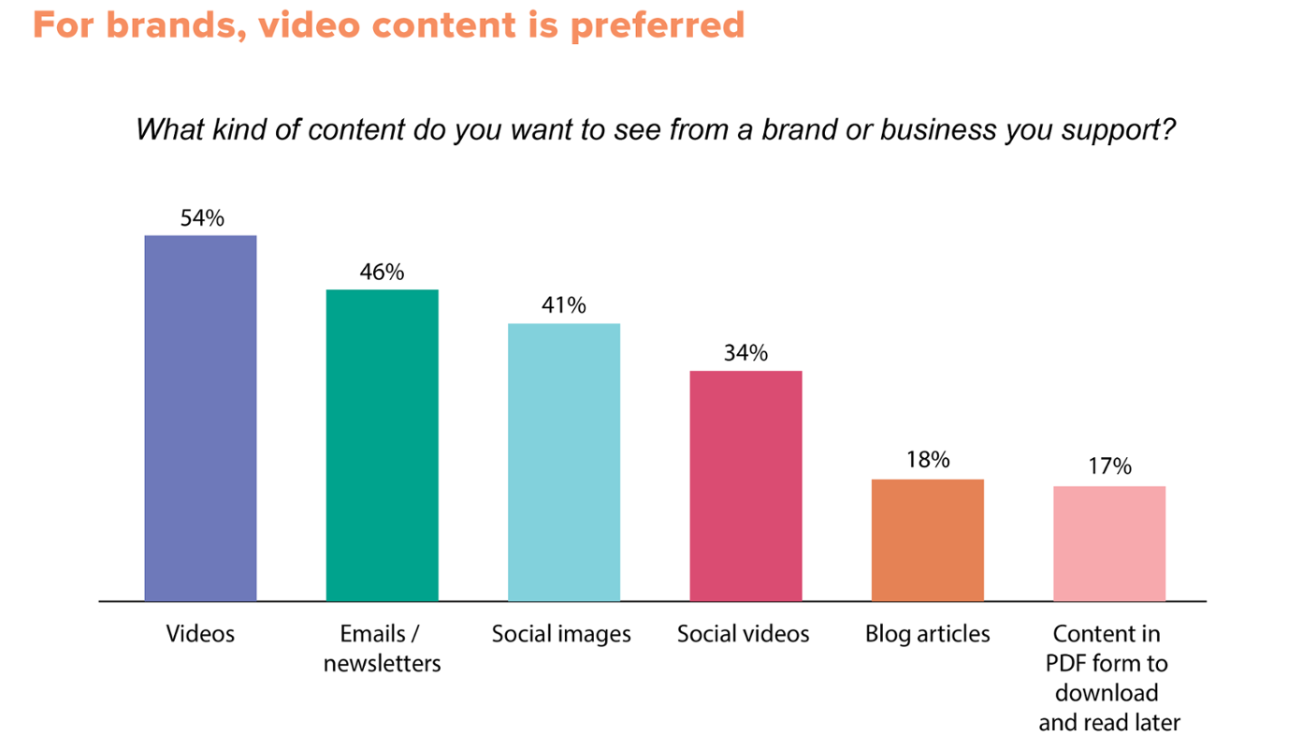 Source: Hubspot
Videos provide a guided tour of your products and services to customers and help them get an end-to-end understanding of your offerings, in minutes.
Benefits of Adding Videos to Knowledge Base
Adding relevant videos to the right places in your knowledge base can provide multiple benefits. The quality text content and engaging videos is a killer combination and can turn your knowledge base into a tremendously helpful resource for customers.
Here are a few significant benefits of adding videos to your knowledge base –
1. Higher Knowledge Retention
Viewers retain a whopping 95% of the content after watching a video, according to Forbes. This speaks volumes about why you should equip your knowledge base content with videos.
Adding videos to your knowledge base can increase knowledge retention in customers. This eventually reduces the chances of customers raising tickets on similar issues again and again.
Higher knowledge retention also means customers will become completely self-sufficient over a period of time. They will be able to resolve issues on their own without even referring to your self-service knowledge base over and over again.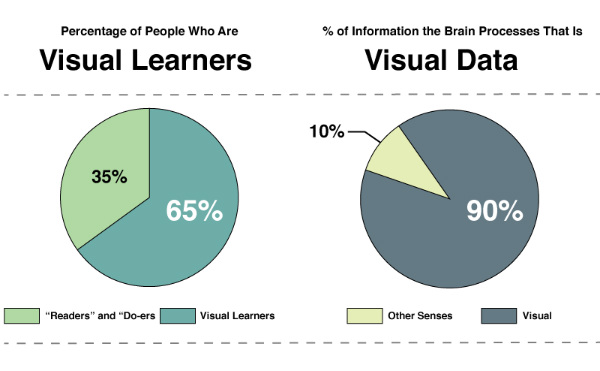 Source:
CMI
2. Connect Better With Customers
Videos provide you an opportunity to get closer to your customers. You can talk to them directly, show your offerings, explain how to troubleshoot an issue, and demonstrate the steps to complete a particular task.
Videos broaden your horizon, so you are no more confined to the limitations of a text-only knowledge base. You can experiment with different ways of connecting with customers by adding a variety of videos such as –
Explainer videos

Step by step demonstration videos

Concept-specific videos

Feature-specific videos, and much more.
Besides, videos provide you the scope to experiment with the visuals. Besides helping you solve customers' issues, videos are also a great platform to market new products and services to your audience.

3. Boost Your Reach
Multilingual video captions and multiple audio tracks can be of immense help in eliminating language barriers while reaching out to a larger audience.
Besides, you can also upload your knowledge base videos on YouTube. This gives you a larger platform to reach out to more and more people. But, standing out on YouTube can be a task, given that the platform is flooded with video content.
To deal with this, you can search for the most popular keywords (related to your video subject) that customers use to run searches on YouTube.

To find all potential keywords, use YouTube's search option and add a word or phrase related to your video's subject. A bunch of suggestions will pop up in seconds. These are some of the top terms people use to find content similar to your video. Now create a YouTube description and ensure that you use some of the top keywords in a way that doesn't look forced.
There are many other ways to enhance the reach of your videos. Learn more about it in this blog by Brian Dean.
4. Drives Better Engagement Across Platforms
There are multiple ways you can leverage knowledge base videos to engage customers –
Use them in emails

Share them on social media platforms

Add videos to your newsletter

Post them on YouTube

Use videos in your company's blogs
The options are endless. Tap every platform possible to share your videos. This will also be instrumental in driving more traffic to your knowledge base.
There is always a chance of customers sharing your knowledge base videos on social media if they find them extremely helpful. Imagine the kind of trust it will build in other prospects and customers when your video gets shared and goes viral.
You can't conjure the amount of traffic social sharing of videos can drive to your customer support knowledge base and your company's website.
These are the significant benefits of knowledge base videos. Let's now quickly understand the process behind creating amazing videos.
How to Create Compelling Knowledge Base Videos?
It's super easy if you get the basics right. By now, you know that investing in self-service knowledge base videos is a win-win game for you and your customers. Looking at how video consumption is exploding, having a knowledge base strategy that focuses on videos can turn the table in your favor.
Here are a few tips and tricks to help you build a stellar knowledge base video in minutes –
1. Video scripts – Write, Edit, & Repeat Till it Reaches Perfection
Work to create a video that's short and to-the-point. No one would want to watch a 10-minute video on a technical topic until it's utterly interesting.
Since you are creating a knowledge base video, there is a high possibility that it would be a little technical in nature. If it's too long, it will probably leave customers disinterested. You don't want that, do you?
Focus on creating clear and concise scripts using the simplest of language. Do not beat around the bush by stating the same step again and again. Since you don't want to create a long video, ensure that every line in the script adds value to listeners.
Stick to the topic by adding only the most relevant information to the video script.
You want to educate your audience, not overwhelm them with information overload.
Also, after writing, keep editing and proof-reading it till it reaches a reasonable word count.
Here's a short video on "How to Create a Knowledge Base For Your Website" Its total length is 1 minute 39 seconds. The video's script is well organized and provides a clear cut process of how you can create an online knowledgebase. Have a look at it to get an idea of –
2. Focus on Design
The visuals you embed in your video are equally important as the audio. The process shown on the screen should give a real picture of how a particular feature works or how a problem can be solved.
Try to keep it simple and impactful. Conveying too many things in a short duration can overwhelm the viewers, so ensure that your video sticks to the point from start to the end.
Watch: How to Design a Professional Knowledge Base
Keeping it simple doesn't mean it has to be a dull piece. The videos should be appealing and capable of retaining customers' interest. For that, video editing tools like Adobe Premiere Pro, Lightworks, Vegas Pro, etc. can help. They offer features like zoom in/zoom out, fade in/fade out, highlights, arrows, and many other visual effects to make videos even more powerful.
Here's an excellent example of a video that exhibits all these qualities:

3. Provide Multilingual Closed Captioning
To reach a wider audience, give viewers the power to choose captions in their native language. It increases the accessibility of your video content, drives traffic to your video, and helps you provide more value to your customers spread across the globe.
Besides, multilingual closed captioning proves advantageous for customers with hearing disabilities. They can watch your product in action and read the captions to get a holistic understanding of the video's content.
Some tools that provide multilingual closed captioning services are – Vidizmo, Amara, Travod, Stepes, and many more.
4. Keep Audio And Visuals in Sync
Audio and visuals are two essential elements of any knowledge base video. No sync between the audio and the visuals shown on the screen can leave customers astray.
The effort to solve customers' questions or onboard them to your product gets defeated, and eventually, they end up raising a ticket or calling your support staff for help.
The actions shown on the screen should match your video script.
For instance, the part where the video says – "Select a New Page," the visual should show a cursor clicking on the icon- "New Page."
This was all about how you can build powerful knowledge base videos.
Knowledge Base Video Examples
How HighQ Uses Knowledge Base Videos?
HighQ took a different strategy for embedding videos in its knowledge base. It created a separate section for videos. Those customers who find videos more relevant can simply move to that section to get a peek into HighQ's platform.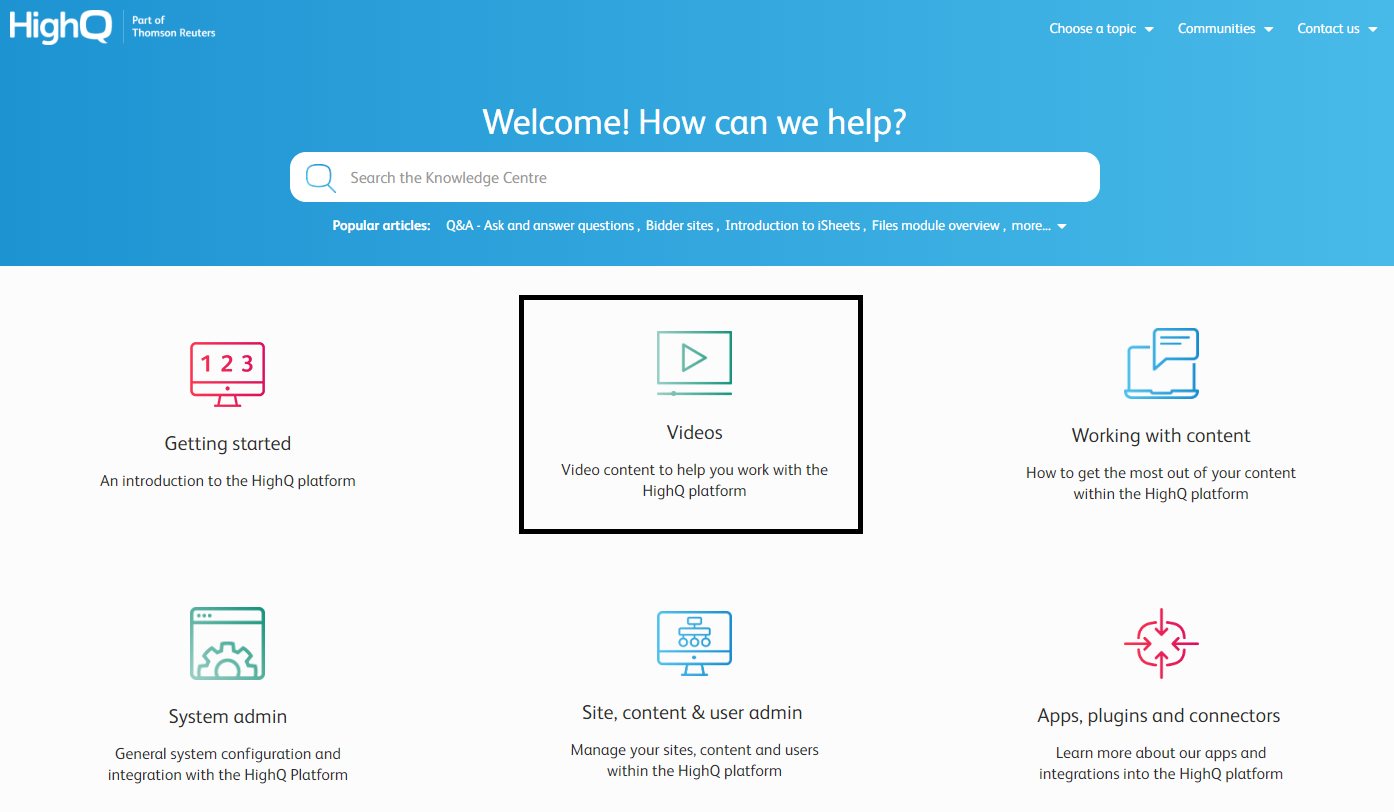 As you can see in the image below, HighQ has videos on almost all relevant topics right from the most basic ones, like how to log in as a user and upload files to how to create a bundle of files and use workflows.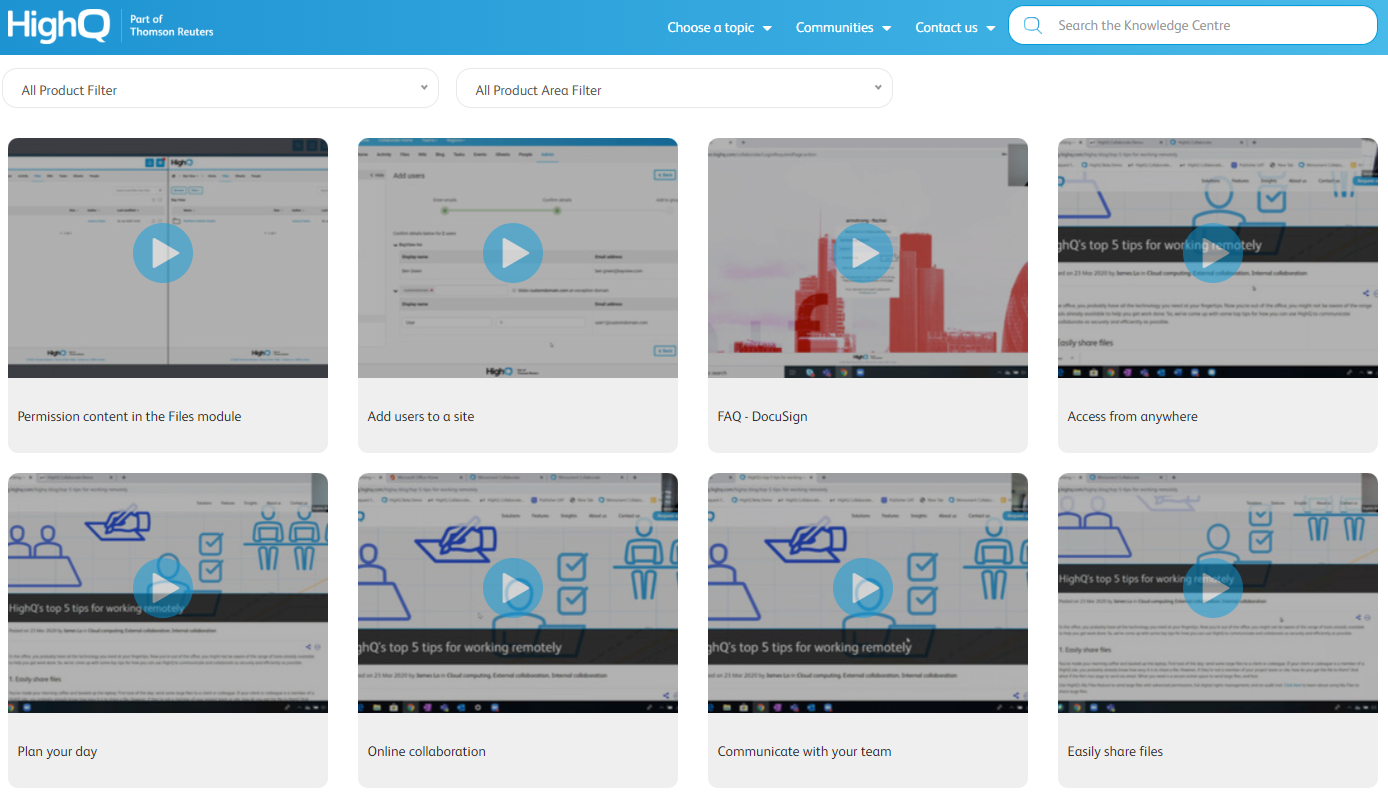 Look at any of this help site's videos, and you will agree that they are quite simple, short, and to-the-point. They exhibit all qualities of an ideal knowledge base video – good visuals, well-synced audio and video, crisp and simple. HighQ's videos are fuss-free with just the right amount of content that customers need.
Here's an example of HighQ's knowledge base video –

Tips & Tricks to Make the Best Use of Knowledge Base Videos
1. Warm-up Customers to Your Brand
A knowledge base is a problem-solving platform, but it's also the place where customers interact with your brand for the first time.
Before jumping to problems and solutions, products, and features, the first thing you need to do is familiarize customers with your platform. Since it is an introductory video, it can be kept in the "Getting Started" section of your knowledge base.
2. Demonstrate How-to Processes
Customer questions are majorly on how to solve a particular issue, or how to use a specific feature of a product.
Videos are a powerful medium to demonstrate the process of achieving a goal. Even if customers aren't able to focus on the audio, they can see the exact steps and visualize the entire process.
Here's a great example of a how-to video.

The video is 1 minute 12 seconds long and provides a step by step process of how to configure your knowledge base settings. The audio is supported by relevant screenshots, giving viewers a real-time experience of how to change settings.
It's clear, short, and gets to the point quickly. Such videos empower customers to resolve their issues instantly, without raising tickets.
3. Feature & Benefit Videos Work Wonders
The feature-benefit model is perfect, especially when you want to give customers a peek into the features of your product and how they work.
Since knowledge base is all about providing help to customers, feature-benefit videos are ideal. They give an end-to-end understanding of how your product functions, do's and don'ts to keep in mind and the use case of those features.

As you can see, the video focuses on the team collaboration features of a knowledge base tool. It clearly defines the feature and shows how it can help customers in creating a knowledge base collaboratively.
Create such feature-benefit videos for product-specific sections in your knowledge base. Even if the customers do not want to go through the text to understand the feature, they can simply watch the short videos.
4. Refer to Existing Content While Writing Scripts
Creating video scripts is challenging, as you have to explain even the most complicated concepts using short and simple sentences.
The best way out here is to use your existing content. There are various places you can find useful content for creating knowledge base videos. Some of these are –
Customer interaction history (emails, chats, recorded phone calls)

Marketing collaterals
Starting from scratch while creating scripts can be extremely time-consuming. A better way would be to extract valuable content from any of these sources. It will give you a jumpstart and help you set an outline for your video script.
What next? Are we missing out on anything?
I think, yes. We also need to understand when exactly should videos be used. It's pretty obvious that you can't fill your knowledge base only with videos. There are certain places where text works, while some sections require a good amount of videos.
Let's find out when and where videos should be added for maximum impact –
A. The content is frequently visited by customers
Suppose a particular section of your knowledge base experiences high traction. Investing in video creation for that section can guarantee good results.
B. Complex product features
Some features of your product might be tremendously easy to understand. On the contrary, some others are so complex that customers need constant help from your support staff to understand them thoroughly.
Creating videos that explain the step-by-step process of using complex features proves more beneficial for customers than lengthy paragraphs.
C. You want to connect with your customers at an emotional level
Videos are perfect for establishing a deeper emotional connect with customers, that written words can't do. This should ideally be done for the homepage of your knowledge base. That's the first page your customers will visit. Welcome them with a nice video that states your brand.
Transform Your 'Good' Knowledge Base Into 'Stunning'
If there is one thing that can provide the much-needed sheen to your knowledge base, it is engaging videos. This doesn't mean written content has no role to play. All it means is that supplementing written information with attention-grabbing videos can improve the quality of your knowledge base.

Customers will find it more meaningful, as they can opt for a medium of their choice – videos or text to solve problems, thus improving their overall self-service experience.
Do you want a free Knowledge Base Software?
We have the #1 Knowledge Base Software for delightful self-service help center starting at $0