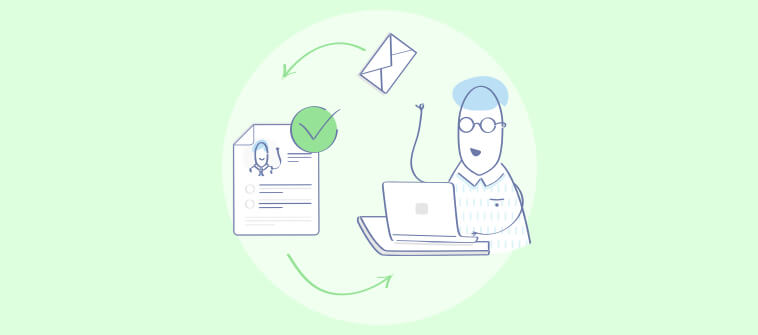 Do you remember the last time you checked in on the HR executives only to find that they are almost always away from their work stations?
That's the order of the day for HR professionals. Since their work revolves around employees, they are left with no choice but to hustle across the length and breadth of the office to –
gather employee data

induct new hires

manage recruitments, and much more.
What if all HR-related tasks could be managed effortlessly from a centralized location? That would streamline the Human Resources division and, most importantly, power your HR team to wear multiple hats with confidence.
A well-crafted and comprehensive online HR documentation can make this possible.
Read this blog to get detailed information about:
What is HR documentation

Why is it important

What are the HR documentation best practices
Let's get started!
HR Documentation Decoded
Think for yourself, what is more convenient?
A single platform where you can find the information you need in seconds?
Or
Traversing through multiple folders, approaching employees in person, and shooting multiple emails to get the same data?
The former is clearly the winner, given the convenience and flexibility it provides. Online HR documentation can help you achieve this easily.
It's a centralized document comprising critical information related to:
Company policies

Recruitment process

Employees' personal and professional data

Employee onboarding process

Employee records right from the time he/she joins, and much more.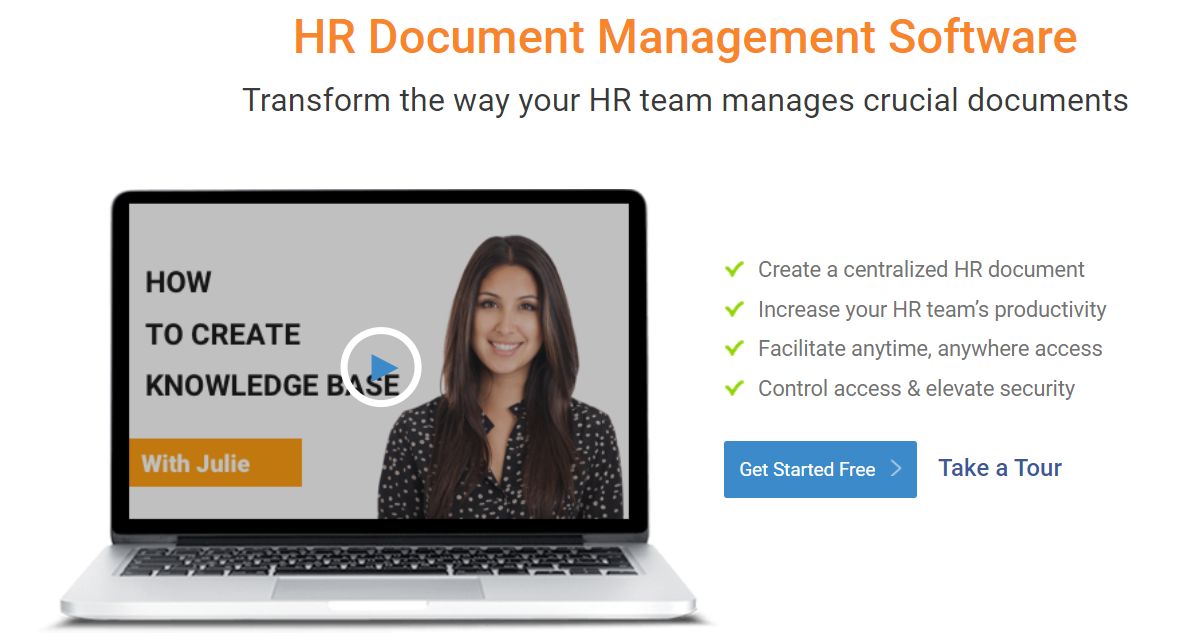 Why Is HR Documentation Important?
The goal of HR documentation is to turn complex HR-related tasks into simple processes that can be executed without going from pillar to post.
It's an asset, especially for your HR executives, as it relieves them from the pain of wandering across the office premises right from the moment they step in. Asking employees to fill a form, taking onboarding sessions with new hires, informing employees about your workplace policies, etc. requires the HR folks to be always on its toes.
Not to forget the humongous load of paperwork they have to manage, all of which makes the job of the HR team a bumpy and stressful ride.
That's precisely why HR documentation is required. Here are a few significant benefits it provides:
Improves the HR team's productivity

as it reduces the need to reach out to employees in person or spend time shooting emails.

Reduces complicated paperwork

that takes unnecessary time and energy

Ensures policy awareness and compliance

, as employees can directly refer to the document to get acquainted with your work policies

Inducts new employees effectively

and help them self-train

Manage the truckloads of employee data

on a single platform

Streamlines the recruitment process
HR Documentation Best Practices
1. Set Clear Goals
Identify the challenges confronted by your HR division and keep them in mind while creating the document. This will help you gain deeper clarity about your goals.
Ask yourself questions like –
Why does your HR team need this document?

What problems can the document possibly solve?

What improvements do you anticipate once you roll out the document?

Which are the critical HR-related issues you want to address with this document?
Questions like these will assist you in focusing on the real problems and setting goals accordingly.
Your overall objective of building an HR document can be anything from managing employee data and streamlining the recruitment process to familiarizing employees with your company and reducing unnecessary paperwork.
Understand that your HR managers have a lot on their plates. Take up the issue that bothers them the most and create an online document around it. You can also build an all-purpose document that comprises information related to multiple aspects of HR such as –
Recruitment

Employee data management

Performance management

Learning and development

Office policy compliance

Payroll management and the like.
2. Make It All-Encompassing
An ideal approach while building HR documentation is to cover all aspects of HR and ensure that no area is missed out.
Create a document that provides detailed insights into recruitment, onboarding, employee turnover, performance appraisals, and promotions, etc.
Doing so will help those with specific roles in the HR department accomplish their respective goals in a hassle-free way. For instance, if an HR personnel is in charge of recruitment, while another one takes care of performance management, the HR document will be equally helpful to both of them.
Build a comprehensive employee handbook that comprises details about these key areas:
✅ Employee Compensation
Salary structure

Increment and bonus calculation

Salary slips

Components of employees' salary package

Tax calculation
✅ Performance Management
Performance review

Appraisal letters

Performance improvement plan

KRAs at different levels
✅ Onboarding Process
Onboarding checklist

New employee joining and welcome emails

Job offer emails

List of company policies mandatory new hires

Appointment letter
✅ Employee Data Management
Experience held by employees

Personal details such as Date and city of birth, local guardians, etc.

Details regarding attendance, behavior and performance issues

Relieving letter from last organization

Details about the full and final settlement

Certificates of all past experiences
✅ Employee Exit Process
Exit interview details

Clearance form

The full and final settlement

Other leaving formalities
3. Involve the Entire HR Team in the Document-Building Process
Since HR documentation comprises details about the different functions of the human resources department, building it should be a collaborative exercise done by the HR team.
Your HR executives and managers are experts in the subject and have practical knowledge in this field. Right from writing and editing to designing and finally publishing it, your HR team should take full responsibility for every element of the HR document.
For instance, HR executives specializing in recruitment and onboarding can take charge of this section in the document. Those who have extensive knowledge of HR policies and performance management can lead this section.
HR managers and senior managers can take the role of editors and ensure that content written by executives is reviewed thoroughly before going live. Some of the executives or senior executives in the team can be administrators – overseeing that content is managed seamlessly, regular updates are made to the content, the design is in sync with content, etc.
This collaborative way of managing content ensures that the final output turns out to be impeccable.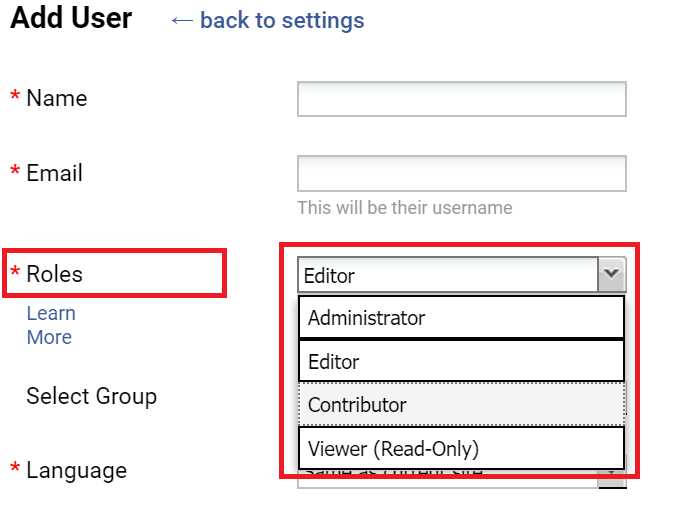 ProProfs Help Center
Watch: How to Collaborate as a Team to Create a Knowledge Base
4. Blend It With Your Brand
The HR document speaks volumes about your brand. It provides a platform to put up a positive first impression on employees. Working on its visuals and aligning it with your brand, is, therefore, of paramount importance.
While creating an HR document, the first thing to keep in mind is that it has your logo and brand name. Next, the themes, colors, and designs used across various sections of the document shouldn't clash with the brand's style. The fonts used should perfectly match your brand's style.
In short, the entire document's presentation should be in sync with what your brand stands for.
Take, for instance, if your brand is known for simplicity, and it shows on its website – it's low-key, simple fonts are used, and the colors are a perfect blend of bright hues and soft pastels. Then maintain the same elements in your HR document as well. Keep it minimalistic, simple, and subtle.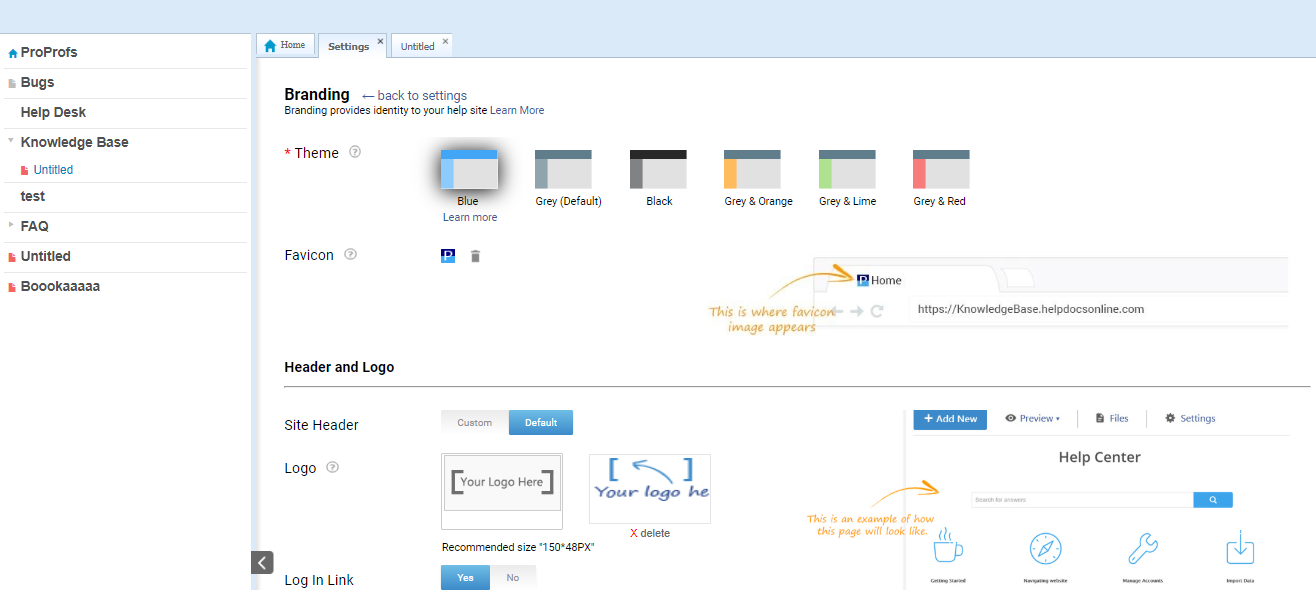 Watch: How to Design a Beautiful Knowledge Base

5. Write Like a Perfectionist, Structure Like a Pro
Drafting HR documentation is no child's play. Besides having in-depth knowledge about the subject, the HR team should be able to convert that knowledge into written words that are easy to understand.
Focusing on the document's structure is equally important as writing it brilliantly. Here are a few tips that can help perfect the art of writing and structuring the HR document.
Don't beat around the bush

Infuse specificity and clarity in the content

Keep the paragraphs short and to-the-point

Add headers and footers

Try writing content in an active voice

Keep the titles concise and action-oriented

Place a table of contents in the left for easy navigation

Create categories and subcategories for each section

Bold, italicize and underline key phrases, words or sentences

Create a bulleted list wherever possible

Add multimedia to explain HR-related concepts and demonstrate how to carry out specific tasks
You can see some of these elements in a snapshot of HighQ's documentation below.
This is the homepage of the documentation that comprises the major sections covered inside.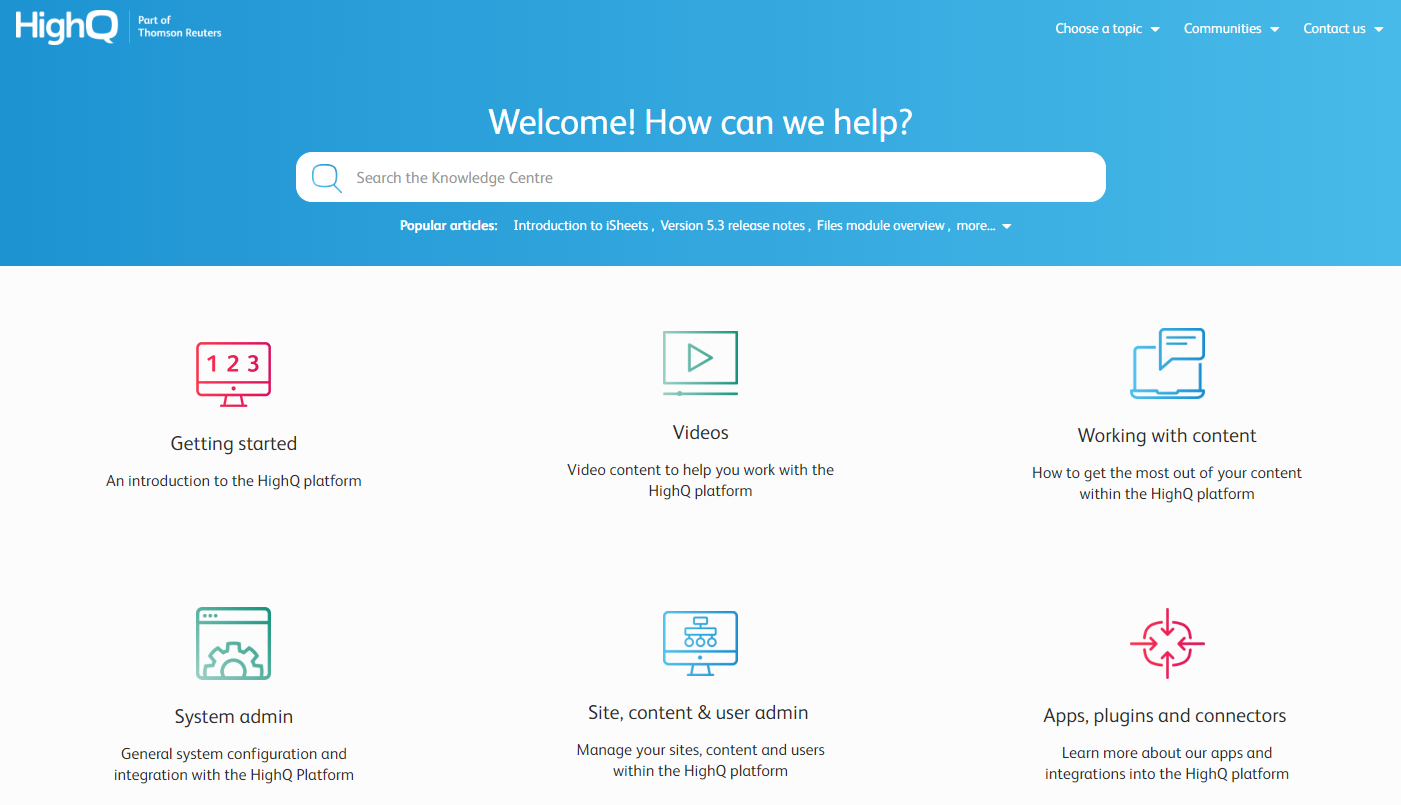 This is Mimosa's documentation. Can you see the short title and the image used in the article? This is how most of its pages are.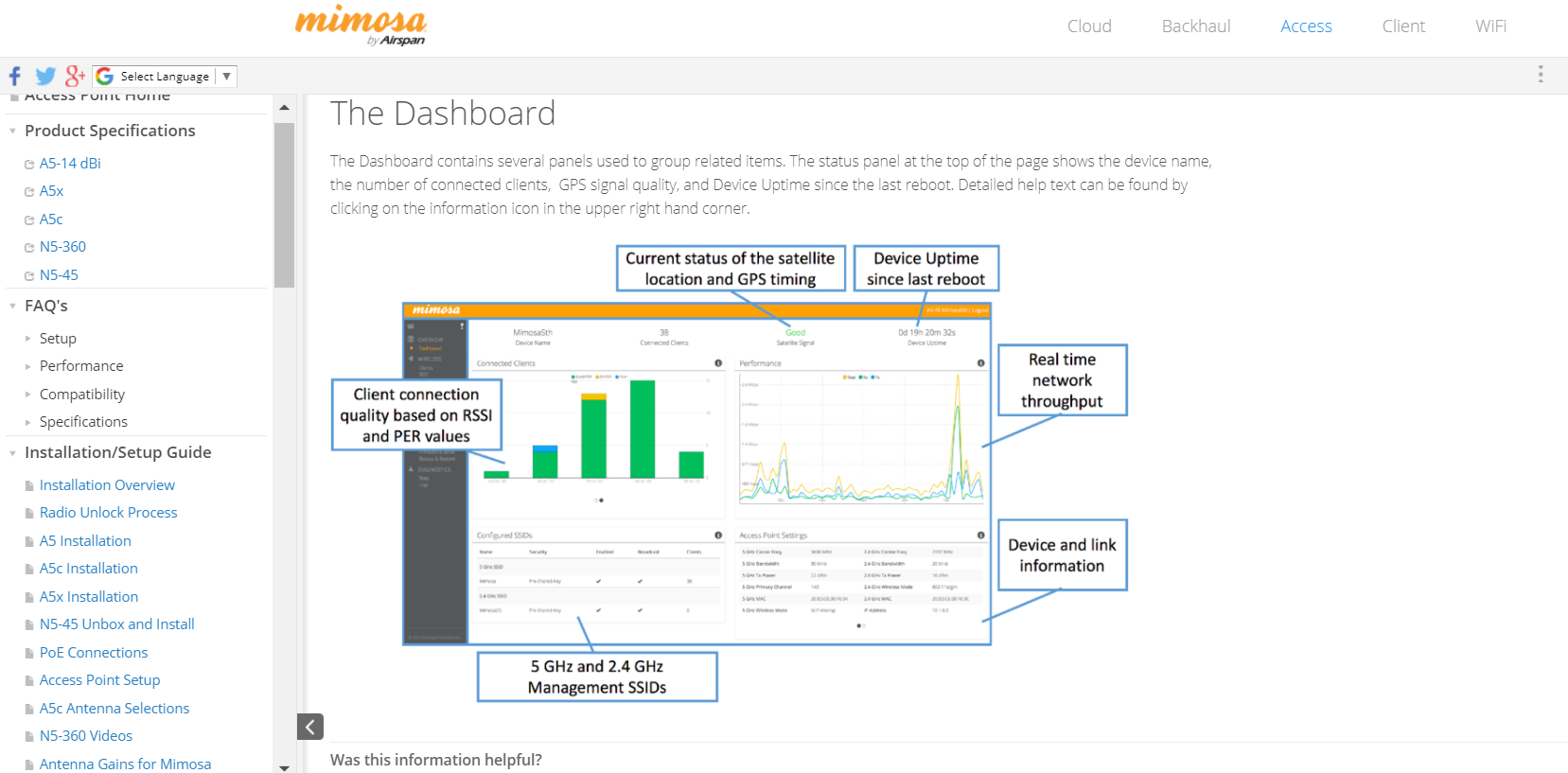 Here is EventLog Analyzer's documentation that has a video to explain what EventLog Analyzer can do and bullets below, clicking on which the reader is directed to a specific page.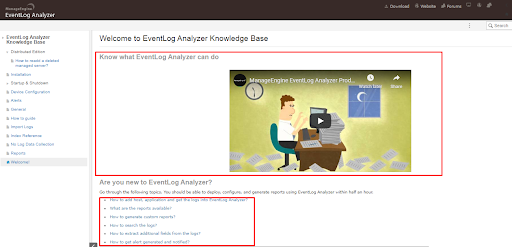 6. Create a Document With Bullet-Proof Security
HR documentation is a window to your company's policies, onboarding programs, payroll system, employee details, and much more. It has critical data about your employees' salaries, their past records, performance appraisals, etc.
Data like this is confidential and should be accessible to none other than your HR team. Breach of security can lead to the disclosure of critical data that can be used against employees or even the organization as a whole.
Therefore, there is a need for a bullet-proof security system that staves off unwanted activities in your HR documentation by giving specific rights to individuals and groups for every section.
For instance, as a master administrator, your HR head can give editing rights to only a few individuals, and viewing rights to others. In case there is content that's meant specifically for the HR division, HR managers can create certain conditions to hide the content from other departments.
This is possible if the HR documentation software you use provides this functionality.
7. Localize Your HR Documentation
If you are a large firm, spread across the globe, or a small company with employees dispersed across various locations, there can be nothing better than an HR document that your employees can translate in a language of their choice.
This will be beneficial from multiple angles:
Time-saving as you will not have to develop multiple HR documents

Resource-saving as the need to hire translators will not arise

There will be consistency across different documents

You will be able to streamline the HR departments functional across different office locations
Creating documentation in multiple languages helps you serve a diverse employee base, regardless of the place they work and the language they speak. In that case, it's not just one HR department that you will be streamlining. Instead, right from your regional HR functions to global HR divisions – all of them will get a handy one-stop information center to manage HR-related tasks.
If your HR documentation software teams well with Google Translate, you can access over 90 languages. This will enable your geographically-spread HR teams to translate the document in any language they want.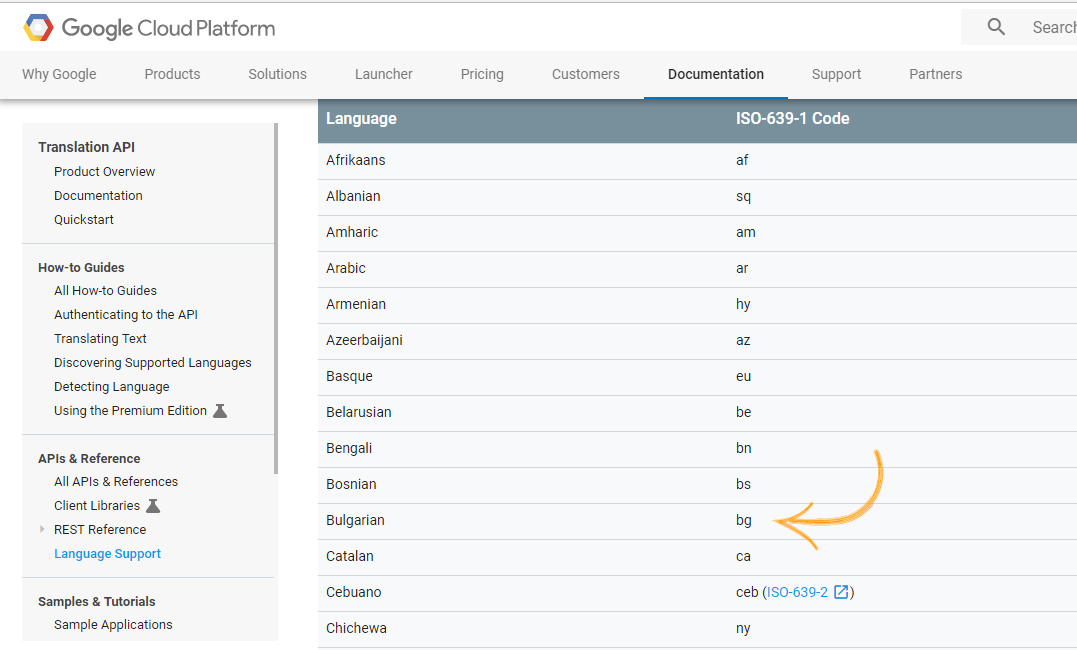 8. Continuous Improvement Is Essential
HR documentation can't remain static. It should be updated regularly, either by adding new articles or improving existing content. Valuable additions and improvements in the HR document can keep it fit for employees' changing requirements. Arming your HR team with an HR documentation software tool can help you achieve this easily
The ideal documentation software offers insightful reports on your document's performance using metrics such as –
Total number of searches

Successful and failed searches

Popular and poorly rated articles

Broken links

Author activities, and much more.
Tracking these metrics will give actionable insights into your HR document's health – whether it has relevant information sought by employees, covers all essential HR-related concepts, has the right keywords in place, and more.
To know more about how reports work, watch this video.

9. Craft Exceptional Experiences for Employees
The HR documentation is a reflection of your brand values. It's a document employees of all departments will be accessing regularly to gain information about a policy, understand their salary structure, get acquainted with your work mechanism, and much more.
Most importantly, new hires will be using the document extensively for getting familiar with your organization and the roles they have been given. In that case, your document should provide them a stellar experience. Only then, will they create a positive perception of your brand?
Delivering exemplary experiences to employees means your document should score high on a variety of things such as:
✔️ Smooth searchability – The document should work on a search mechanism that mimics Google. A prominent search bar, autocomplete suggestions, keyword-specific search – the key things that make your document searchable.
✔️ Multiple device accessibility – The document should be effortlessly navigable across devices – mobile phones, tablets, and laptops. As the ultimate aim of HR documentation is to make information easily accessible, ensuring that the document runs smoothly on different devices is crucial.
✔️ Feedback system – Employees should be able to fill built-in feedback forms from within the document, in case their questions aren't answered. The feedback will directly reach the HR staff, and they can address the issue instantly.
💡

Bonus Tip:

Like you measure external customer satisfaction, it's equally important to measure the satisfaction of the internal customers (employees). Send them an

Employee NPS Survey

every six months and assess their sentiment and emotional score towards your company and

improve employee engagement

.
Over to You
Are you now abreast of the HR documentation best practices and have gained a profound understanding of why the document is important?
If yes, it's time you went a step further and created a compelling document for your HR team.
We're here to help if you need us.
Reach out to us at our toll-free contact (855) 776-7763, and we will assist you in creating HR documentation that your employees love.
Do you want a free Knowledge Base Software?
We have the #1 Knowledge Base Software for delightful self-service help center starting at $0