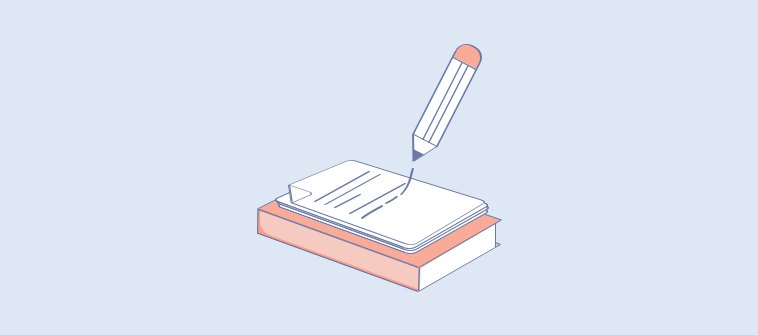 Whether you are an established business or a startup, constantly rising ticket volume can test your patience and give you sleepless nights.
Are you looking for a quick solution to this perpetual challenge?
Well, it's time you brought a strategic change in your business processes and altered the way you approach customer support.
Unlike some years ago, when customers preferred human assistance even for basic issues, today's customers like being their own boss. They want services on their terms and prefer convenience more than anything else.
In fact, 88% of customers expect brands to provide a self-service support portal.
An online knowledge base can prove to be a turning point in meeting customers' sky-rocketing expectations for smooth and seamless self-service. It's a self-help platform that takes help closer to your customers, enabling them to solve challenges in a few clicks and swipes.
This blog takes you on a journey to create a comprehensive knowledge base that delivers extensive problem-solving experiences to your customers. Besides, the blog will also shed light on:
Why Do You Need a Knowledge Base?
A self-help knowledge base helps you in more ways than you can imagine. It equips your customers with the power to solve any questions they have on their own.
These are some of the substantial benefits of a knowledge base:
1. Reduces Support Tickets
Today's customers can't wait for hours, days, or weeks to get a response. They expect prompt and accurate customer service. That's where your knowledge base helps.
It takes help closer to your customers, enabling them to tackle all their concerns independently. This means they are less likely to raise tickets. Your support ticket volume will slash significantly, giving a much-needed sigh of relief to your support team.
2. Helps in Customer Onboarding
When customers start using your product or service, they are completely unaware of its features, set up process, and more.
With a self-help knowledge base, customers can gain an in-depth understanding of every aspect of your offerings, right from the very beginning. A knowledge base guides customers at every step and explains to them how to use your product successfully.
3. Empowers Agents to Provide Better Services
An online knowledge base is an asset for your agents. It assists them in giving accurate and prompt responses to customers.
Every time they are interacting with customers via calls, emails, or social media, they can refer to your knowledge base to get instant access to information. This reduces wait time and makes customer service much more efficient.
Another major benefit of an online knowledge base is that it streamlines your customer support function. You can use your knowledge base in combination with live chat and help desk software to make the customer support process more efficient and powerful.
Customers can use your knowledge base to address at least primary issues on their own. In case they don't find self-help relevant, they can instantly reach out to an agent via Chat, ask questions and get answers right away.
If that also doesn't work, customers can raise a ticket right from within your knowledge base. Agents receive the ticket directly in their help desk system, where they can assign it to the agent with relevant expertise and get it resolved immediately.
It's wonderful, right?
Read More: What Is a Knowledge Base: Everything You Need to Know
Let's now quickly understand what an ideal knowledge base looks like.
Characteristics of an Effective Knowledge Base
Before creating a knowledge base, you should have a clear idea of how an ideal knowledge base works, how it looks like, and the elements it must have. This way, you will know what's right and what's not, what should be added, and what should be avoided while building your knowledge base.
An ideal knowledge base should have the following characteristics:
1. Accessibility
Positioning your knowledge base in the correct spot can be a game-changer. It should be prominently visible so that customers can locate it within seconds and find the help they need.
2. Searchability
If your knowledge base forces customers to scour multiple pages while searching for something, it's not good enough. Your knowledge base should provide an instant and fast search experience, wherein customers get relevant article suggestions as soon as they type something in the search bar.
3. Design
Your knowledge base should be carefully designed. It should have colorful themes that aren't too bright and too dull, either. There should be a consistent style throughout your articles.
Headings should have a specific font style, font size, and color. Have a color scheme, say, grey and white, black and blue, or any other, across your knowledge base.
4. Specificity
This is extremely important if you want customers to solve their issues successfully. Your knowledge base articles should provide enough depth and cover every aspect of the topic. Half knowledge is a dangerous thing. That explains why your knowledge base should be comprehensive and accurate.
5. Simplicity
There is a popular adage, 'it's hard to be simple'. That's true as simplicity requires you to use simple language and write in a way that anyone can understand. The ultimate objective of a knowledge base is to help customers help themselves. That's possible only when customers clearly understand every sentence written in your knowledge base.
Take all these characteristics into account before you start creating your knowledge base. It will give you clarity and help you stay focused on some key aspects such as simplicity, specificity, design, and more, during the content creation process.
Read More: 7 Best Practices to Keep Your Knowledge Base up and Running
Understanding Your Requirements: What Are You Looking To Create?
Before you even begin to build a knowledge base, you need to be clear about your requirements – whether you wish to create a public or a private knowledge base.
Depending on your requirements, you can build both a customer-facing knowledge base or an internal knowledge base for your workforce.
Here are some of the common types of a knowledge base that you can create for your target audience:
✅ Customer-Facing Knowledge Base/FAQs/Help Sites
If your objective is to meet customers' elevated expectations for seamless self-service, you will have to create a customer-facing knowledge base, help sites, or FAQs. This type of knowledge base consists of every information your customers need before, during, and after the purchase process.
It can have details about your products, payment and refund process, product return guidelines, and much more. This knowledge base guides them at every step, ensuring that they are able to solve all challenges with minimum to zero assistance.
✅ Personal Knowledge Base
A personal knowledge base provides an excellent way to organize your learning and make research or revision easy. You can store any information in the knowledge base right from the initial draft of a book you're writing, rough notes, or even a to-do-list. This knowledge base is for your personal use.
Whether you are a CEO, a manager, or at any other hierarchical level, you can record your experiences, observations, opinions, and much more in your personal knowledge base.
Read More: Why Is Personal Knowledge Base the Most Trending Thing Now
✅ Internal Knowledge Base
This works like a central information repository of your organization. Employees can use it to access information such as meeting agendas, strategy documents, work policies, previous and current clients, procedural help, and much more.
Since a knowledge base is a secure platform, employees can also use it to share crucial information, documentation of new products, or their experiences while working on a project. This cultivates a culture of knowledge-sharing and collaboration in the workplace.
Read More: How to Create an Internal Knowledge Base
✅ Online Wikis
A web-based company-wide wiki is great for employee onboarding, streamlining business processes, and facilitating knowledge-sharing across departments. Wikis can be shared publicly or only with a few authorized members of your organization.
One of the best examples of a public wiki is Wikipedia that anyone can access and edit. On the other hand, a private wiki is for companies that want to limit information access to their employees.
Read More: 25 Reasons That Will Convince You to Create an Enterprise Wiki
✅ Online Manuals & Guides
Any product you buy, be it a washing machine or a smartphone, is accompanied by a user manual. Instead of a paper-based manual, you can create an online product manual that is instrumental in tackling customer concerns in real-time.
While a paper manual can be used only by a few people at a time, a web-based manual can be used by millions of customers anytime and from any device. Product manuals comprise detailed information about your products right from their setup process, features, and functions to potential risks and ways to mitigate them.
Watch this video to learn about how you can create online user manuals for your customers.

So, now that you know about the common types of the knowledge base, the next step is to decide which one to create.
If ticket volume is a major issue for you, consider creating a product manual, user guide, or a customer support knowledge base for your clients. If your business processes are not streamlined, and workforce collaboration is a major bottleneck, creating an internal knowledge base or a company wiki is a better idea.
Once you know which knowledge base is right for you, it's time to dive into the creation process.
How to Create a Knowledge Base?
Behind a perfect knowledge base lies a thoughtful strategy and an actionable approach. If creating a knowledge base is not rocket science, it's not a cakewalk either.
Before beginning the process, you need to be crystal clear about your target audience and your objectives. This will keep you on the right track and give you the desired results once you are done with knowledge base creation.
In this section, let's assume that your target audience is customers and look at the creation process keeping customers in mind.
Here are seven effective steps to build a knowledge base for your business –
Understand your target audience

Get a powerful knowledge base tool

Choose the right template and start writing

Give it the right shape

Customize your knowledge base

Understand what your customers want

Analyze knowledge base performance
A robust cloud-based information center can transform your business by giving your customers and employees exceptional experiences. But, it's only possible if you take the right route to reach the desired destination.
It's time to dive deep into these steps and create a kick-ass knowledge base.
1. Understand Your Audience
Understanding your audience is key to the success of your knowledge base. You should know the ins and outs of the challenges they are facing or might face in the future, the questions they regularly ask your support staff, and more.
You can get this information from your support and sales staff. Ask them about the questions customers frequently ask, listen to recorded calls, or look at conversation history to get a gist of what your customers want.
Reach out to your marketing team to understand which section of your customer base is aggressively using your products and might need assistance. Talk to your sales staff to learn about customers' fears and the bottlenecks they face while using your product.
Collate this information and start writing the content.
But before you start the process, you need to have the right knowledge base tool that can help you with content creation from start to finish.
That brings us to our next step.
2. Get a Powerful, Feature-Packed Tool
Now, you are at a point where you know what you want to create and who's going to read it. The next step is to get the right tool and make the most of it.
Any tool you choose should help you build, publish, and manage your knowledge base. It should be cloud-based, feature-rich, and offer integrations with ticketing software, survey maker, and other such tools.
But finding the right knowledge base software from the slew of options available online is like tracing a needle in a haystack.
Worry not. You can check out our article on the best knowledge base software.
While selecting a knowledge base tool, look out for these features. This will help you arrive at the right decision quickly.
✅ MS Word-like Editor
This helps you write, edit as well as upload content to your knowledge base. An ideal text editor should come with a wide range of editing and formatting options and help you craft compelling content.

✅ Use Free Knowledge Base Templates
Check if the software provides templates. This will save you from creating everything from scratch. Templates come with a predefined format, a table of contents, sections, and subsections. You simply need to replace the dummy content with useful information.
This is how a template looks like.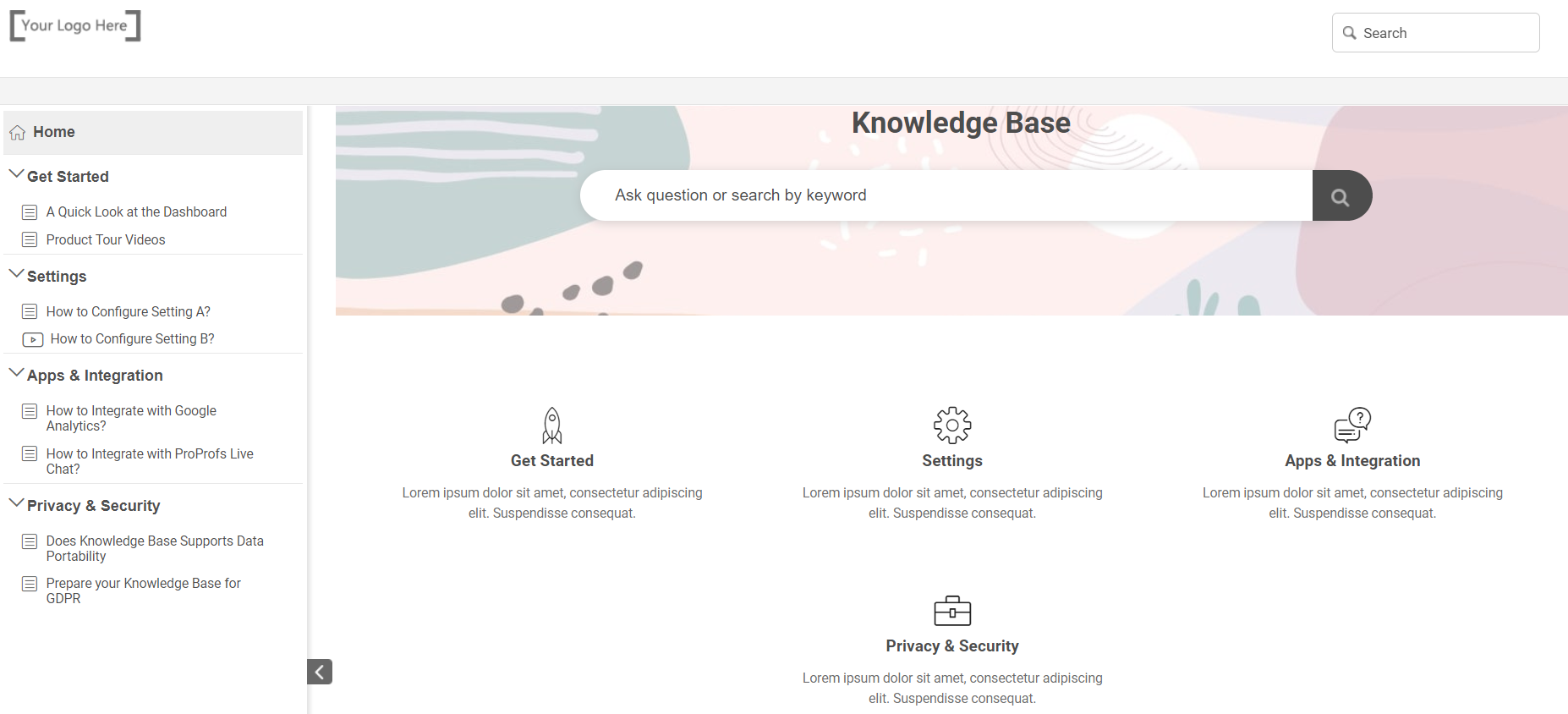 ✅ Contextual Help
See knowledge base examples online, and you will find most of them providing complete information to readers. The tool you use should help you do the same. It should allow you to explain features, provide additional information, and explain jargon to readers.
✅ Roles and Permissions
Select a knowledge base tool that allows you to assign roles and permissions to different users and groups. With all users having clear roles and responsibilities, managing a knowledge base becomes an easy exercise.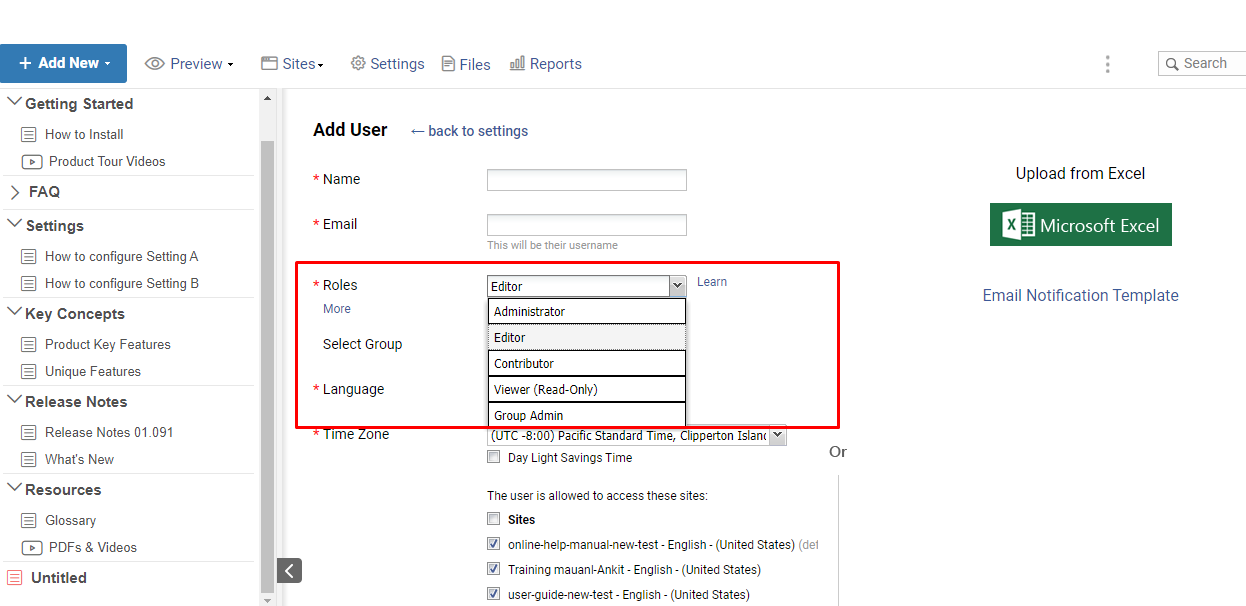 ✅ Branding and Customization
An ideal knowledge base tool offers scores of branding and designing options to help you build a knowledge base that resonates with your brand. Branding involves using the right fonts, themes, color scheme along with your brand name and logo.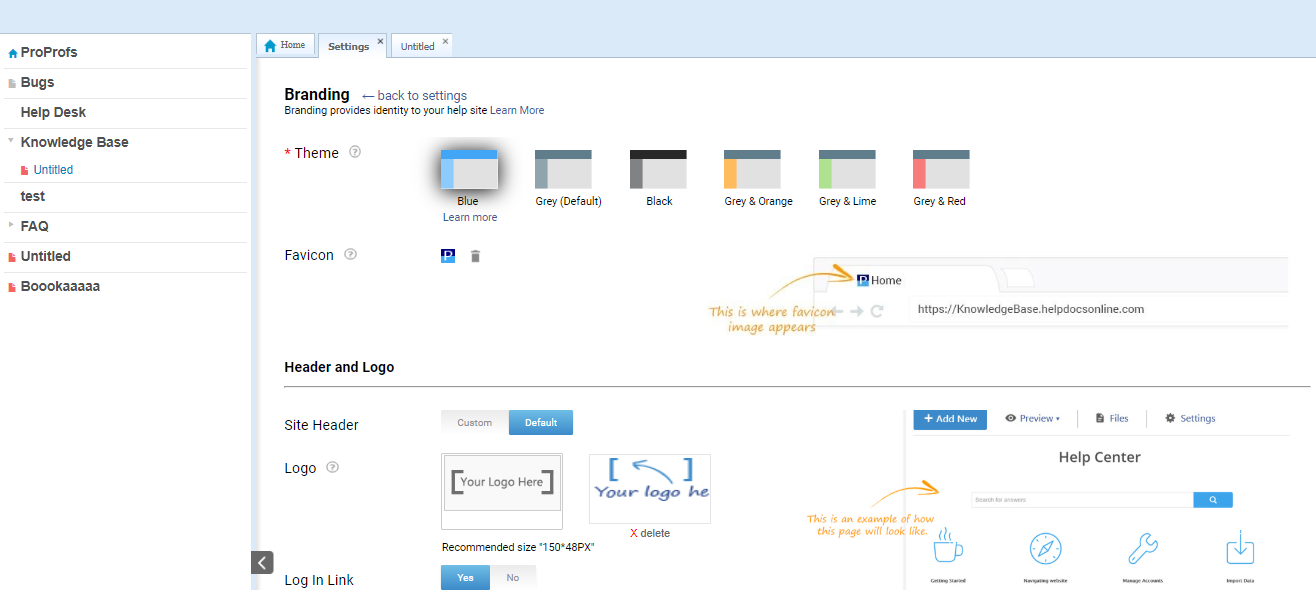 ✅ Multiple Language Support
If you are a large firm with an audience that's spread across the globe, this feature is of utmost importance. Look out for software that helps you enable knowledge base translation in different languages so that you can serve your customers across the globe.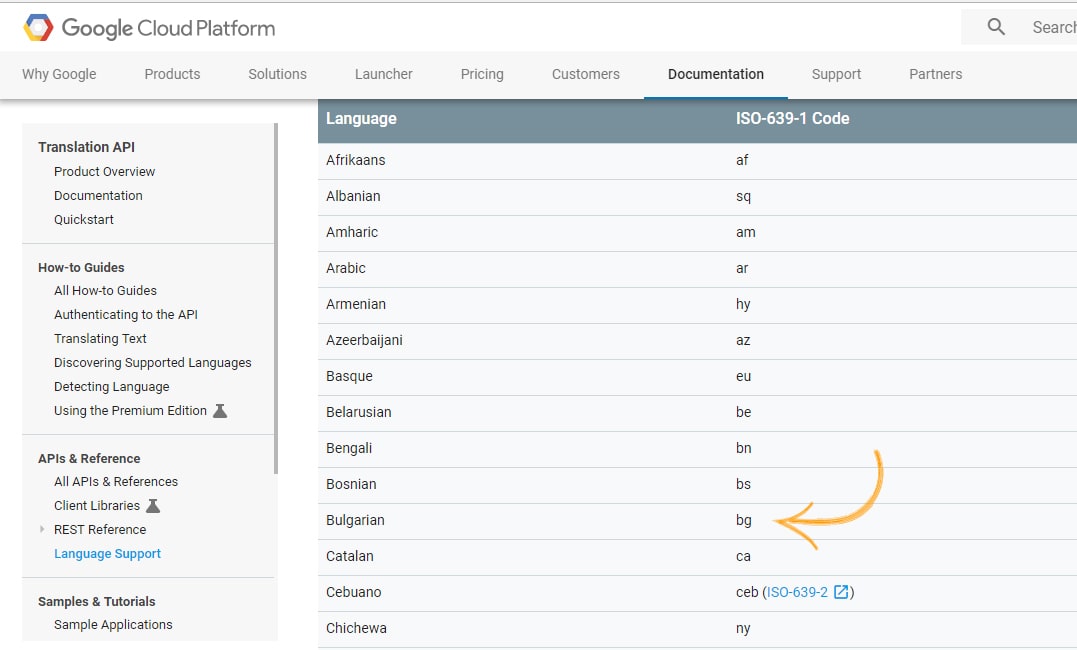 ✅ Supports Multiple Devices
Your knowledge base should be responsive to different devices, including laptops, tablets, and mobile phones. This is crucial to provide round-the-clock information access to your customers.
✅ Powerful Search Function
A knowledge base is incomplete if it doesn't have robust search functionality. The searchability of your knowledge base can make or completely ruin the browsing experience. It should give customers relevant content suggestions almost instantly, similar to how Google works.
✅ Offers Trial Period
Any software you go for should come with a trial period. You should be able to create a knowledge base for free, at least for 15 or 20 days, to get a gist of how the software works. This will help you make a better choice.
Besides these, other prominent features that you must look out for while selecting a knowledge base tool are:
A powerful reporting system

Integrations with third-party tools like Zendesk, Google Analytics, Wufoo, and others

User management and team collaboration features

Revision history and version control

Single Sign-On

Importing and exporting options

Conditional content
Look out for a tool that offers these features, go for its trial version, and learn how these features can help you create a knowledge base.
3. Choose the Right Template & Start Writing
Now that you have selected a tool, it's time to finally dive into the process.
First, pick a template that you think best matches your requirements. Add your company's logo, brand name, and start writing the content using the tool's online editor. If you already have some content ready, you can upload the files directly to your knowledge base.
While crafting knowledge base content, remember to:
Divide long topics into headers and subheaders

Explain concepts with images, videos, and tutorials

Offer data and statistics to make content more engaging

Break down a wall of words with bullet lists

Use headers and footers across all pages

Use active voice and action-oriented titles

Keep the content as simple and straightforward as possible
It's recommended that you keep only valuable information and structure it in a way that makes information-gathering effortless.
4. Focus on Knowledge Base Structure
Structuring is crucial. It defines your knowledge base and makes it presentable, making browsing seamless for readers. Merely adding content without giving it a proper shape will make no sense. It will make information-gathering cumbersome for customers. Structuring is super simple, provided you do it in the right way. Here are some effective ways to give a suitable structure to your knowledge base content.
✅Add a Table of Contents
A table of contents helps users easily navigate from one topic to another. Even if readers accidentally land on the wrong page, they can quickly scroll through the Table of contents to find topics, articles, or pages instantly.
✅Add Popular Articles at the Beginning
Know your most popular articles with the help of reports and try to place them at the beginning of the knowledge base. When customers find what they want right at the very beginning, they will be more than happy to refer to your knowledge base for problem-solving.
✅Interlink Related Content & Articles
When you cross-link related articles, readers get directed from one article to the other smoothly. This provides them a low-effort search experience.
For example, HighQ has done a great job of structuring its knowledge base. It has popular articles, in the beginning, a table of contents, and proper inter-linking to ensure that customers take minimum time to reach the right information.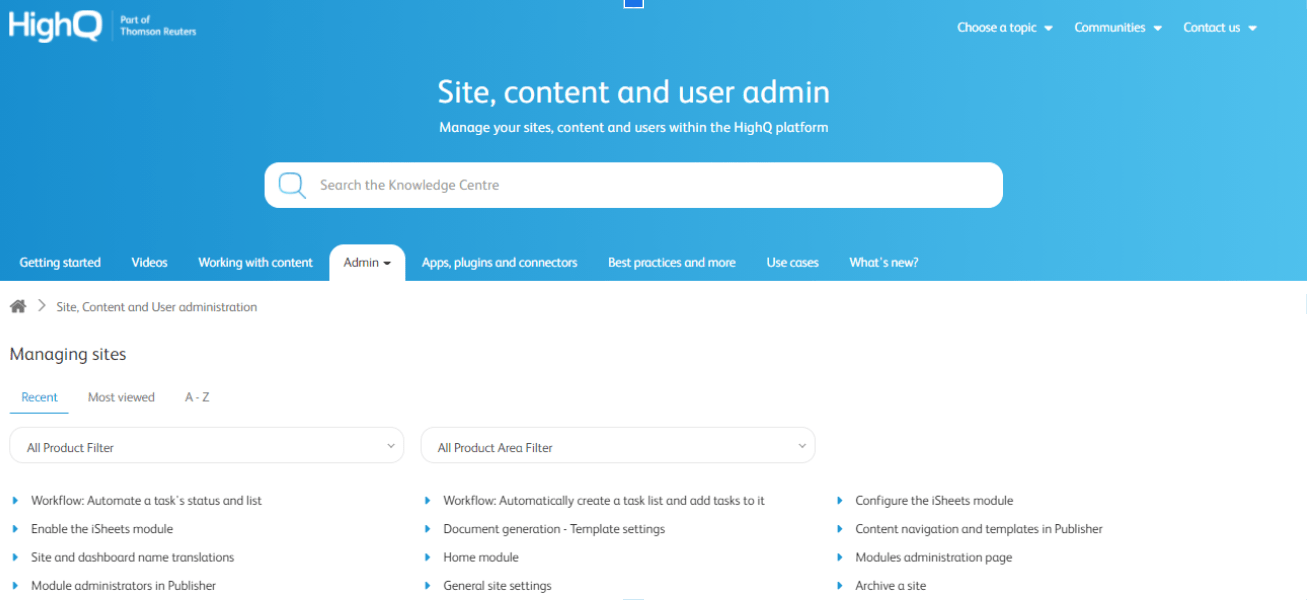 5. Customize Your Knowledge Base
The next step in the process is giving the final touch to your knowledge base.
Make it visually appealing in terms of its design. Your knowledge base should 'wow' your customers and encourage them to use it frequently. A lackluster, black, and white document can be disappointing for customers who are already frustrated with unresolved questions.
That's precisely why focusing on knowledge base design is essential.
To start with, you can add your company's name, logo, and color scheme to your content. Use fonts and themes that go well with your brand and give your knowledge base an appealing appearance.

6. Understand What Your Customers Want
Creating a knowledge base isn't enough. You need to understand whether customers are finding your knowledge base helpful or not. Asking them for their valuable feedback is therefore pivotal.
Doing this assures customers that they are an integral part of your organization, and their opinions matter to you. It also shows that you take customer feedback seriously and are ready to go the extra mile to give customers what they need.
You can collect customer feedback in two major ways. Ask a standard question at the end of every article. The question can be – "Did you find this article helpful?". Give Yes and No as the answer options.
This is an easy and effective way to learn how effective your articles are in addressing customer concerns. When customers click on 'No', a comment box appears where they can give their feedback.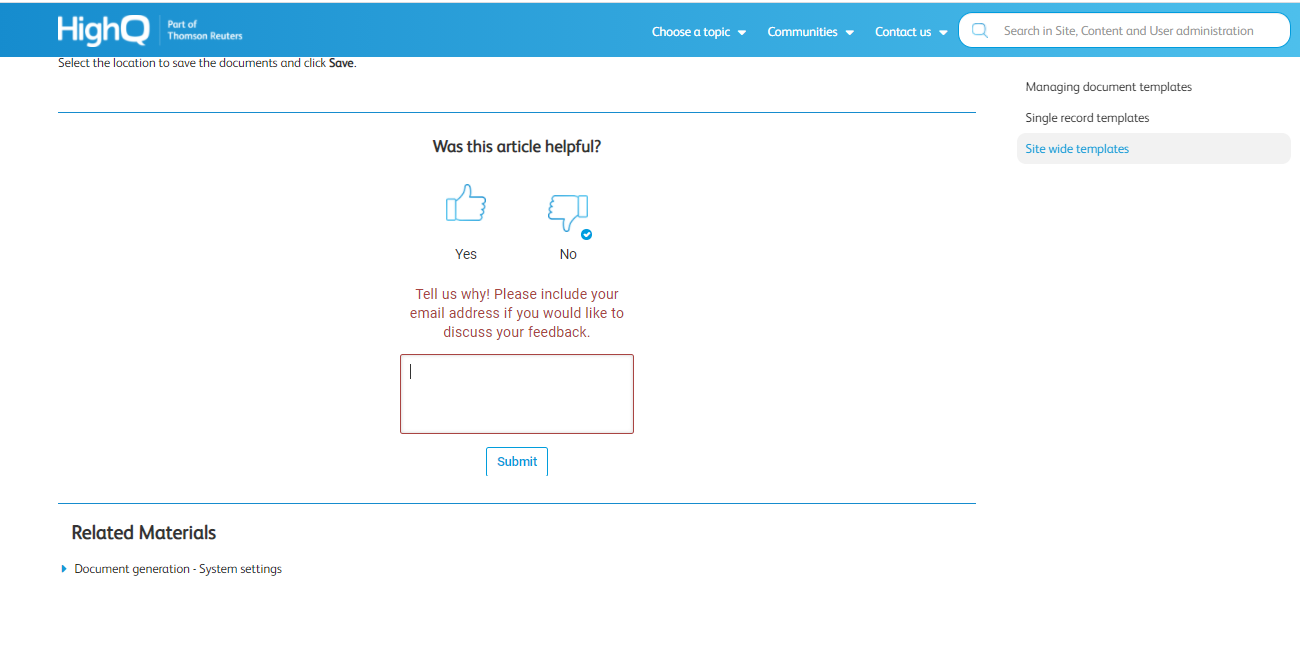 Another way to capture customer feedback is via survey forms. You can embed different kinds of surveys such as NPS surveys, in-app surveys, sidebar forms, polls, and many more. Add them at strategic spots in your knowledge base so that customers don't find them obtrusive.
Adding survey forms helps you gauge customer satisfaction, evaluate customer feedback, and take prompt actions.
7. Analyze Knowledge Base Performance
Do not assume that you are done and dusted with the process once you create a knowledge base. If you want your knowledge platform to be an evergreen piece, you will have to keep improving it. But, for that, you need to have a complete understanding of the gaps existing in your knowledge base.
This is where reports help you out. Knowledge base reports give a glimpse of various aspects of your knowledge base, such as:
Articles popular among customers

Articles rated poor by customers

Keywords that don't deliver relevant results

Keywords that provide accurate information

Broken links, author activities, and much more.
These metrics give meaningful insights into the areas where your knowledge base is rocking and the areas where it needs significant improvement.
You can leverage this data to improve your knowledge base by modifying existing articles and adding new articles. This has to be an ongoing process to ensure that customers always get the most accurate information whenever they use your knowledge base.
Watch this video to learn more about how reports can help you evaluate your knowledge base performance –

Knowledge Base Templates & Examples
Wondering what an excellent knowledge base looks like?
By now, you already have enough knowledge about how to create a knowledge base, the benefits it offers, and the characteristics it must have.
Let's now see all these things in action with the help of a few examples.
1. Mimosa' Knowledge Base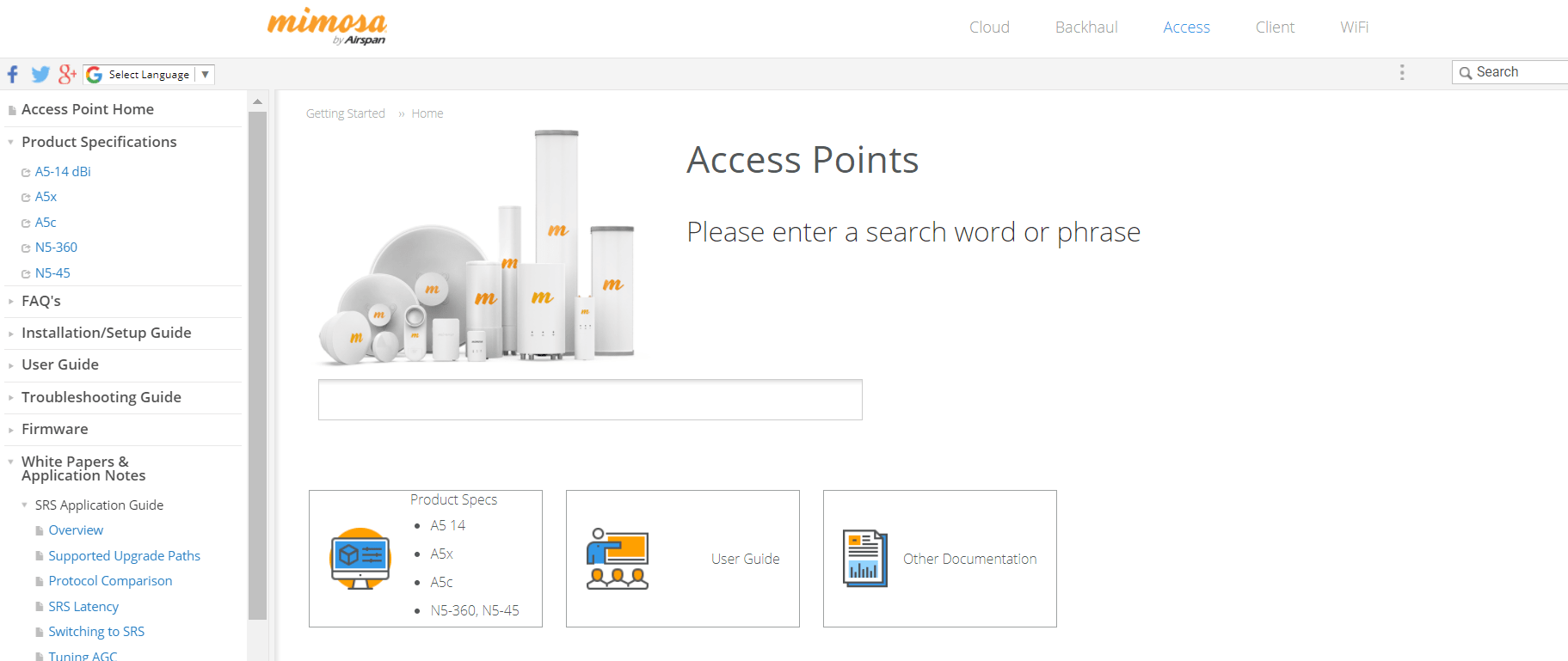 Mimosa's knowledge base is simple and comprehensive. It's brilliantly-designed and follows a single color scheme throughout. Its home page has a table of contents, a huge search bar, and three sections on documentation, user guides, and product specifications. Mimosa has done a smart job of placing these critical sections right on the home page.
2. Unleashed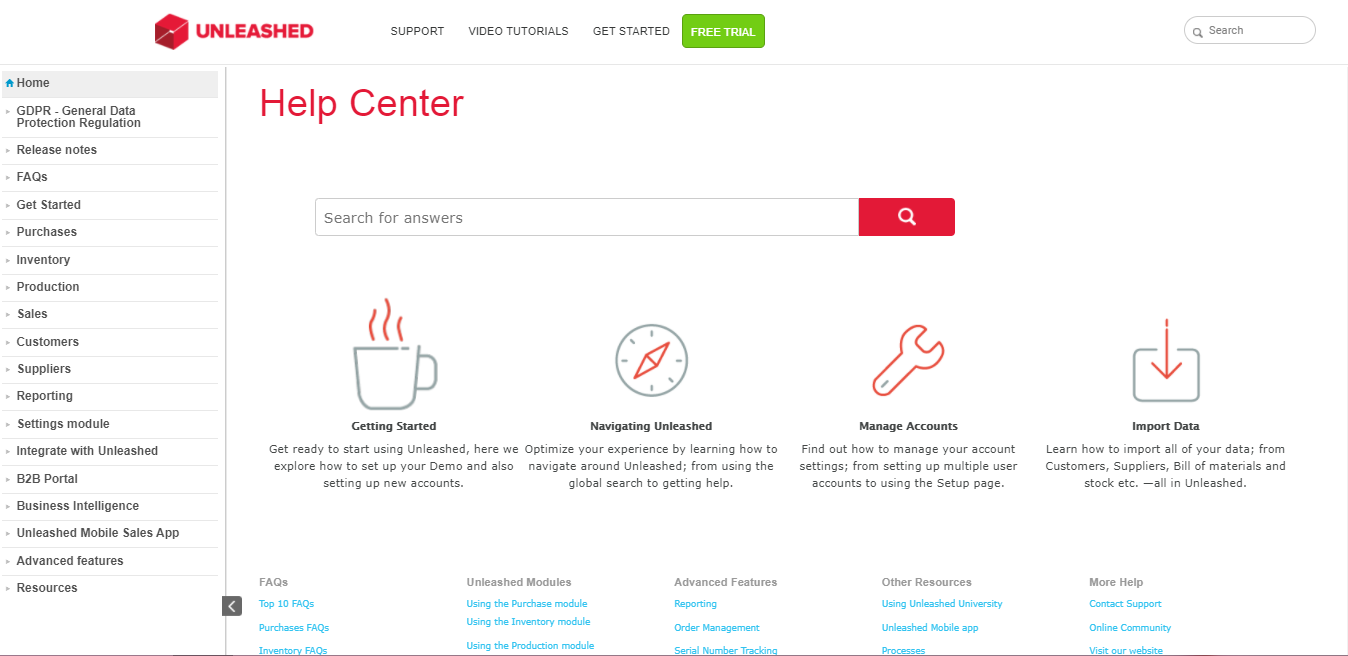 When it comes to a clean and simple interface, Unleashed has set the standard high. Its strong search system, a detailed home page, and specificity across all articles are commendable.
An interesting feature of this knowledge base is the special mention of FAQs on its home page. Unleashed has listed all its FAQs – top 10, purchase FAQs, inventory FAQs, sales FAQs, and more, at the home page to make problem-solving easy for customers.
3. Leap
The next best knowledge base example is Leap. It's accurate, comprehensive, and well-designed. A major highlight of this knowledge is the 'discussions' section where customers can ask questions and get instant responses.
Another striking feature of Leap's knowledge base is the 'Announcement' section on the home page. The company keeps posting the latest happenings in this section to keep its customers informed.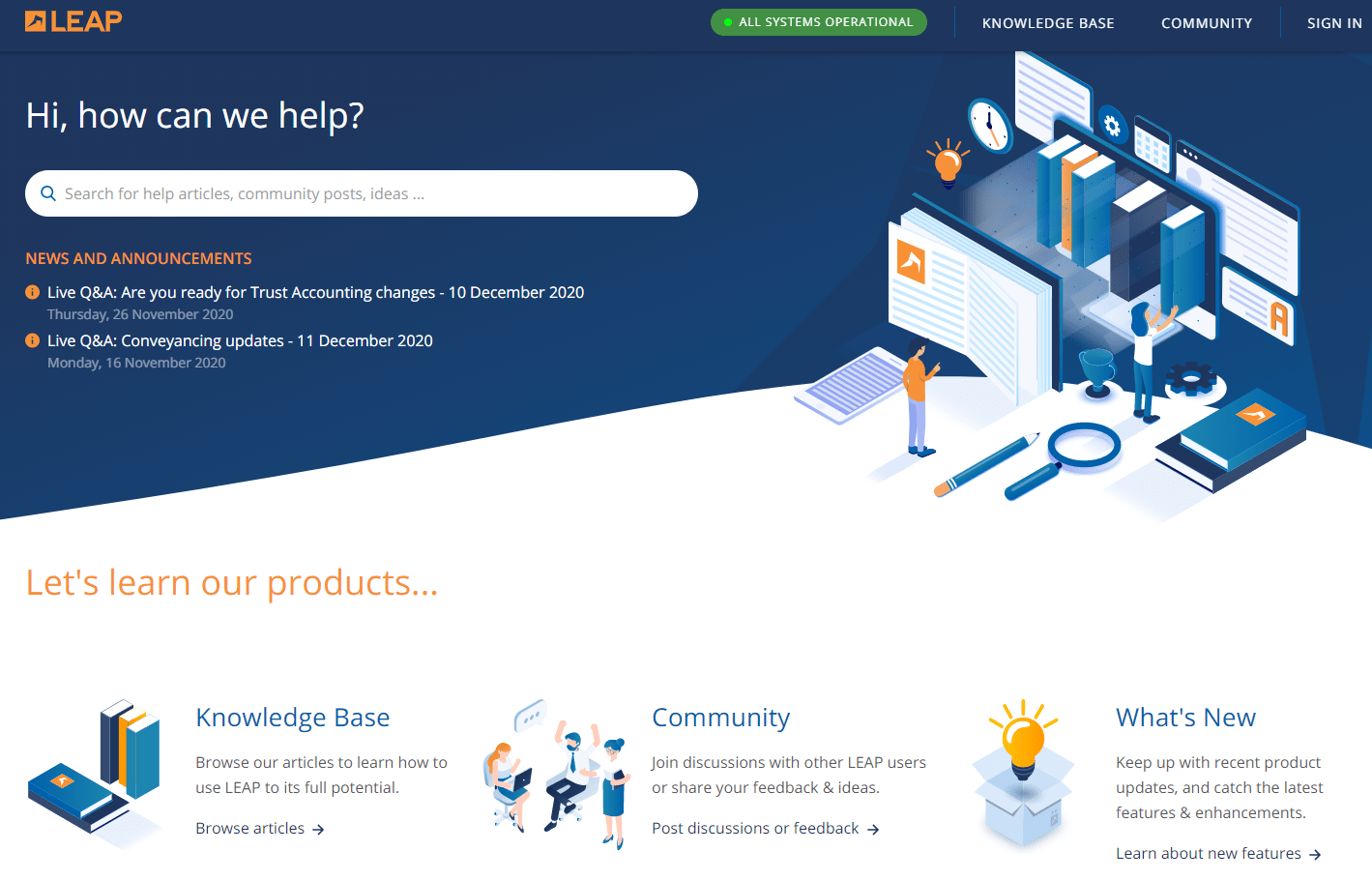 4. Manage Engine
ManageEngine offers another great example of a compelling knowledge base. It is accurate, crisp, and makes excellent use of images and videos. The best part is that it has a strong search function, structured articles, and a lot of breathing space in the articles.
Go through its knowledge base, and you will realize that it doesn't overwhelm you with long and complex paragraphs. Content is arranged properly and provides a smooth search experience to customers.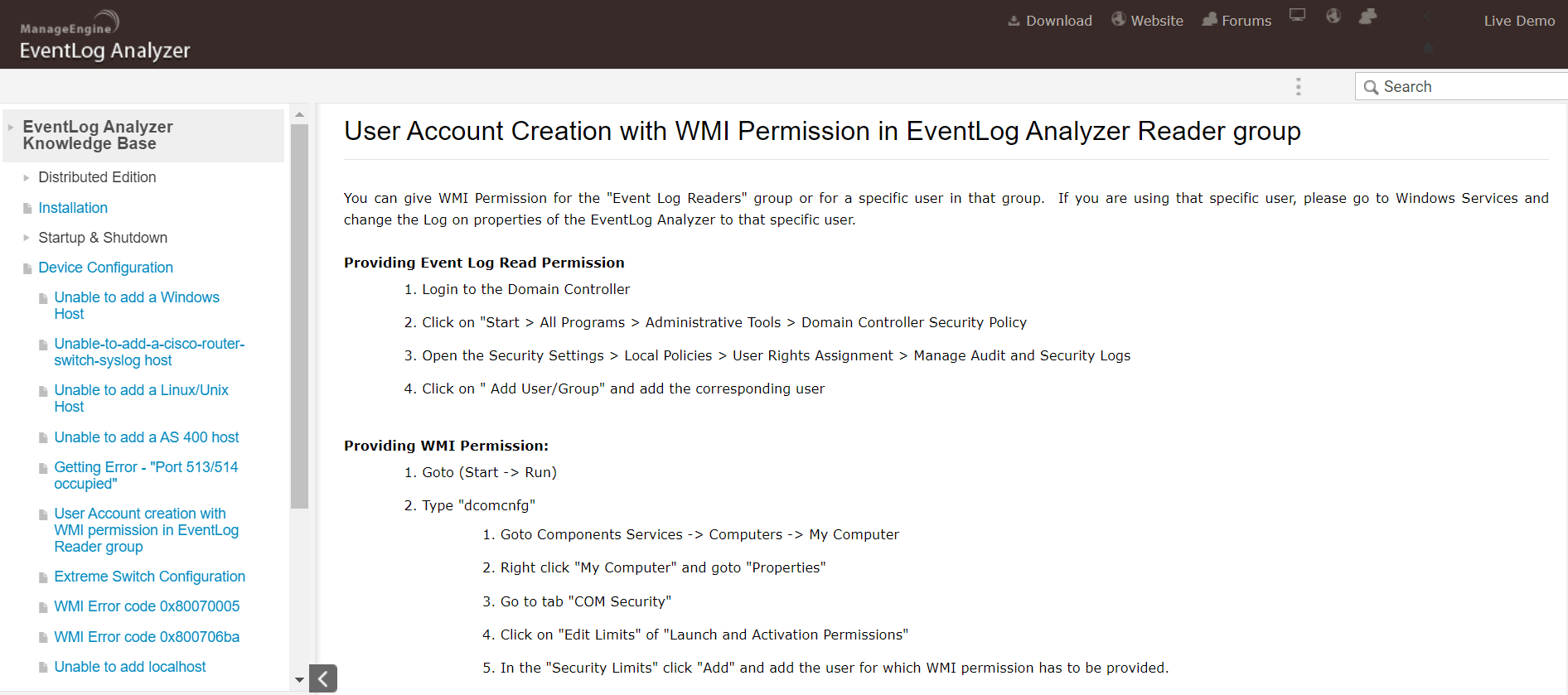 It's Time To Take the Plunge
By now, you might be abreast of every aspect of a knowledge base – why it is important, how to create it and what are the characteristics of an ideal knowledge base.
It's finally time for you to take the plunge and get started.
Before kick-starting the process, ensure that you get the right software. The right knowledge base tool can make or break your knowledge base, so make a well thought and researched choice.
Once you have the tool, a major part of your work is done. Select an appropriate template, write from scratch or import files to your document, customize your knowledge base, and voila – you will have a knowledge base ready. Don't forget to add survey forms to your knowledge base. It's essential to take customers' feedback from time to time and keep your knowledge base relevant and updated.
Create a knowledge base that keeps your agents happy and your customers happier!
Do you want a free Knowledge Base Software?
We have the #1 Knowledge Base Software for delightful self-service help center starting at $0