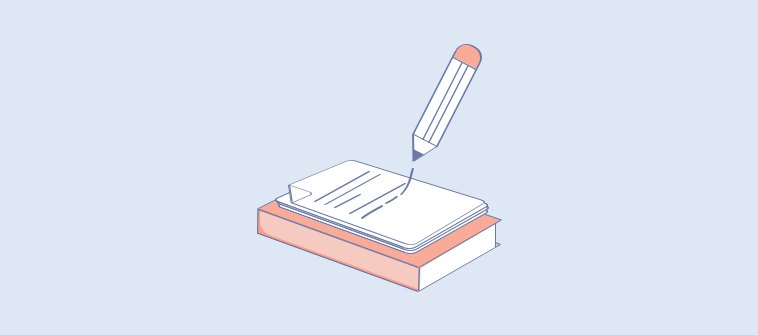 Are you one of those firms that are bombarded with support tickets and looking for a quick solution to this constant problem?
Is your support staff buried under customer calls, emails, and tickets, and hardly get time to breathe?
Well, it's time you bring a strategic change in your business processes. The solution to this problem is simple - create an online knowledge base. It empowers your customers with self-help and enables them to resolve queries on their own without reaching out to your support staff.
Watch This Video to Understand Everything About How to Create a Stunning Knowledge Base:

Now, when customers don't raise tickets for trivial issues, support staff get ample time to focus on other customer concerns that require more attention. Customer satisfaction increases, and this is what firms desire to achieve.
---
Hard to believe?
Research by Gartner will prove it to you. Self-service is so much in demand that according to Gartner's predictions, by 2030, a billion service tickets will be raised automatically by customer-owned bots.
This means that if customers aren't able to find answers to questions on their own, bots will be raising tickets on their behalf.
Difficult to imagine today, but it might become a reality tomorrow!
This is why creating a knowledge base is essential. In simple terms, a knowledge base is a cloud-based platform that provides easy and round-the-clock access to information.
---
While there are many steps involved in building an online knowledge platform, this article looks at it from two broad perspectives:
A. Understanding your requirements: What are you looking to create?
B. Creating the knowledge base: How to nail the process!
Let's look at these points in more detail:
A. Understanding Your Requirement: What are You Looking to Create?
Before you even begin to build a knowledge base, you need to be clear about your requirements - whether you wish to create a public or a private knowledge base.
Depending on your requirements, you can create both a customer-facing knowledge base or an internal knowledge base for your workforce.
Some of the Common Types of Knowledge Bases Are:
✔️Personal Knowledge Base
Creating a personal knowledge base is an excellent way to organize your learning and make research or revision easy. You can store any information in the knowledge base right from the initial draft of a book you're writing, rough notes, or even a to-do-list.
✔️Internal Knowledge Base
This works like a central information repository of your organization. Employees can use it to access information such as meeting agendas, strategy documents, company charters, forms, policies, previous and current clients, procedural help, and much more. Since a knowledge base is a secure platform, employees can also use it to share crucial information, documentation of new products, or their experiences while working on a project.
Our Knowledge Management Software is carefully built to help you establish a culture of knowledge sharing among your employees.
✔️Online Wikis
Web-based wikis are great for sharing all kinds of information. Wikis can be shared publicly or only with a few authorized members. One of the best examples of a public wiki is Wikipedia. But there are many out there in the form of FAQs, community forum wiki, etc. that help millions of people learn about your firm. A private wiki, on the other hand, is for companies that want to share company-related information with employees.
✔️Online Manuals or Guides
Every piece of hardware you buy, be it a washing machine or a smartphone, is accompanied by a user manual. Instead of a paper-based manual, you can create an online product manual that your customers can conveniently access to resolve questions on their own.
The difference is that a paper manual can be used only by one person or a few people at a time. With a web-based user manual or guide, millions of people can access it anytime and from any device.
Watch this video to learn how you can create online user manuals and document product features more efficiently:
So, now that you know about the common types of knowledge bases, the next step is to decide which one to create.
If ticket volume is a major issue for you, consider creating a product manual, user guide, or a customer support knowledge base for your clients. If your business processes are not streamlined and workforce collaboration is an issue, creating an internal knowledge base or a company wiki is a better idea.
Once you have taken the decision, it's time to go ahead and create one.
Still, not sure?
Give us a call at (855) 776-7763 or schedule a demo, and we will be happy to answer all your questions around creating a knowledge base for your company.
It's now time to move to the second point that focuses on the nitty gritties of "creating a knowledge base."
B. Creating a Knowledge Base: How to Nail the Process?
Behind a perfect knowledge base, lies a thoughtful strategy and an actionable approach.
Look at how you can build a knowledge base for your business in 7 easy steps:
Know and understand your target audience

Decide the knowledge base you wish to create

Get an in-depth understanding of the tool you are using

Keep the content crisp and easy to understand

Structure the information smartly

Package it beautifully

Use advanced features for better user experience
A robust cloud-based information center can transform your business by giving your customers and employees exceptional experiences. But, it's only possible if you take the right route that can take you to the desired destination.
Create a knowledge base in the right way, and you will increase your customer count in no time. Do it wrong, and you will have to bear the brunt in the form of unhappy customers and business growth that moves downwards. You, for sure, do not want this to happen. Do you?
Did you know that 90% of millennials go online every day? Clearly, online search engines are their major source of information!
Have you recognized the sea change that has come in the way customers wish to solve their queries?
Talking as a customer myself, I prefer browsing through documents to answer the questions instead of making a call. This is because it's time-savvy and provides instant results. Imagine for yourself.
Would you like to have the same conversations with representatives? Or would you prefer solving queries on your own, at least till the time you can?
Why would anyone want to be guided by a recorded message to get in touch with humans?
A full-fledged knowledge base software is the only solution for your business if you want to keep your customers (notably, the millennials) happy.
Hence, I would recommend you to prioritize building one to streamline processes.
Time to dive deep into these steps that will give you a gist of how to build a knowledge base.
Step #1 Know Your Audience
Understanding the profile of your audience is key to the success of your knowledge base. By profile, I mean understanding the nature of the problems faced by your audience.
For instance, let's say you have decided to create an online guide for a new software product launched by your company. The first thing to do would be to analyze the profile of your potential customers.
Some key questions to ask yourself while doing this are:
What are the frequent problems faced by your audience?

What is their preferred route for resolving queries?

What problems/challenges would they solve by using your software?
Step #2 Decide Which Type of Knowledge Base You Want to Create
Once you know the kind of audience you have, it is now time to create a knowledge base. It can be in the form of a user manual, FAQs, internal knowledge base, etc.
If you need to create a centralized platform that consists of vital company-related information, go for an internal knowledge base. If customers are your focus, you can create online documentation and manuals, or a help-center that is committed to solving customer queries.
Step #3 Understand Your Tool
Now, you are at a point where you know what you want to create and who's going to read it. The next step is to understand the tool that is going to help you create your knowledge base.
Any tool you choose should help you build and publish your knowledge base in minutes. Here are some of the features you should look for while selecting the right tools:
✅ MS Word-like Editor
This helps you write, edit as well as upload content easily. An ideal text editor should provide the following options, as listed below.

✅ Beautiful Templates
Check if the software provides templates. If yes, you can easily create a knowledge base using free templates (Try out ProProfs knowledge base templates), as the outline will be in place. You simply need to write content and upload files.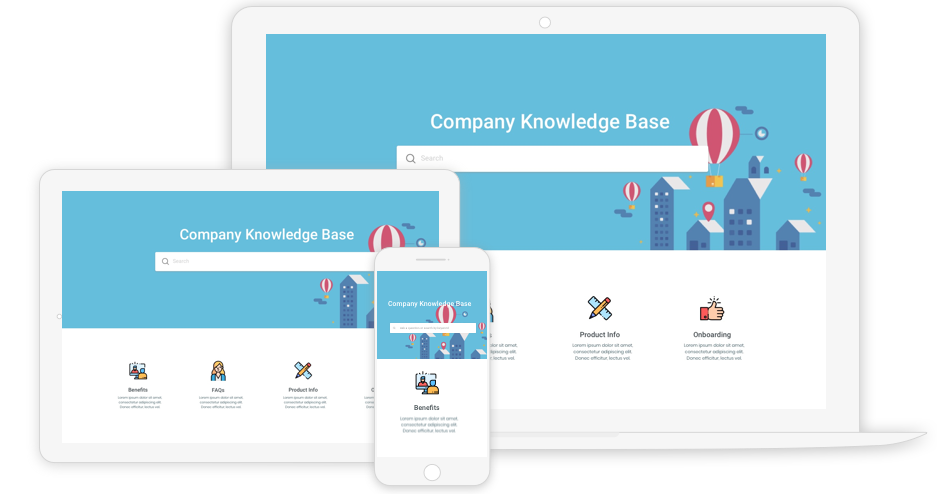 ✅ Contextual Help
See knowledge base examples online, and you will find most of them providing full information to readers. The tool you use should help you do the same more effectively. It should let you add tooltips, lightboxes, and popups to explain the content in a better way.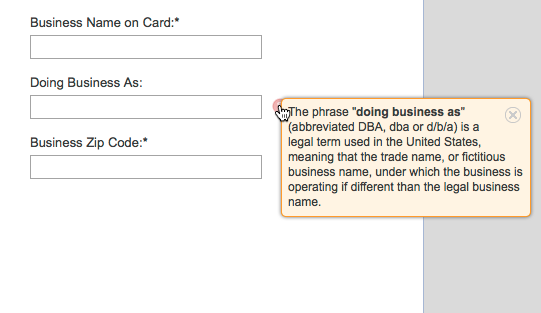 ✅ Roles and Permissions
Select a software tool that allows you to assign roles and permissions to different users. With all users having separate roles, managing a knowledge base becomes extremely easy.


✅ Branding and Customization
An ideal knowledge base tool offers scores of branding and designing options to help you build a knowledge base that reflects your brand. Branding involves using the right fonts, themes, color scheme along with your brand name and logo.


✅ Multiple Language Support
If you are a large firm with an audience that's spread across the globe, this feature is of utmost importance. Look out for software that helps you construct a knowledge base in different languages, which will make it easier for you to cater to the diverse audience.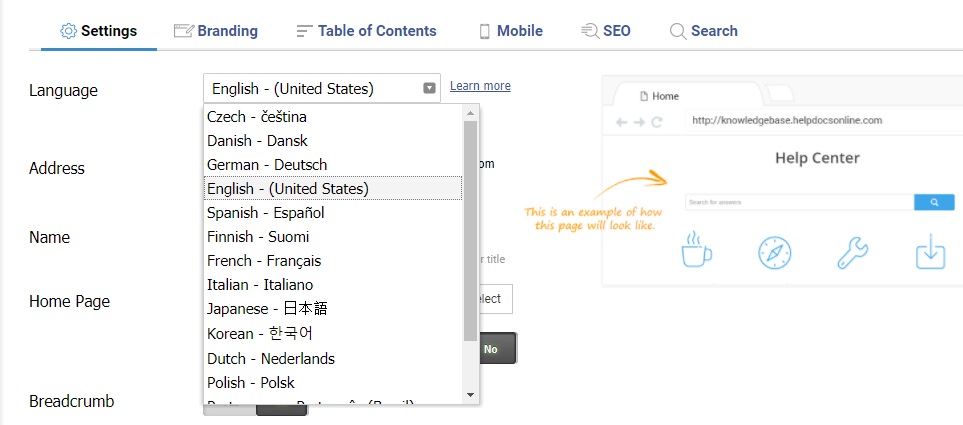 ✅ Multiple Device Compatibility
Your knowledge base should work seamlessly with different devices, including laptops, tablets, and mobile phones. This is crucial to ensure easy and round-the-clock accessibility for readers.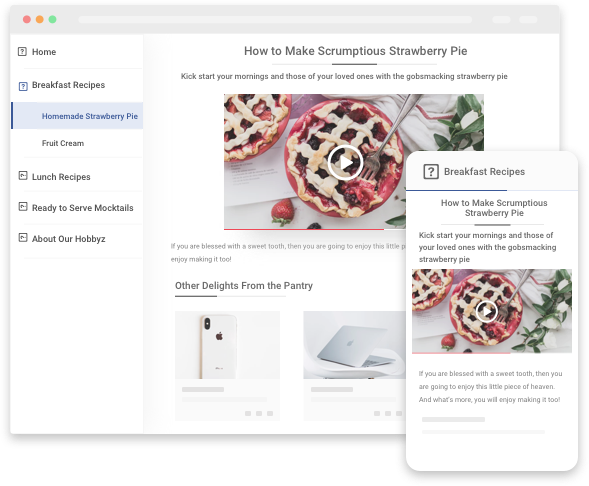 ✅ Powerful Search Function
A knowledge base is incomplete if its search function is not flawless. It's one thing that can make or completely ruin the browsing experience. To get the ideal Google-like search mechanism, search for the software that offers the same.

✅ Offer Trial Period
Any software you go for should come with a trial period. You should be able to create a knowledge base for free at least for a period of 15 or 20 days just to get a gist of how the software works. This will help you make a better choice.
Step #4 Make Your Information Simple And Easy to Understand
Most of the help documentation is written in an inverted pyramid style where information is given to readers in a step-by-step manner.
Elements of Inverted Pyramid Writing Style
Readers can easily understand the content that comes in bite-sized chunks and is written in clear language. Here are the top ways in which you can make it easy for readers to understand the content of your knowledge base.
Divide long topics with headings and subheads

Explain concepts with images and charts

Offer data and statistics to make content more engaging

Add videos tutorials, GIFs, infographics and other visual content

Break down a wall of words with bullet lists.
It's recommended that you keep only valuable information and structure it in a way that makes information-gathering effortless.
Step#5 Use Advanced Features to Maintain Reader's Flow
Advanced features like context-sensitive help enable you to provide a holistic understanding to visitors. Adding tooltips, lightboxes, and popups to your content is the best way to ensure that the user experience is nothing short of perfect. Let's look at each one of these in more detail:
You can add tooltips to answer the questions of users instantly as they experience your knowledge base. These tips can direct readers to relevant help articles and make the browsing experience better.
Just like tooltips, you can use lightboxes to offer instant help when your customers need it. Lightboxes can comprise more information than a tooltip and can also contain images, videos, etc.
These are great as they provide information in an interactive and engaging way, solving readers' questions instantly.
Step#6 Organize the Information in Your Knowledge Base
Structuring is of paramount importance. It defines your knowledge base and makes it presentable, thus making browsing seamless for readers. Merely adding content without dividing it into categories will make no sense. Instead of easing the information-gathering process, it will make it time-consuming.
Here are some ways in which you can structure information in your knowledge base
✅Add a Table of Contents
A table of contents gives structure to your knowledge base and helps users easily navigate from one topic to another. Even if readers accidentally land on the wrong page, they can quickly scroll through the TOC to find topics, articles, or pages instantly.
✅Include a search box
Adding a search box is one of the best ways to help readers easily find any article they are looking for in your knowledge base. Another add on is the autocomplete suggestions. They are displayed as soon as users start typing in the search box.
✅Add popular articles at the beginning
Know your most popular articles with the help of reports and try to place them at the beginning of the knowledge base.
✅Interlink related content & articles
Cross-linking related help articles is a great way to provide readers an excellent search experience.
Step #7 Package Beautifully
The next step in the process is to give a final touch to your knowledge base.
Make it visually-attractive in terms of its design so that users find it interesting and engaging to read. Add your brand name, logo, and color scheme to give it a unique appearance. Use the right fonts and choose a suitable theme that goes with your brand.
Your software should comprise features that allow you to design the content beautifully and also gives you many font, color, and design choices.
Why do you Need a Knowledge Base?
With the influx of technology, businesses have now embraced the concept of online knowledge management, thanks to the scores of benefits it offers. Knowledge forms the core aspect of companies today, and if it's not managed efficiently, there is no way employees or customers can use it for their advantage.
The purpose of a knowledge base is to store information safely and allow readers the freedom and flexibility to access it in a hassle-free way.
Some of its major benefits include
Reduces customer tickets

Helps in employee onboarding

Provides 24*7 access to information

Streamlines business processes

Enhances collaboration among teams
Let me show you how you can build a knowledge base with ProProfs
Choose a template of your choice, depending on your requirements. We offer a variety of knowledge base templates for all your needs. Whatever you want to build - user manual, wiki, documentation, or anything else, we have the template ready for you.

Replace the placeholders with content you want to include in the knowledge base.

Use our online editor to write, edit, or upload content.

Brand and customize your knowledge base

Set workflows and track article status

Publish when ready
Conclusion
In this simple guide on creating a knowledge base, I have tried to list down the major steps prerequisites of building online documentation, wiki, or any such platform for your employees or customers.
Creating a knowledge base is not rocket science, and it should not be one. The knowledge base software we have engineered makes it easy for you to create help centers, internal documentation, wikis, or user manuals both for your customers as well as employees. With these simple steps, you will be able to construct a knowledge base for yourself, but the key is to keep improving it from time to time to meet the changing demands of your audience.
Do you want a free Knowledge Base Software?
We have the #1 Knowledge Base Software for delightful self-service help center starting at $0