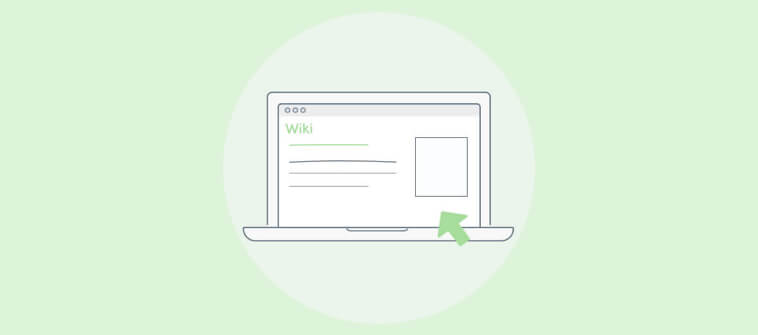 What is the first thing that comes to your mind when you read the word - wiki?
We all know the answer. It is Wikipedia.
You'd be surprised to know that Wikipedia is the 6th most-visited website worldwide. Innumerous people across the globe turn to Wikipedia to get the latest information about a variety of subjects.
Wikipedia has literally made information gathering a cakewalk.
What if you apply the same concept within your organization by creating a private wiki for your employees?
It would organize scattered business information and facilitate instant access to knowledge, leading to increased employee productivity and better business performance.
No more wasting time scouting information and making terrible decisions in a hurry.
This article will explain everything about a private wiki:
---
What is a private wiki?

Various types of wiki

Benefits of a private wiki

Do you really need a private wiki?

Must-have Features in a private wiki

Best practices to build an impressive private wiki

Simple steps to create a private wiki with ProProfs
---
Let's get started.
What Is a Private Wiki?
A private wiki is a centralized company-wide platform where critical business information can be stored securely. Your employees can access this business knowledge anytime, and from anywhere they want.
This online platform acts like a knowledge hub where every information sought by employees is available. Since this wiki is private, its contents aren't available for use by those outside your organization. It is only your employees who can view the wiki's content and use it in their day-to-day work.
A private wiki comprises crucial information, such as:
Your company's history, vision, and mission

Work policies

Code of conduct

Projects and clients

Video tutorials

Training material, and much more.
Think of a private wiki as your company's personal online knowledge platform that keeps employees updated about your company and its work processes, helping them become more productive.
What Are the Various Types of Wikis You Can Create?
There are different types of wikis based on your target audience, end-goal, and the extent of collaboration you want. Do you want to create a knowledge platform for those outside your organization, or your goal is to create a personal wiki just for your employees?
Do you want multiple people to edit your wiki, or you want to give this right only to limited individuals?
When you find the answers to these questions, you will know the kind of wiki you would want to create.
Here are some of the major types of wikis that are popular among businesses.
1. Private Wiki
As discussed in the previous section, a private wiki is an internal knowledge repository where you can safely store all your business information. All your employees collaboratively work towards building and maintaining this wiki. It is like your company's Wikipedia that can be accessed only by your employees.
2. Public Wiki
A public or external wiki is customer-facing in nature. It is a self-help platform that customers can use to stay updated about your offerings and solve the bottlenecks they face while using your products.
3. Personal Wiki
An online personal wiki is for your personal use. You can create a personal wiki using personal wiki software to take notes whenever you go on a business trip, attend a conference, talk to a client, or observe some business trends.
This wiki helps you store all your knowledge, experiences, and observations on an online platform and access them whenever you want.
How Can a Private Wiki Help You - Key Benefits Uncovered
From the outside, you might feel that a private wiki is simply a platform to store and access information. But there is much more to a wiki than what you think. It helps you in more ways than you can imagine.
Besides making business knowledge available at your fingertips, it improves team collaboration, drives decision making, increases employee productivity, and much more.
Let's take a look at some of the significant benefits you can glean from a private wiki.
1. Information-Gathering Becomes a Breeze
A private, company-wide wiki makes it effortless for your employees to get the information they need. No more sifting through multiple files and folders! All employees have to do is open your company wiki, type a question or keyword in the search bar, and relevant articles will be displayed in seconds.
2. Speeds Up Employee Onboarding
When new employees join your organization, they need a warm, welcoming culture that supports them in the initial challenging days. That's when a wiki plays its part.
It guides employees through your company's work dynamics, policies, culture, departments, clients, and much more. New employees can use it to get familiar with your organization and initiate work on a positive note.
Related Read: Employee Onboarding: How to Use Your Knowledge Base Effectively
3. Turns Employees Into Smart Decision Makers
One benefit leads to the other, in the case of a private wiki. As information is conveniently available, employees are better positioned to make swift and smart decisions every single day, leading to improved performance and quality deliverables.
Employees are no more dependent on their colleagues or managers to get what they need and make decisions on time.
4. Boosts Knowledge Sharing & Collaboration
With a private wiki in place, employees can share their experiences with others, and at the same time, gain access to others' expertise and experiences. They can share suggestions and receive feedback on your private wiki pages, which gives birth to a culture of knowledge sharing and collaboration in the workplace.
5. Keeps Teams Well-Aligned
Employees can use your private wiki to stay updated on the latest company developments, new projects, acquisitions, current clients, and every activity happening in your organization. This infuses transparency, keeping your teams well-connected and always on the same page. No more, he said, she said culture!
6. Your Business Information Remains Secure
A private wiki stores all critical information of various departments in a centralized, password-protected location. For confidential or department-specific information, you can restrict access to limited individuals. Give complete access to all your employees for general information that can be used by everyone.
Read More: What Is an Enterprise Wiki & How It Can Benefit Your Business
Do You Really Need a Private Wiki?
You read about the benefits of a private wiki and instantly get an urge to create one. But, the question is, do you really need an internal wiki.
How to understand whether or not you should create a private wiki for your business?
It's quite simple. Here are some questions that will prompt you to think deeply and come to a conclusion -
Is your business information tucked away in various files and folders?

Is information-gathering a time-consuming process for your employees, and does this affect their work?

Are you struggling to induct new employees into your organization and make them familiar with the work process, policies, departments, and more?

Are you looking to consolidate all your business information in a centralized location?

Do your employees find it challenging to share their knowledge, experiences, and observations with one another?

Is there a lack of collaboration among different teams?
If the answer to most of these questions is a Yes, that means it is about time you created a private wiki.
In case the answer to all these questions is a No, it indicates your internal processes are streamlined, information-gathering is a smooth process, and there is constant knowledge sharing among teams.
Let's now quickly look at the essential features that your private wiki must have -
Read: Reasons Why Private Wiki is an Affordable Knowledge Solution for SMBs
Core Features of a Private Wiki
A plain two-page online document can be called a wiki, and a 60-page comprehensive online document with impressive features such as user-friendliness and search capabilities is also a wiki.
What kind of private wiki are you looking to create?
Obviously, the latter.
If you want your private wiki to achieve the intended goals of streamlining your internal processes, it should have the following features.
1. Table of Contents
A table of contents makes navigation effortless for employees. All contents of the wiki are clearly visible on the left. All that employees have to do is click on the desired section, and it will open on the right side. Easy-peasy, right?
2. User-Friendly Interface
If your wiki is not easy to operate, employees might stop using it after some time. Understand that you cannot force employees to refer to your wiki to find necessary information. A user-friendly, smooth interface is what employees need to use your wiki regularly.
3. Seamless Search
A private wiki should have a search bar where employees can type their question or a keyword related to their question. The wiki's strong search system should display the relevant results instantly, ensuring that employees receive timely help.
4. Option to Embed Media
While crafting content, employees should be able to add images and videos to your wiki. This is important if you want your wiki to be an interactive, media-rich, lively document.
5. Mobile-Friendly
Employees need information at their fingertips, and for that, your wiki should work smoothly on mobile phones, laptops, as well as tablets. This will allow them to use your wiki whenever and from wherever they want.
6. Feedback Options
A private wiki is incomplete without feedback options. You don't need to add long survey forms to your wiki. You can add a simple feedback question such as - Did you find this helpful? With Yes/No as options after every article.
---
Watch: How to Add Surveys And Forms to Your Knowledge Base
---
7. Customization Options
No one likes to read a bland, lifeless wiki. Customization options help you change the appearance of your private wiki, and turn it into an engaging, visually-appealing document. You can change the fonts, colors, themes, and much more, and give your wiki a spin.
Tried & Tested Best Practices to Build an Impressive Private Wiki
Employees have high hopes from your private wiki. For them, it is an encyclopedia that should answer the most basic questions they have about your company.
These best practices will give you a clear idea of what goes into creating a private wiki of exceptional quality that your employees find irresistible-
1. Involve Your Team
A private wiki cannot be built in silos. It is the collaborative effort of all your employees and teams. Instead of assigning the work to just one or two employees, you should involve different teams to participate in building the wiki.
Allow them to share their subject matter expertise, insights, and experiences with everyone in your organization. While some will be responsible for writing, others can take care of the editing part, and a few others can take charge of the overall administration.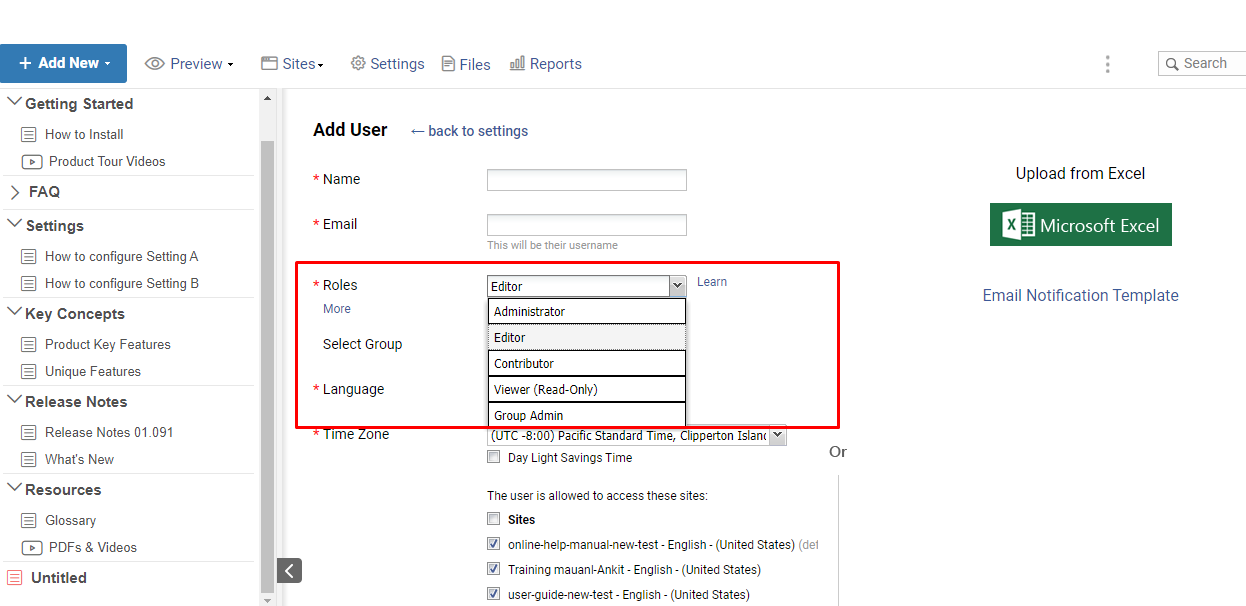 This will streamline the wiki creation process, leaving no room for confusion or misunderstanding.
2. Embed Media to Enhance Engagement
A media-rich wiki looks pleasing to the eye and feels engaging to the mind. It increases employees' interest in the wiki's content, urging them to use it on a daily basis.
Plain black and white text can be a turn-off for your employees. Complement your content with images and videos and make your wiki more valuable for readers. A rich mixture of text, images, and videos ensures that people of different tastes - those who prefer videos to text and vice versa, can make the most of your wiki.
3. Interlink Articles For Effortless Navigation
The ultimate goal of your wiki is to empower employees to find information in a few swipes and clicks. Interlinking relevant wiki articles can help you achieve that.
Employees will not have to wander in confusion across wiki pages and leave disappointed. If you interlink articles, one page will smoothly lead them to the other, ensuring that they quickly reach the right information.
4. Focus on Its Searchability
A private wiki should have a prominent search bar where employees can type and get answers in a flash. The search mechanism should work as smoothly and swiftly as Google's. That's how you can make wiki articles easy to discover.
To improve your wiki's search experience, add relevant search keywords for every page during the content creation stage. You should also add these keywords in your articles so that whenever someone runs a search using the same keywords, accurate page suggestions are displayed.
This is how a powerful search function works.

5. Responsive to Multiple Devices
This is critical for employees as they can use your wiki at any time of their convenience. If the wiki runs smoothly on mobile phones, laptops, and tablets, employees will be able to use it in your office, home, or wherever they are.
The wiki should fit in multiple screen sizes and display the content clearly to its readers. This will enable your employees to use the wiki anytime they want and stay updated all the time.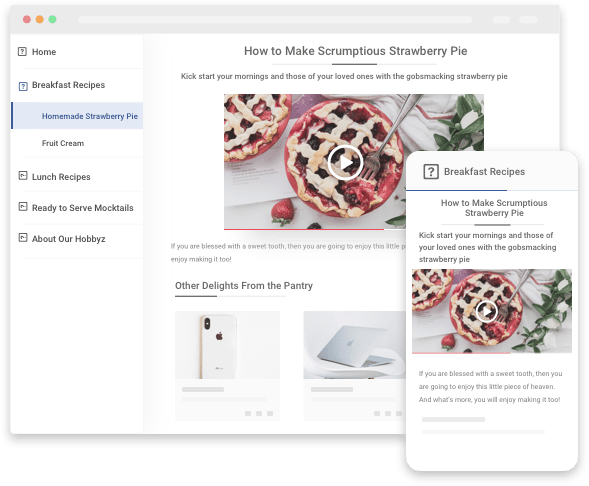 6. Serve a Diverse Audience
Enable wiki translations in multiple languages and cater to a wider audience. This is a great practice if your employees are spread across the globe and speak different languages.
A private wiki that can be translated into their native language is a boon. This removes geographical and language barriers, ensuring that all your employees can use your private wiki to stay informed and productive at work.
7. Add Related Article Links
At the end of each article, add a list of related articles, and help employees jump to a specific page in seconds. This is a great practice to direct employees to the right pages and help them find the information they need.
No more swiping through multiple wiki pages and wasting time reading the wrong articles!
8. Keep a Positive Voice and Tone
Your private wiki is your company's identity. It speaks volumes about your organization's values and how you treat your employees. Therefore, the wiki should exude nothing but positivity in every statement.
Check the words, phrases, and sentences you use to explain things to your employees. Ensure that you use a positive, instructive tone throughout the wiki. Avoid using slang and do not beat around the bush.
You should keep your content concise and useful. Remember, brevity is the soul of wit. The shorter and accurate your content is, the easier it will be for employees to read and understand.
Let's now dive into the basics of creating a private wiki -
How to Create a Private Wiki With ProProfs Knowledge Base Software
By now, you might have gained a clear understanding of what a private wiki is and what benefits it can bring to your business.
So, if you are looking to create a comprehensive, high-quality private wiki with a powerful tool that offers excellent integrations, rich features, and no coding or installation hassles, here's how you can get started.
1. Sign up to ProProfs Knowledge Base
With ProProfs Knowledge Base, wiki creation is a piece of cake. Unlike other wiki tools, this one gives no coding or installation headaches. All you have to do is sign up to ProProfs by filling in the required fields. Add all your details, including your name, email, subdomain, and get started.
No download or installation is required. A simple sign up, and you can instantly create a free private wiki for your employees.
ProProfs offers a bunch of bespoke features that are ideal for creating, designing, and managing your private wiki. Some of these features are:
Online editor

Robust search system

Single sourcing

Workflows

Built-in reports

Customization options

Ready-made templates

Powerful integrations with other tools like Google Translate, Zendesk, Google Analytics, and many more.
These features join forces and help you create an awesome private wiki that spells nothing but excellence.
Read More - 
Buyers' Guide: Features to Look for While Choosing Wiki Software
Best 19 Wiki Software For Your Business & Internal Knowledge for 2021
2. Select a Pre-Designed Template
Ready-made templates can reduce half of your work. They provide a framework for building a private wiki. That means you don't have to create everything from the ground up. There is already a table of contents and placeholders with some dummy content.
You can use the headings as is or change them if you want. Replace the dummy content with useful, company-related content that you want to add to your wiki. Templates also give the option to add your company's logo and brand name right at the top of the home page.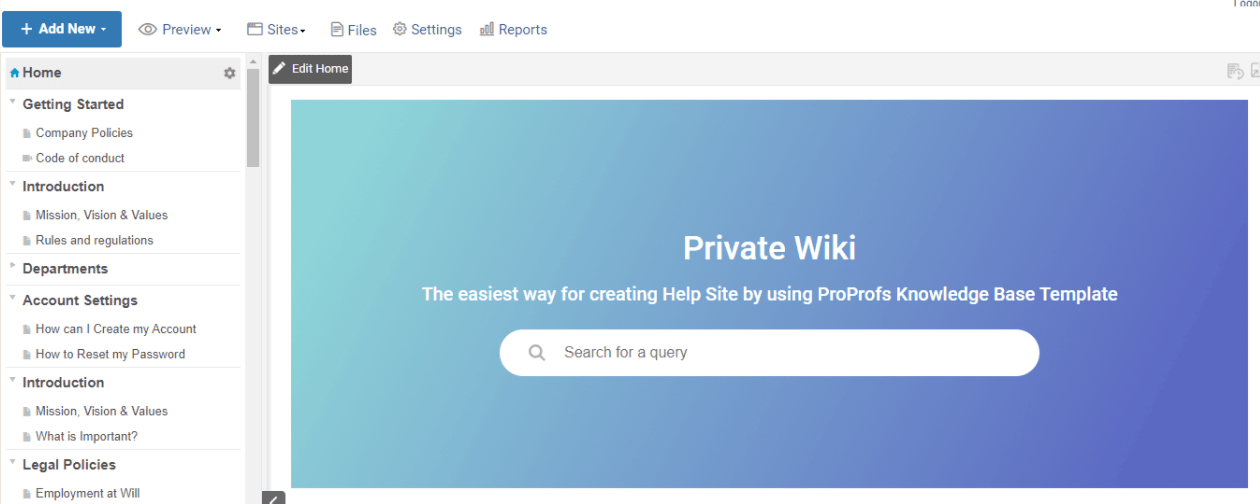 3. Create Categories & Subcategories
You already have a table of contents in place. You can either keep the categories as is or create your own.
Finalize the content that you want to add to your private wiki. The content can include everything related to your organization, such as:
Company history

Vision and mission

Work and HR policies

Code of conduct

Details about company leaders

Information about company departments, clients, projects, and much more.
Based on the content you want to add, create appropriate categories, and subcategories. Keep the major sections to a maximum of 8 or 10 and cover all critical information in those sections.
Read More: How to Create a Corporate Wiki for Your Business
4. Start Crafting Content For Your Wiki
Now that you have all categories sorted, it's time to start writing. For crafting content, you have two options:
Write everything from ground-up (which is a little time-consuming)

Import existing files to your wiki
ProProfs Knowledge Base helps you do both with equal ease. It offers a powerful text editor that functions as smoothly as MS Word. You will be amazed by the rich formatting options using which you can craft compelling content.
The tool also enables you to import files of various formats - PDF, PPT, Word Docs, and more, to your wiki. This way, you can speedily add content to your wiki and publish it in minutes.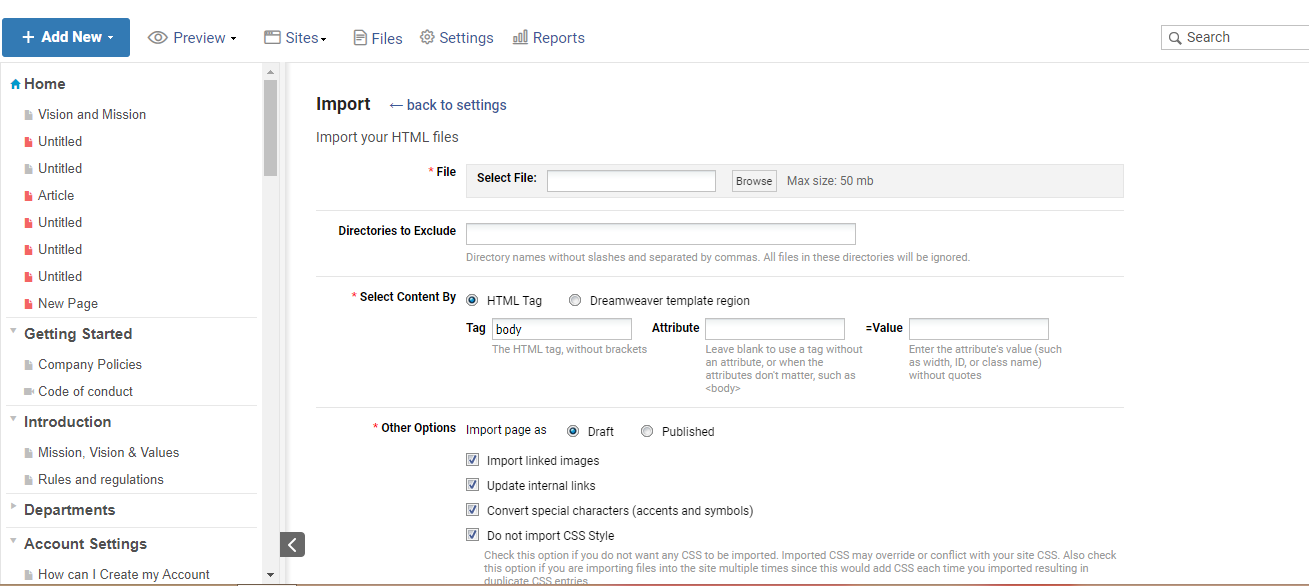 5. Seek Participation From Your Team
A private wiki can't be created all on your own. You need the support of various teams to keep your wiki in good health right from the beginning. They should be able to collaborate in real-time while writing, editing, and managing your wiki.
So, when you add users to your wiki, assign them specific roles such as - contributor, editor, administrator, and viewer. These roles define the work of each user, thus infusing transparency in the content creation process.
While some employees helm the writing part, others take charge of editing and reviewing the document for any errors. A few others can manage the process and ensure that everything is being done correctly and on time.
You can assign this work to selected members of your team, keeping in mind their bandwidth, experience level, and position in your organization. Choose your content team carefully, as this team will be responsible for adding, vetting, and managing content, before it finally goes live.
This video will explain in detail about how to assign roles to your team.
6. Set Workflows
Wiki creation can get complicated if you don't focus on doing some simple things right.
For example, when an individual works on a wiki article, he or she can set its status as - Draft, In Progress, Ready for Review, or Published, depending on the stage of that article.
Not just this, you can even create a custom status in case the stage of progress doesn't fit in these predefined categories. For instance, if an article has to be reviewed for the third time, the status can be set as - Sent for review to XYZ. Awaiting feedback.
It is simple, right?
You might be thinking - are these workflows even helpful. Yes, they are.
They keep things transparent and help your team of writers, editors, and administrators work in alignment with one another.
7. Set Rules to Grant or Restrict Access
A private wiki can have confidential information that should not be shared with all your employees. You can easily restrict access to such information with the help of a few rules and conditions.
This intelligent bunch of rules and conditions empower you to hide or display specific sections in your wiki. Not just this, you can even restrict access to entire pages or folders if you think they contain sensitive information about your company or a particular department.
8. Track Employee Activity & Wiki Performance
Once you are done creating a private wiki, how will you analyze wiki's effectiveness? How will you know whether the wiki is helpful for your employees?
For that, you need to measure every activity happening in your wiki, such as:
Total number of searches attempted

Total articles read

Articles that are popular among employees and those less checked out

Keyword searches that failed to yield accurate results

New articles created, and much more.
This treasure trove of critical information can be leveraged to extract insights, using which you can make smart decisions to boost your private wiki's performance.
For instance, if you find that the keyword - code of conduct - doesn't deliver the right results, you can cross-check the articles written on this keyword. If there is no article, you can create one from scratch. But, if you already have an article written on this keyword, you can improve its quality so that it shows in the search results.
Are You Ready?
Now that you have gained enough knowledge about every aspect of how to make a private wiki. It is finally time to dive into the process and get started.
To build a private wiki of top-notch quality, follow a few simple steps. Start by signing up to ProProfs Knowledge Base.
After that, select an appropriate template that matches your vision of a wiki. Create the categories you want to add to your wiki and fill them with useful information. Involve employees from different departments in the content creation process and encourage them to work in collaboration.
Once you are done and dusted with the process and have your private wiki up and running, keep tracking how successful your wiki is in meeting employee expectations.
Start creating a private wiki that guides your employees throughout their journey in your organization.
Do you want a free Knowledge Base Software?
We have the #1 Knowledge Base Software for delightful self-service help center starting at $0