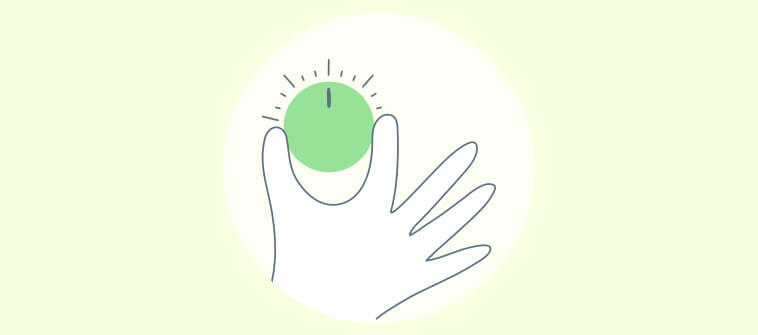 Every second that customers wait for your response, takes them closer to a faster, better competitor.
This is a huge price to pay for delayed responses and less-than-perfect experiences.
But, your agents can only do so much.
Calls, emails, tickets coming from all directions, every minute and every single day, can drive agents bonkers. They can either cater to all customer requests at a stretch and compromise on quality or give their best shot in every interaction and make customers waiting for their turn.
After all, humans have their limits.
To meet the ever-increasing customer expectations, you need something extra to boost the already existing human support, and that is automation.
Automating your customer service is a smart step in the right direction. It saves your agents' time and effort while delighting customers with speedy and seamless service at every touchpoint.
Read this blog to clear all your concepts around automated customer service and learn how it can turbocharge your support process.
Automated Customer Service Defined
Automated customer service is all about reducing the human effort that goes into answering repetitive customer questions. On the one hand, it aims to make work manageable for agents, and on the other, it ensures that customers get a top-notch experience with your brand.
Powered by the latest AI-based technologies, customer service automation provides customers instant and automatic assistance, right when needed, without any agent intervention.
This means no unnecessary interactions between agents and customers. While customers can get the service whenever they want, agents can troubleshoot serious customer issues and establish meaningful relationships.
One major reason automated customer service is so effective is that it eliminates the series of steps required to search for a solution. The process of serving customers and getting the service becomes painless with automation.
An automated customer service system can be in the form of:
Help desk ticketing system

Live chat solutions

Email automation, and more.
Customer Support Automation Can Weave Magic In Your Support Process. Here's How
Saying that customer support automation is important for your business will be an understatement. It is way more than what you think and can generate results way above your expectations.
Did you know that 75% of customers expect brands to provide support within 5 minutes?
Impeccable customer service in such a short time! Is that possible?
Yes, it is. But only if you have a healthy combination of human and automated support.
Customer Support Automation Benefits
Let's look at the five golden customer support automation benefits.
1. Reduced Response Time
Customers want accurate responses and they want them now. With tools like knowledge base software, help desk and chatbot, you can satiate customers' cravings for quick service. They can look up for answers to straightforward, basic questions in your help center or seek help from the chatbot to get instant answers. No meaningless calls, emails or messages.
Least frustration and instant satisfaction!
2. Increased Agent Productivity
Is your support staff almost always buried under a heap of tickets? And, the heap gets larger no matter how many issues are resolved in a day?
Customer service automation provides a way out. Research suggests that automation can solve up to 80% of regular customer support questions. This speaks volumes about the impact automation can have on agents' productivity. With more free time at their disposal, they can make the most of their day in solving challenging customer issues.
Happy agents, happier customers!
3. Serve Customers Across Languages
Whether you are an enterprise or an emerging startup, you might have customers spread across different locations speaking different languages.
Does that mean you should have separate support teams for your widely-dispersed customers? Absolutely no. Because that would be extremely expensive.
Customer service automation empowers you to cater to customers across geographies without incurring any additional cost. For example, if you have a self-service help center,, you can allow customers to translate it into their preferred language and get the support they need.
Go glocal with customer support automation!
4. Cut Your Support Costs
The average cost of live customer interaction is over $7 and $10 for B2C and B2B companies, respectively.
Investing in a proper support team and customer support process is good, but the cost should match the results, right? Tickets are increasing, and so should the number of agents in your team. More agents mean more costs.
An automated customer support system not only cuts down your support costs but also guarantees tremendous results both for your agents and customers. With automation taking care of the routine issues, you can manage work even with a small or medium size support team.
Automate your support process and save substantially!
5. Increase Delight and Reduce Churn
All customers want from you is that you respect their time. If you say, 'please hold' and get back to customers after 30 minutes, it is a poor experience. If you say – 'we will get back to you after two business days, and your reply comes after a week, it is again a poor, dissatisfying experience.
Automated customer service improves first contact resolution, making the service experience utterly painless. When customers receive unique value in every experience, they are more likely to stick to your brand for a long, long time.
Delight customers and make them yours forever!
How to Turbocharge the Customer Experience With Automated Support?
More and more companies today are turning to automation, given the bouquet of benefits it offers. But, this shift should be handled with care.
First of all, automation should not completely replace human support. Instead, it should strengthen the existing support process.
Second, the human connection should always be there, no matter how much automation you adopt. The best way is to find a healthy balance that can give customers the best of both worlds – the warmth of human connection and the efficiency of automation.
Here are some tips and tricks to provide impeccable support to customers with automation.
1. Keep It Personal
The power of personalization cannot be ignored when it comes to customer support. Take the example of any popular brand – Amazon, Netflix, or Spotify – all of them have set a high benchmark for personalization.
If you think automating customer service is enough, think again.
Personalizing every interaction manual is simply out of the range of possibilities. But automation can help you here. From automated welcome messages and personalized emails to routing issues to the right agents, automation helps you do it all.
For instance, suppose a customer is viewing a particular page or article on your website. By tapping the search data, chatbots can instantly show relevant help information or initiate a conversation related to the customer's concern.
For automated emails, you can have basic templates that can be quickly personalized and sent to customers. A little effort in personalization can go a long way in building lasting relationships.
2. Keep It Proactive
Did you know that slow speed is the common cause of customer frustration?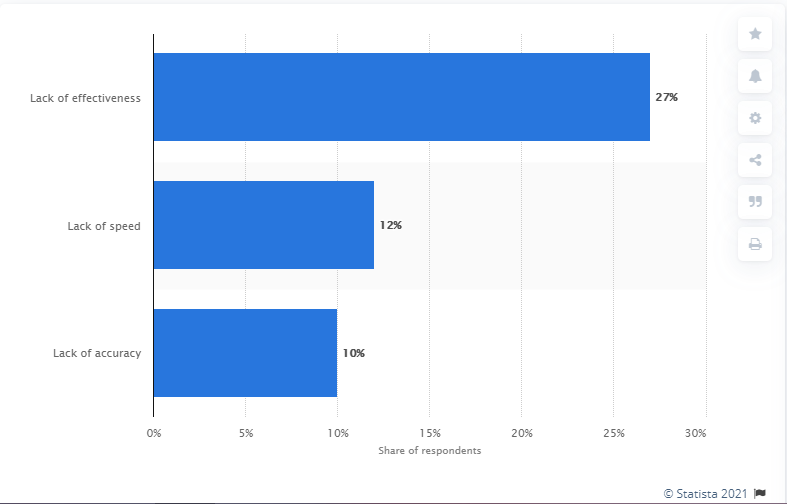 The best way to quench customers' desire for high-speed service is by being proactive. Give customers what they need even before they reach out to you. It's simple.
For example, ProProfs Chat allows you to proactively initiate conversations based on what customers are searching for, the articles they are reading, or the pages they are viewing. It also has a Chatbot that creates tickets, helps customers instantly via self-service articles, delighting customers with instant support.
Besides, adding a ticket form to your website, where customers can pen down their concerns, is a great way to offer proactive support. Using a help desk tool, you can route these tickets to relevant agents and solve them on time.
3. Analyze Customer Sentiments
Customer support automation is a great way to get instant and relevant feedback from customers. Launch surveys at the right spots in a non-intrusive way and urge customers to give genuine feedback. Analyze the effort customers have to put in to get their issues resolved.
If you are using a live chat or help desk software, you can integrate them with user feedback tools to launch surveys. But a lot of feedback means a lot of data. Modern customer feedback software offers AI-powered sentiment analysis that does the heavy lifting of decoding the data received, so you can completely focus on responding to customers.
For example, a user feedback and sentiment analysis tool like Qualaroo can be your best bet in collecting and analyzing customer feedback.
Watch this video to learn what it is and how it works.

4. Make It Easy to Contact Your Support Team
As discussed earlier, automated customer service doesn't mean you can get rid of human support. There should be a balance between both human support and automation. Your customers should know that you provide open, 24×7 accessible support and even agent support when need be.
While you might have automated customer support on your website or app, ensure that you provide customers an easy way to approach your agents. In case your self-service help center or live chat cannot solve their issues, customers should have the option to contact your support team right away.
This gives them the reassurance that they can always talk to a real person if things do not work out.
Why make customers leave your website when you can offer them human support too?
Simple Steps to Automate Your Customer Support Process
Are you now ready to automate your customer service?
You can start by picking the right tools that will assist you along the way. With customers preferring omnichannel support, it's advisable to automate as many channels of communication as possible.
Let's do this.
1. Provide Self-Service Options
Self-service is the best service. The reasons for this are many. It is convenient, effortless, and, most importantly, empowering.
Just the feeling that you don't have to indulge in long conversations to get a simple solution is relieving for customers who like to be independent.
No wonder self-service is sought by more and more customers today. For businesses, self-help options offer a great place to boost loyalty and build relationships.
Creating a knowledge base or help center is the best thing you can do for self-service-loving customers. It's an excellent customer service tool that strengthens your support in various ways:
Your customers can use it to find quick information about any issue they are struggling with. No time and place barriers.

It is also useful for your support staff. They can get instant access to information during customer interactions over calls, chat, or messages. That means quick responses and no delays.

Agents can also share knowledge base articles with customers while responding to them on chat, emails, tickets, or messages. This expedites the process of issue resolution.
Here's how a well-crafted and highly-searchable knowledge base looks like: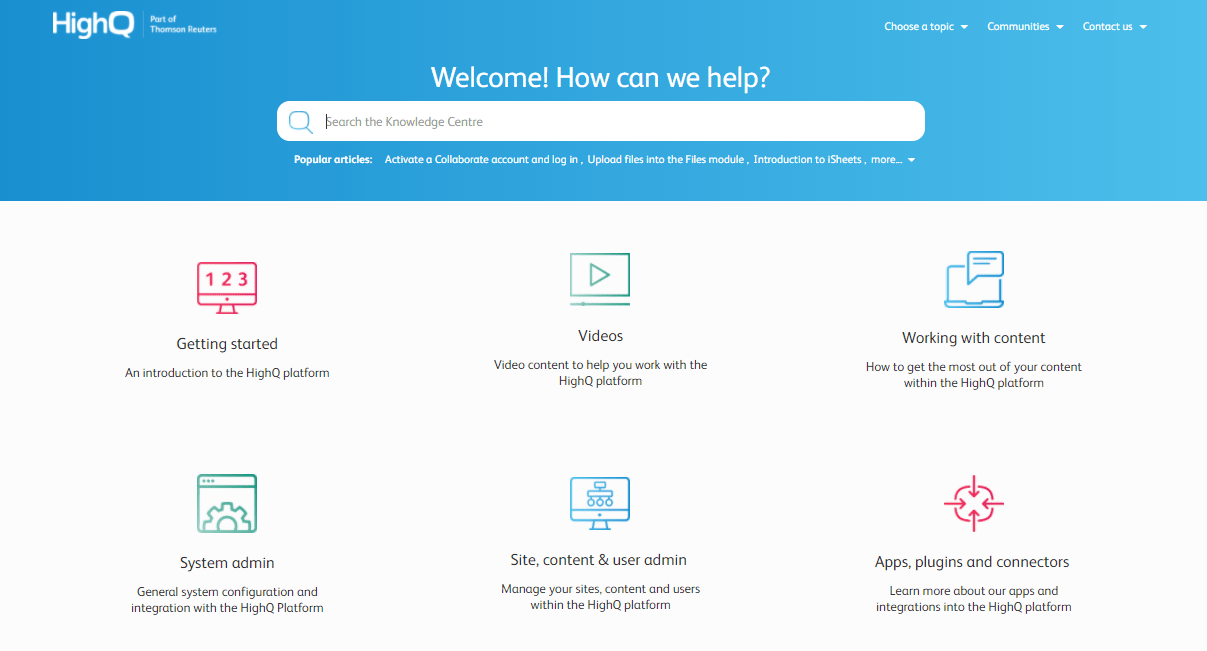 A knowledge base consists of detailed guides, FAQs, videos, and much more. Having one is a boon for your customers as well as agents. While it makes customers independent, it takes some pressure off your agents, helping them attend to serious customer concerns.
Learn how you can build a knowledge base of compelling quality in this video.

Read More: Effective Tips to Promote Your Self-Service Platform Among Customers
2. Set up a Powerful Help Desk System
A help desk makes ticket management a lot easier for your support staff. While it gives customers the option to raise a ticket and get their issues addressed immediately, the system helps agents manage, track, and resolve tickets on the go.
The incoming customer requests are consolidated in a shared inbox, where they are routed to the right agents. Your support team can prioritize tickets, discuss them with colleagues, add labels and monitor them from start to finish.
You can get a transparent picture of who is working on what, pending and resolved issues, and much more. This ensures that no customer issue falls through the cracks.
The tool allows you to automate repetitive tasks like ticket distribution, prioritizing, labeling and tracking. The best part is you can integrate it with your knowledge base and live chat.
For example, ProProfs Help Desk connects well with ProProfs Knowledge Base and Live Chat, giving customers a 365-degree support experience. Customers can chat with an agent in the chat widget or select a suitable knowledge base article for self-service, or if that doesn't work, they can raise a ticket right from where they are.
Save hours, increase agent productivity, and improve customer delight with a help desk system. Watch this video to learn more.

3. Don't Keep Customers Waiting – Use Canned Responses
Let's admit it. Not all customer questions are worth your agents' time and energy. They are so basic in nature that it's best to automate them.
That's where canned responses come in. These are pre-written answers to common questions that can be instantly shared with customers. Depending on the type of question, they can be long, short, have videos, and even knowledge base article links for superior support.
These responses can be set up in both live chat and the help desk.
For example, canned responses in live chat allow operators to send prompt responses to common questions and share messages according to the situation. Send a welcome message, thank you note, or an appropriate answer to a question without manually typing.
Similarly, the help desk system allows agents to use canned responses to resolve tickets on common customer issues or simply acknowledge a ticket and keep them posted about the same.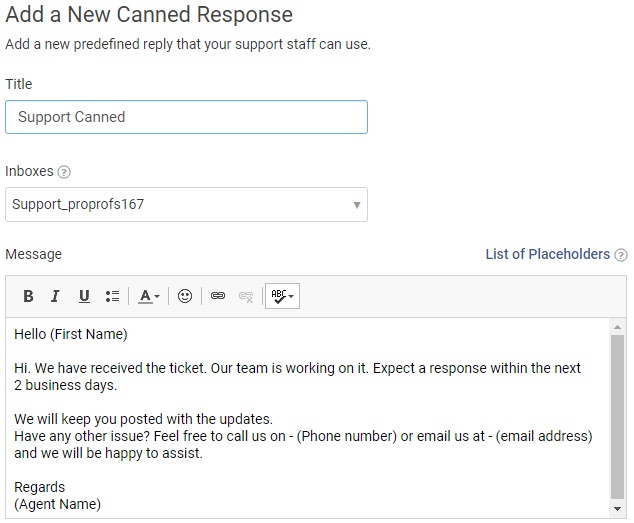 Reduce the response time and save hours with canned responses.
Read More: 5 Help Desk Canned Responses for Your Customer Service Emails
4. Use a Chatbot
Progressing with time is the need of the hour for businesses today.
And using a chatbot is one of the ways you can automate customer support and take it to the next level.
When you have a chatbot, customers can get solutions on the fly, and agents can be relieved from trivial, monotonous tasks.
There is nothing that an AI-powered chatbot cannot do. From studying customers' search behavior and initiating conversations to creating tickets, a chatbot can boost automation.
While it's great for providing non-stop 24×7 assistance, you also use it for lead generation. Chatbots can use pre-chat forms to capture leads and convert them into paying customers.
For example, ProProfs ChatBot is an excellent tool to engage with customers and delight them with prompt solutions. It's ready-to-use, fully customizable, and AI-supported. If it's not able to resolve issues in any case, the chat is instantly transferred to a human operator – giving customers the best of automated and human support.
5. Automate Feedback Capture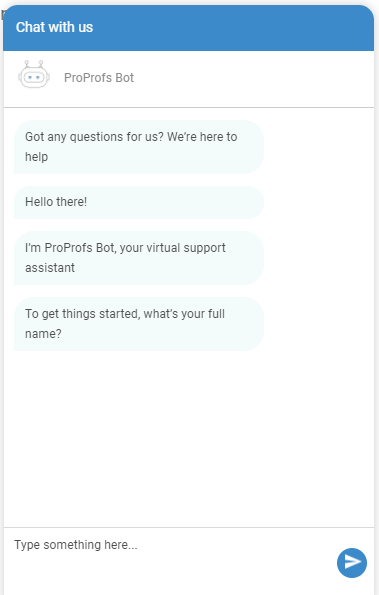 Customers are your top priority. Serve them right, and your success is guaranteed. Give them a poor experience, and they will happily switch to a better competitor.
Customer feedback is an essential tool to improve the ultimate experience by aligning it to customer expectations. The question is how to automate the system of collecting feedback?
There are survey and user feedback tools you can use to launch surveys after a chat or ticket response. These surveys help you collect genuine feedback, further improving your customer support.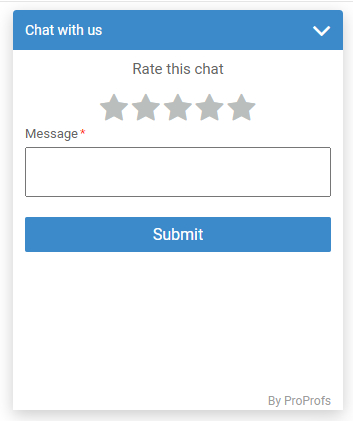 Create NPS and customer satisfaction surveys to capture feedback, improve operator performance, and boost your customer support. If your help desk integrates with a survey maker tool, it's easy to ask customers for feedback after an issue is resolved.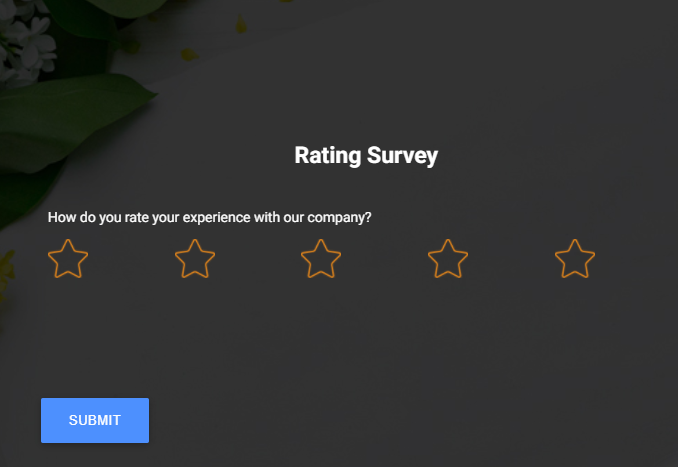 You don't have to manually do this after every interaction. You can simply integrate your live chat or help desk with a survey tool to create and launch customer surveys.
Read More: 8 Steps to Create an Attractive and Engaging Survey
6. Connect Your Knowledge Base, Help Desk, & Live Chat
For fully automated and seamless customer support, all your tools should work in sync with one another.
Imagine a situation where you have a live chat system but no knowledge base. The experience would be incomplete as customers will be completely dependent on your live chat operator. There will be no self-service options to boost the customer experience. Also, for every other issue, approaching the live chat agent is not desired by most of the customers.
The trinity of three powerful tools – knowledge base, help desk, and live chat, leads to memorable customer experiences. While your customers get the best of self-service, live chat, and ticketing, agents get to work in a streamlined way. They can chat with customers, direct them to self-service, and use a help desk to resolve tickets.
An all-in-one solution to heighten agent productivity and increase customer delight.
Top Five Customer Service Automation Tools in 2021
Offer the best-in-class automated customer service experience with these market-leading tools that are a favorite of various brands.
These tools will help you get started right away.
Since its inception, there is only one thing that ProProfs has constantly strived to achieve, and that is customer delight. All of its support tools are designed to achieve the ultimate customer happiness. Be it Knowledge Base, Live Chat, Help Desk, or Qualaroo, ProProfs offers an effortless and exceptional experience.
Backed by the latest technology and packed with state-of-the-art features, ProProfs customer support tools can fully automate your support process. Create a self-service knowledge base, chat with customers, and manage customer requests from a single place with the set of support tools offered by ProProfs.
Employ this customer service automation platform to deliver canned responses, automate ticket routing and ticket assignment, install a chatbot and make customers self-reliant with self-service.
USPs of ProProfs:
Easy to use – No download, installation, or coding experience required.

Out of the box features – Name any feature, and you will find it in ProProfs' customer support tools.

External integrations – The tools work beautifully with popular software like Google Analytics, Google Translate, Slack, Zendesk, Salesforce Desk, and many more.

Internal Integrations – ProProfs Knowledge Base, Live Chat, Help Desk connect seamlessly with one another. They can be used together to offer unified support to customers.

Pricing – All tools are priced reasonably with no hidden charges and surprises at month-end. Check out their pricing page for more details.
Zoho offers a powerful suite of customer service tools that include a help desk, knowledge base, analytics, and many more. With Zoho, you get powerful self-service, AI support, and live chat to automate your customer support function. The best part about Zoho's tools is that they can scale and fit a range of verticals. So, whichever industry you are into, Zoho can help you with customer service automation.
You can automate repetitive tasks, manage complex support processes easily with Zoho's help desk system. Its ticketing solution helps you provide omnichannel customer service, evaluate customer sentiments, manage and respond to tickets in a streamlined manner.
Watch your agents be their productive best and customers highly satisfied with your support using Zoho's help desk system.
USPs of Zoho:
Serve customers across email, chat, phone, social media, and website

Contextual AI in the form of Zia Voice, Ask Zia, Zia notifications, and sentiment analysis

Automates all ticketing essentials from ticket assignment to workflows

Integrates with scores of third-party tools like Mail Chimp, Typeform, SugarCRM, and many more.
Read More: How to Drive Efficient Customer Experiences Using Marketing Automation Tools
HubSpot's customer service suite includes ticketing, live chat, knowledge base, and customer surveys. All these tools combined can scale and automate your customer support, make work manageable for your front-office teams, and help you deliver top-notch services.
In HubSpot's customer service software, you get the best of help desk automation, knowledge base functionality, surveys, and reporting. The automation directs the right tickets to the right reps, ensuring speedy resolution. HubSpot's customer service software works well with its CRM, giving a centralized view of all customer interactions.
USPs of HubSpots:
Integrates with n-number of tools – SurveyMonkey, Zendesk, Intercom, JIRA, HelpScout, and many more.

Data-backed reports to evaluate team performance and improve customer experience.

All in one tool comprising knowledge base, live chat, and ticketing.
Zendesk offers a complete customer support solution that scales as your business grows. Its customer service suite includes everything you need to contact customers where they are and provide them the support they need. You can use it to build a community forum, help center, and even install a live chat on your website or mobile app.
Its AI-backed self-service, built-in ticket routing, and unified agent workspace boost your automation efforts, making customer support better for customers and easier for agents.
All these tools combined boost automation, ensuring that your customers get the best-in-class experience.
USPs of Zendesk:
Power-packed third-party integrations

Answer bot for common customer questions

Enterprise-grade security system

Omnichannel analytics to improve overall customer experience
With Freshdesk, you get a single platform to cater to customers across various channels. Its all-in-one customer support platform, makes it easy to reach out to customers on chat, email, social media, and even on the phone.
Freshdesk's AI solutions are designed to provide the best of both artificial intelligence and human intelligence. Freddy AI supports its automated solutions, promising a zero-touch resolution. On the one hand, it empowers customers with AI-backed self-service and chat. On the other end, it creates conversational flows and auto triage tickets for a consistent customer experience.
USPs of Freshdesk:
Robust integrations with Google Analytics, Mail Chimp, Atlassian JIRA, Slack, and many more.

Social signals that analyze your mentions in tweets, helping agents respond to urgent customer requests

Suitable for enterprises and small and medium businesses

Agent and customer-facing automation, powered by Freddy AI
Supercharge Your Customer Support With Automation
In this fast-changing business landscape, you can either choose to change and grow or fight and perish. The choice is yours.
Twenty years ago, there were no emails, but today it's hard to live without emails. Ten years before, there was no Facebook, and today millions of businesses use it to communicate and engage with customers.
Now, it's automation that's ruling the roost and will continue to stay for a long, long time (till something better and faster emerges). As a business, automating your customer service is critical to surpass customer expectations and streamline internal support processes. While your competitors are automating, you can stay still and do nothing.
Automation can take your customer support from average to exceptional. All you need is the right customer service automation software and the right approach. Start by providing AI-backed self-service and then slowly move forward with ticketing, live chat, sentiment analysis, and chatbots.
Do you want a free Knowledge Base Software?
We have the #1 Knowledge Base Software for delightful self-service help center starting at $0