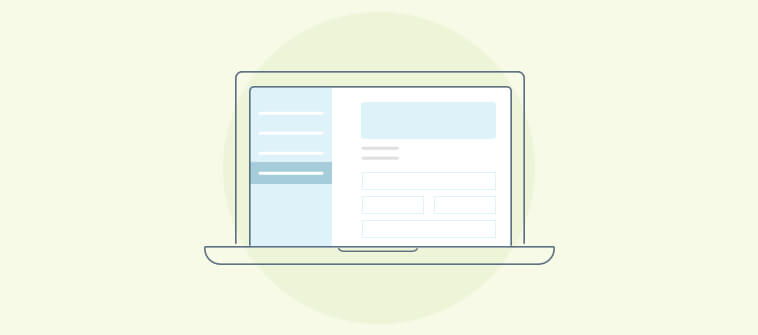 To create the perfect FAQ, online manual, user guide or wiki you need a tool that combines help authoring and knowledge management features such as ProProfs Knowledgebase. Let's look at the different ways in which you can use knowledge base software.
#1 Self-Service Cloud Knowledge Base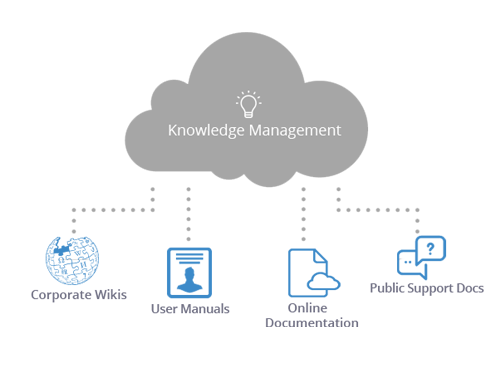 The
self-service knowledge base
, also known as the online FAQ, helps your customers find instant answers to their questions.
Top reasons on why you would want to set-up a self-service cloud knowledge base:
Instant set-up - You can start using a cloud knowledge base from the word go. There's no waiting for the software to get installed in your servers or any training required to use it.
Fully hosted solution - With a cloud knowledge base, you don't have to worry about setting up the software, customizing the design or feature updates. Everything is taken care of and all you need to do is focus on creating great content.
Collaborate on the cloud - The perfect solution for companies to centralize knowledge sharing is by using a cloud knowledge base. Your employees, even those located globally, can easily create and share information via a centralized knowledge base.
#2 Call Center Knowledge Base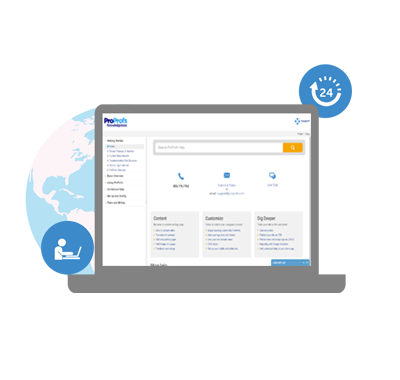 If you run a call center and want to reduce hold time and support tickets, then having a knowledge base will greatly ease the burden on your customer support teams.
Top reasons on why you would want to set-up a call center knowledge base:
Reduce the burden on your support agents - Instead of calling your support for a solution, your customers will be able to find answers to their questions in the knowledge base. This saves your support agents time and effort lost in explaining the same things over and over again.
Keep your customer communication consistent - The knowledge base can be used to record pre-written responses, pitches and resolutions. Your support agents can refer to these pre-agreed guidelines to keep the communication consistent when responding to customers.
Improve the response time to customer issues - Your support agents (especially new ones) can search the knowledge base to find resolutions to certain repetitive scenarios and cases. Using the knowledge base they can offer faster resolutions to customers' issues.
#3 Online Wikis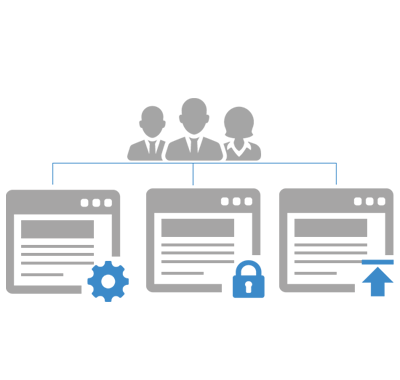 Online wikis
are great if you want to create a repository of information on the web. You can keep the wikis public (accessible to all on the web) or private ( accessible only to authorized users).
Top reasons on why you would want to set-up an online wiki:
Set-up a workplace wiki for flawless task execution - A workplace wiki serves as a central repository of company-related information such as style guides, common workflows, shared logins, procedure checklists etc, which your employees can create and share with each other.
Share your expertise with a personal wiki - Personal wikis help you record your knowledge on a particular subject, tool or topic. You can restrict access to the wiki for only authorized users or share it with the world.
Keep your audience informed and gather feedback - A wiki combines the authoring features of a knowledge base with the collaborative features of an online forum. You can share your knowledge while gathering feedback and suggestions from your audience for your company's products or services.
#4 User manuals and guides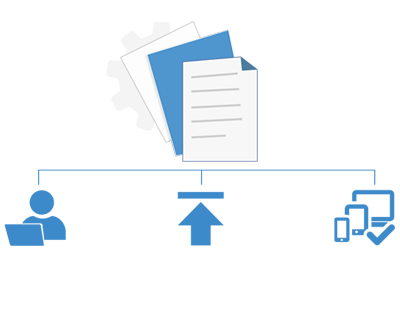 The best way to share
technical documentation
, for your software or hardware, with your customers is by using online guides and manuals. Your customers can read the technical help manuals from anywhere, at any time and on the device to find instant solutions for their issues.
Top reasons on why you would want to set-up online manuals and guides:
Reduce product misuse and eliminate legal liabilities - Misuse of products for hardware can result in serious or at times even fatal injuries. For software companies, problems such as data loss and theft can cause legal hassles. Online manuals can serve to inform customers of the proper ways of using the end-product and warning them with disclaimers to limit legal liabilities.
Improve your sales conversion - A well-documented online manual is much more than just a guide to technical details of a product. It often serves as sales literature as most customers like to view the user manual before subscribing to the product or asking for a quotation.
Save the time and effort of developers & agents - A comprehensive manual answers most if not all questions of a customer. As a result, your customers don't have to call your support or raise a ticket, whenever they face a roadblock while using your product. They can simply look up the online manual and find instant resolutions.
---
Here's How to Create User Manuals and Guides:
---
#5 Sales enablement knowledge base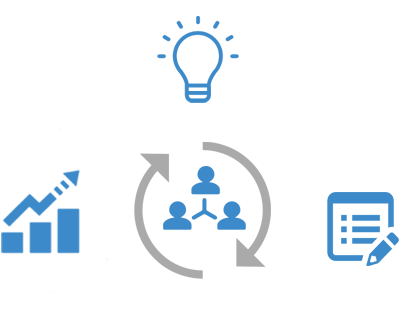 A
sales enablement knowledge base boosts the productivity
of your sales agents and accelerates your company's sales efforts. Your agents can use the knowledge base to collaboratively create and identify content that converts leads into customers.
Top reasons on why you would want to set-up a sales enablement knowledge base:
Keep sales reps up-to-date on product knowledge - Your sales agents are better equipped to make sales if their product knowledge is up-to-date. You can empower sales agents with updated wikis, product guides, online manuals, procedural checklists and ensure that they are well-informed and follow the best practices.
Identify content that helps you make sales - A sales enablement knowledge base helps you identify what kind of content is performing well with your customers. For instance, you can see which help article, video or document is most frequently read by your customers. Similarly, you can see what customers are typing to search for a particular topic. This information gives you an insight into what topics are of more interest to your customers and how they describe their problems.
Access the knowledge base & customer feedback in your CRM - Keeping all customer communication centralized is key to a successful sales and marketing program. In this regard, a sales enablement knowledge base helps you turn customer feedback, on specific help articles, into support tickets and attach them to customer cases in your CRM. This makes it easy for your sales agents to track and view all customer communication in the CRM.
#6 Internal team knowledge management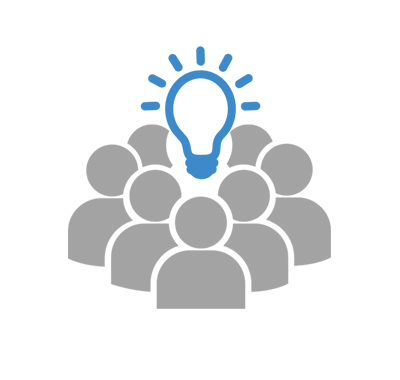 You can create an internal knowledge base to help employee capture, share and apply their knowledge. Such a knowledge base is essential to
foster organizational learning and grow corporate memory
.
Top reasons on why you would want to set-up an internal knowledge base :
Centrally track company-related information - An internal knowledge base helps you store company files, documents, videos, emails and other types of content is a central location. You never lose any important information as you can bring isolated documents or even email treads into a single knowledge repository.
Create a culture of knowledge sharing & collaboration - An internal knowledge base hosted on the cloud allows your employees to easily collaborate and share knowledge from anywhere, at any time and on any device. Introducing a knowledge base also helps employees, located in different geographical locations, to easily create and share knowledge with each other.
Standardize processes and eliminate repetitive errors - Using an internal knowledge base, you can provide repeatable procedures and ready-made templates to your employees. By communicating standard processes and policies to employees you can ensure that company best practices are followed and past errors are not repeated.
#7 Partner and Reseller Help Center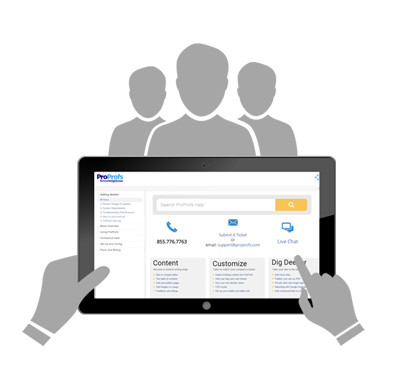 A partner and reseller help center is essential if you are running an e-commerce site or retailing franchise opportunities for your business. You can use the help center to provide information to your partners as well as gather feedback from them.
Top reasons on why you would want to set-up a partner & reseller help center:
Update your partners with a self-service help center - You can create a self-service FAQ, where your partners can easily find answers to their questions. The help center can include information about your products, services, pricing options or even disclaimers about your privacy policies. Essentially, you can use the help center to communicate effectively with your partners.
Create help centers customized to your partner's needs - Creating a partner help center is one thing but you might also want to customize it according to your partner's requirements. For instance, with ProProfs Knowledgebase you can create multilingual help centers for global partners. Additionally, you can customize the content and branding of the help center to suit your partner's needs.
Gather feedback from your partners 24/7 - Using a help center, you can gather feedback easily from your partners. You can use the in-built feedback form or even use customized surveys to learn about issues your partners and resellers are facing when using your product or service.
Conclusion
The points listed above are just some of the many ways in which you can use a knowledge base. However, there are many other ways of using a knowledge base such as for legal research, banking help centers and more.
P.S. - It would be great to hear about how you are using a knowledge base software to improve your business. Be sure to mention your tips in the comments below.
Do you want a free Knowledge Base Software?
We have the #1 Knowledge Base Software for delightful self-service help center starting at $0