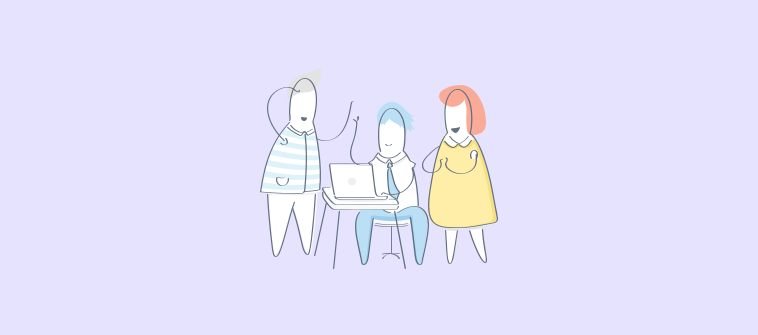 We brought a plant home and for months it warmed our hearts. In a matter of a few days, it reached an almost dead state. No longer was it a feast for the eyes. The color started to fade from green to yellow and eventually brown. The leaves begin to shrink in size. And no longer it looked like a healthy plant. You know the reason this happened is that it was not given proper care in the form of sunlight and water.
Likewise, when an employee comes in with all the excitement and he is not given training about his work, his energy will eventually fade away. He will take his foot back if he finds no proper training. He will be less enthusiastic if he is not trained. Having said that, training does come at a cost. It costs time, money, and material. But not training your employees also comes at a huge cost.
You know one of the top factors millennials consider when looking for a place to work is the training and career development opportunities. And 46 percent of employees say their company's training program makes them more likely to stay.
In this article, you'll learn why you need to invest in employee training including the use of online employee training software and what are the ways to do it well.
Watch:What is Employee Training?

5 Reasons Why You Need to Train Employees
Your employees are the most important asset. Unfortunately, many employers still take a step back when it comes to investing in their employees. You're doing it wrong. To exemplify this, here are the main reasons you need to invest in training your employees.
#Helps Employees Feel Valued, Boosts Morale
For some companies and businesses, employee training is either delayed because of other priorities or don't bring the needed benefit to the workers. Employers need to understand that training employees increase their skills and boost morale as well. Training improves the overall workplace experience as it shows the organization's commitment to learning and development of the employees by investing in their future.
#Enhances Company Reputation and Profile
Employees are the backbone of an organization and your success depends on them. Having a training strategy and a learning management system software can help improve employee productivity and develop your brand.
Training also makes a company more attractive to potential new recruits. Training can be of any kind relevant to the work and can be delivered by any effective method. It could be on-the-job training, mentoring schemes, classroom LMS platform, in-house training or individual study.
Nowadays, organizations are slowly walking away from traditional classroom-based training toward online workplace training.
#Increases Employee Agility and Fosters Curiosity
With agility comes a sense of innovation and it is becoming a key to successful outcomes. If your training is stalling progress or employees are not given the right training, your workplace agility will be affected.
When one of your employees get stuck with what to do, productivity can come to a halt, and it can escalate problems. Providing employees with the training to learn how to provide solutions to new problems will build a strong foundation towards greater innovation.
The need for innovation goes along with a sense of curiosity. And training employees can bring a positive change. You'll soon discover leaders who stand out in the crowd.
#Trained Employees Will Grow Your Customer Base
"The way you treat your employees is the way they will treat your customers" Richard Branson
This is a lot important because who want their customers to leave them. It's bad! Of course, maintaining existing customers is less expensive than winning new ones. That's why providing proper training is the best way to keep your employees motivated as this will ultimately translate into better customer care and satisfaction. Remember, happy customers can save you money, generate revenue, and grow your customer base.
In this context, the role of online training software or eLearning software is significant. They can help simplify, streamline, and standardize workforce training in a big way. For instance, you can easily create online courses and share them with learners anytime, anywhere with the help of on-demand learning management systems.
#Your Employees Will Thank You For It
There are two main reasons employees quit: first, they hate their manager and second, they aren't learning anything.
If employees are properly trained from time to time, it will address all the issues, they will be able to meet deadlines, and work better all around. They will also thank you for the opportunity to learn something and they are more likely to stay loyal to you.
Here again, online employee training software can make your job a lot easier as you can deploy employee training faster. Most of the popular software on the market today are powerful yet simple to use, accelerating how you set your employees up for success.
Employee Training Tips
#Keep it Targeted to the Employees
One-size-fits-all doesn't suit here. Target your training as finely as you can, so that it helps individuals perform their jobs. Identify exactly in what area each employee needs training.
#Make Sure You Train Them in Project Management
Project management training should be for everyone for better project planning and control. They will learn about using project management software, delivering complex projects, as well as improve communication at all levels.
Learning management system software offers a convenient way to train employees on project management skills. It is time-saving, easy to use, and productive.
#Custom Training Plan for Your Employees
Does your training program propose the following objectives?
What Training is Needed
Who Needs to be Trained
How To Train Adult Learners
Setting up a training program on a cloud-based learning management system such as ProProfs Training Maker simplifies training to a great extent.
#Find the Pain Points
Do not do it just for the sake of it! Make sure your training plan addresses the pain points and ties in with the knowledge gaps in the team.
#Make Training Enjoyable
Training doesn't have to be a burden. Don't let it become a boring activity. Let it be fun. Fun that actually enhances learning. Take breaks, and provide time to socialize. Focus on things like learning engagement, collaborative learning and so on.
If a project blows you (your employees) off track, you may be tough enough to get back up (if you are trained), but, if you are untrained, you'll be getting up to start over wherever you landed.
An employee training when implemented according to a plan often results in more motivated employees, greater engagement, and a reputation for investing in your workforce. It takes a lot of hard work to create a culture that supports training, but the payoff is monumental. What are you waiting for?
Do you want a free Training Software?
We have the #1 Learning Management Software for complete learning solution starting at $0