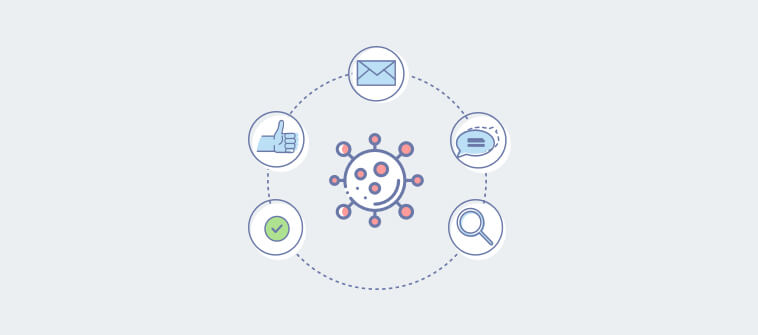 "It is not the strongest of the species that survives, nor the most intelligent. It is the one that is most adaptable to change." - Charles Darwin
The COVID-19 pandemic has cast a gloomy spell on the entire world, leaving no country, region, industry, or individual unaffected. The times are trying, with the global economy slipping into crisis. In a catastrophic situation like this, all one needs is resilience that can come only by being adaptable to change, and finding out new ways of doing things.
Businesses across the globe are pulling all stops to keep their customer base intact while being compassionate towards their employees. But it's not that easy.
The situation requires companies both large and small to reevaluate their business decisions, recalibrate the customer service function, embrace change, and move at an unprecedented pace. This will help them earn the trust of their customers, retain employees, and stay strong, regardless of the situation.
The one thing that can help here is not taking customer experience for granted. Optimizing customer experience will go a long way in keeping your business in fine fettle.
The Monumental Change
According to the latest updates, a whopping 20% of the population across the globe is under lockdown, meaning not leaving their houses, except for buying essentials. Look at it from the standpoint of a business, and you will find that the situation has brought a drastic shift in the expectations and buying habits of customers.
Due to the current situation, there are various questions that keep haunting customers these days:
Is the product safe?

Will there be delays?

Is the business taking appropriate steps to maintain cleanliness in the premises?

Will I get a refund if I cancel the purchase?

Does the business follow the safety and hygiene rules?

Is customer health a priority for the firm?
The more the number of customer concerns, the more will be your support tickets, calls, emails, social media messages, and more. The constant flow of customer queries can be taxing for your staff, but not providing decent experiences to customers is the worst thing to do, especially during such times.
With remote customer support being the new normal, how do you optimize customer experience and improve it with every passing day?
5 Tips to Improve Your Customer Experience During COVID-19
1. Leverage The Mobile Platform
With the 'stay at home' phase seeming never-ending, smartphone usage has increased more than expected.
Research suggests that 70% of people globally are spending more time on smartphones. The figure goes above 80% for GenZ. This is unbelievably true.
While people are staying at home, it's the best time for you to bring the world right into their homes. Craft unique experiences for them so that they start showing some trust in you. More than the web experience, what's going to save you here, is how optimized your mobile experience is.
Ensure that:
Your CTAs are well-placed and visible clearly on mobile phones

You have stick-to-scroll, especially for Confirm or Add to Cart CTAs. They make the purchase convenient for buyers.

Your website's or app's search bar displays prominently on mobile phones of all sizes

There are no bulky or blurred images that don't show well on the mobile.

There is no irrelevant or out-of-context content, as it makes purchasing cumbersome.
In a nutshell, your mobile experience should score high on convenience, agility, and user-friendliness to give memorable mobile moments to your customers. This is one of the best ways to improve the customer experience during COVID-19.
2. Keep Your Social Media Game On Point
There is a high chance of your customers forgetting you, especially if you are entirely out of service at the moment. Social media is one platform you can leverage to show that you are still alive, and make your presence felt.
This is majorly helpful for those firms that are not running as usual as it provides them the golden opportunity to stay connected with their customers and keep building their trust in the brand.
Think of the innovative ways you can provide support during COVID-19 and deliver value to your customers through social media. Posts regularly, come up with contests, run campaigns, share inspirational quotes, educate people about the current situation, and much more. Remember that even the tiniest effort counts at this time.
If you are an online food delivery chain, you can share interesting recipes daily to keep your customers engaged. If you run a stationery brand, running drawing and painting contests is a great way to keep the bond alive and active. So, depending on what business you are into, you can come up with something exciting for your customers every day.
Make your customers feel that they are not alone in this, that you, along with others, are sailing in the same boat.
The highly popular "StayHome" Story page, launched by Instagram to encourage social distancing, is a great way to show empathy, provide support during COVID-19, and come across as a leader in such a crisis.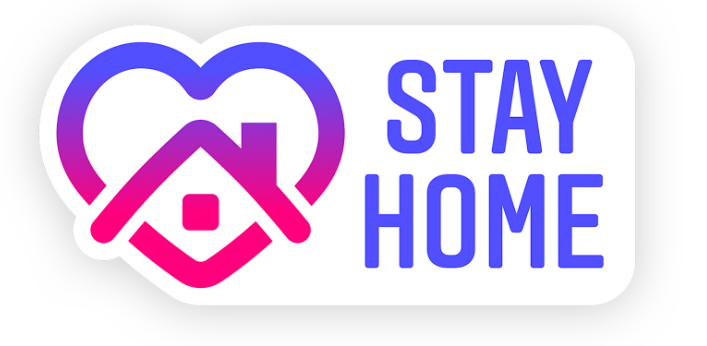 Likewise, you can create pages and hashtags to educate customers, stay connected with them, and optimize the customer experience.
Embrace remote customer support as the new reality and tap every social media platform you can to keep your relationship with customers alive and kicking.
3. Rethink Your Subscription Plans
The altering buying behavior and customer expectations demand a change in your subscription model. The reason is pretty simple. Customers are spending time at home more than ever before. They have all the time in the world to try your products and evaluate them before buying. So, for instance, if you offer a 10-day trial version of your products, that might be working before the pandemic struck us, but it might not work now.

Source: ProProfs
People will be apprehensive of putting their money in something that doesn't fully satisfy them. They, now, want to be super sure that whatever they are buying or subscribing to, is worth the investment.
Take this time as an opportunity to get closer to your customers, and attract a new set of prospects who can see value in your offerings.
---
Take Fitbit's example. It has pushed its free trial to 90 days, just to give its prospects enough time to try out its products and be fully convinced before taking the subscription. Besides, the firm is also providing 40 pieces of Fitbit Premium content completely free of cost in its app.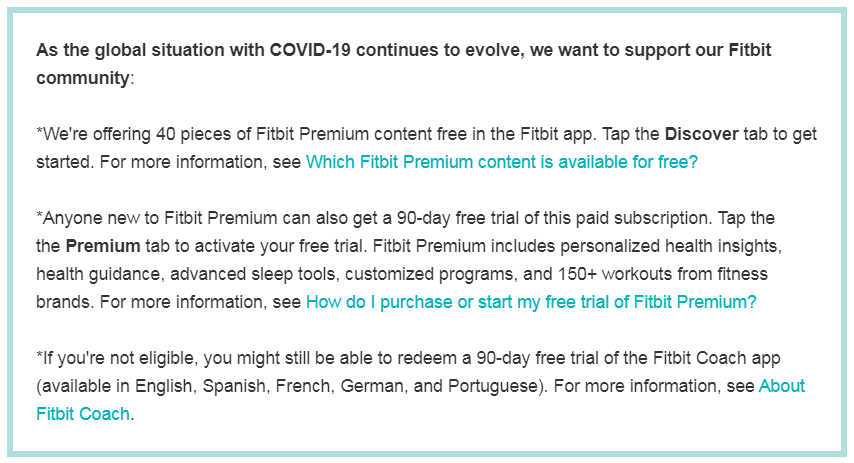 Source: Fitbit
Take a cue from Fitbit, and start thinking of the extent to which you can change your subscription model, or what more you can offer to optimize the customer experience.
---
4. Embrace Technology
One of the best ways to battle with this challenging time and improve customer experience during COVID-19 is by embracing technology. People now have more time than before, to use your products, call your support staff, raise tickets, and get their issues resolved.
This means your customer service team is going to get all busy and stressed, despite working from home. No one would have anticipated that customer requests will suddenly start flowing in such large numbers. But now, when this is happening, it's crucial that you do everything that's needed to meet customer expectations, and provide them best-in-class experiences, without over-burdening your support staff.
To make the work of customer staff easier and manageable, so that they are in the right frame of mind to handle customer queries, equip them with tools like knowledge base, help desk, and live chat software.
Let's look at these tools in detail:
✔️ Knowledge Base
Knowledge Base works like a self-service platform where all important information can be stored securely in the cloud and accessed at a convenient time and from any device - mobile phones, tablets, and laptops.
Customers can use it to find answers to any questions they have regarding your products, services, pricing, purchase policies, subscription plans, and much more.
The tool is an asset both for your customers and support staff. It makes information instantly available for your customers, so they don't have to reach out to your reps for trivial issues.
Likewise, your customer service representatives are relieved from answering the same questions again and again. This gives them ample time to focus on serious customer concerns that require immediate attention.
The best part about a knowledge base is that you can create it in multiple languages, so if your customer base and your support team comprise people from diverse backgrounds and geographic locations, you need not worry. They can access the knowledge base in their native language without any difficulty.
Also, how do you identify knowledge gaps, and improve the content in your knowledge base? The tool offers you rich insights into the health and performance of your knowledge base content. Metrics such as -
Poorly rated articles

Popular articles

Total number of searches

Failed searches

Successful searches

Broken links, and much more, give you a snapshot of what's working and what's not with your target audience.
So, it gets easier for you to improve the content, add new pieces to your knowledge base, and be of help to your customers residing across the globe.
This self-help platform is a must-have if increasing customer questions is a persistent problem, and if you are looking out for innovative ways to provide support during COVID-19 to your customers.
Look at how you can create a knowledge base in 5 minutes-

✔️ Help Desk
Managing a massive inflow of customer requests can be daunting, especially if there is no systematic ticket management mechanism in place.
Help Desk saves your support staff from going berserk due to the sudden increase in ticket volume. It brings customer requests coming in from various channels - emails, calls, social media, or live chat, on a single dashboard that's accessible to all your agents.
Tickets can then be assigned to different agents and teams, depending on their expertise. Agents can also -
Track who is working on which tickets

Prioritize tickets as high, low, and normal

Add internal notes to inform colleagues about how to resolve a particular issue, how important a ticket is, or any other information

Label tickets to give clarity regarding which division they fall into
The help desk also sends automatic email notifications to both customers and agents in case there is any progress on the ticket, update, or any other changes. For repeated queries, the help desk allows agents to send canned responses, thus ensuring that customer issues are resolved at the earliest.
The best part about an ideal help desk tool is that it integrates seamlessly with your knowledge base and live chat. This trinity of three powerful tools opens doors for agents to resolve tickets through a convenient channel.
Besides, you can even track an individual agent's or the entire team's performance through the help desk. The tool's robust reporting mechanism provides you accurate answers to questions such as -
Are we getting more tickets?

How many tickets are we replying to?

How is the customers' experience?

What's the average rating of agents?

How is our performance overall?

How many responses are pending?

How many tickets have been resolved?
This helps you identify bottlenecks and take steps to address them on time.
Here's how you can set up your help desk in under 5 minutes.

✔️ Live Chat
Did you know that 30% of customers are of the view that not being able to reach a real human is the most frustrating aspect of a bad customer service experience? Live Chat is one tool that can help you deal with this issue easily. No calls or emails - this tool works via chat. It's that simple.
Embed a live chat on your web page, so customers can instantly ask you a question. Your agents on the other side of the screen can quickly respond via canned responses in case of repeated queries, or by manually typing the answer, or sharing a link to your knowledge base article.
Don't worry if the number of your customer requests is mounting high, as operators can easily reply to unlimited chats at the same time, without getting overwhelmed. Regardless of where your customers are, which device they use, and the number of issues they raise, - it's a piece of cake with live chat.
Besides helping you with instant issue resolution, live chat also allows you to:
Monitor website visitors and their activities in real-time

Anticipate customer questions and track what they are searching on your website

Initiate conversations with website visitors

Capture leads with pre-chat forms

Track real-time chat sessions

Get operator performance reports
Live chat is a great tool to have, especially when businesses are working remotely and looking out for ways to provide support during COVID-19 to their customers.
Here's how you can add live chat software to your website in 5 minutes.

5. Inform, Educate, & Empathize
Forget everything else, if you can't empathize with your customers and show them that you care, especially at a time when the entire world is grappling with COVID-19, consider yourself losing the race already.
This is a time to be a little less competitive and more value-driven. You need to show that there is more to you as a brand - You care about your people and are ready to go that extra mile to keep your customers motivated and positive.
Be a little easy with your policies, take part in CSR activities, adopt flexible payment and delivery methods, and, most importantly, take initiatives to bring a difference in the little way you can. This can greatly improve your customer experience during COVID-19.
Remember that every effort taken in the right direction counts at this moment and contributes to building your brand image in the long run. Post-crisis, when all of this is over, your customers will remember you for your generosity, flexibility, and compassion, more than anything else.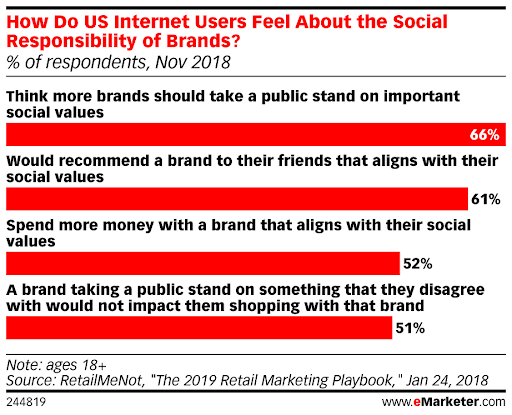 A global pandemic or not, customers clearly prefer brands that score high on meeting their social responsibilities.
Quick Recap
At the dawn of 2020, little did we anticipate how the year will turn out to be. We are shocked at the pace at which the pandemic is penetrating across the globe.
Businesses, both large and small, are affected, the global economy is in a crisis, healthcare facilities are overloaded - all in all, the situation is extremely tense.
At a time like this, we should cling on to hope and continue working and serving people with the same zeal that we always have. When all of this ends, we want to be standing strong with confidence, and this is possible if we embrace change and take every step possible to strengthen the bond we share with our customers.
The above-mentioned tips for customer experience during COVID-19 will certainly help you serve your customers right.
Do you want a free Knowledge Base Software?
We have the #1 Knowledge Base Software for delightful self-service help center starting at $0