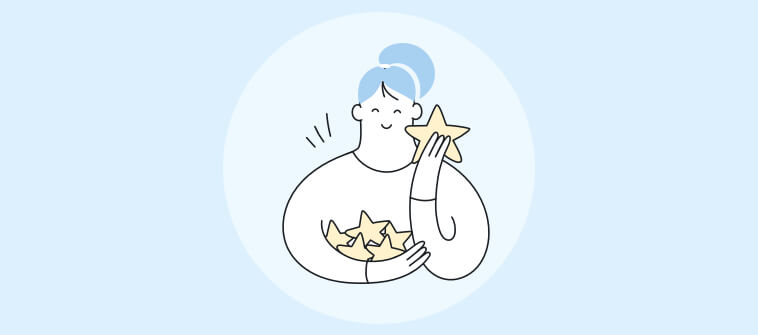 Voice of the Customer (VoC) surveys are used to analyze the gap between customer expectations and reality. VoC programs incorporate various methods, however, the voice of the customer survey remains the key part among all methods.
Data collected from VoC surveys must be captured from the end-to-end customer journeys at every touchpoint, and portrayed into a single picture denoting customer experience.
This way, VoC programs help you develop better products and keep customers happy for a long time.
However, it's just the tip of the iceberg. In this post, we will present all essential aspects of the VoC surveys – right from their importance to essential tips. We will also explore some of the best voice of the customer examples, templates, methodologies, and more.
But, before moving any further, let's first understand what a VoC survey is?
What is the Voice of Customer Survey?
Voice of customer survey is a key aspect of the VoC program that helps you understand your customers and propose effective actions to improve customer satisfaction, retain existing customers, and attract new leads. It helps you analyze what drives your customers' buying decisions so that you can offer the products and services accordingly.
Hence, the voice of the customer survey offers deeper insights for the product development teams to successfully fulfill customer needs. Now, let's focus on the importance of VoC surveys for a business and see how it can help you create a profitable brand.
Why Voice of the Customer Survey is Important for Your Business
Data suggests that 94% of the customers having a "good experience" with a business are likely to repurchase from the same brand in the future.
Hence knowing the customers and working in accordance with their needs is necessary for a successful business. Voice of the customer surveys is one of the effective methodologies that enable you to:
1. Retain customers
Having a defined plan to fulfill the customer's needs will enable you to have a clear indication of the key problematic areas. This will assist in keeping the customer satisfied.
Facts suggest that the majority of unhappy customers won't complain about their problems unless you ask them directly. For example, statistics show that around 96% of unsatisfied customers don't complain and 91% of them simply leave without saying anything and never return to buy.
Hence, via VoC programs, you can understand the needs and aspirations of your customers, fulfill them in time, and make them buy from your brand consistently.
2. Minimize negative feedback
There are various platforms available for the customers to share their feedback including review websites, Google My Business pages, social media channels, and more. With 30% of consumers preferring to post negative feedback to prevent others from shopping with that brand, it is crucial to decimate these numbers to have a successful business in the fierce market.
Voice of the customer survey tool such as Qualaroo enables you to instantly track negative feedback and work upon the issues to elevate customer satisfaction. This is a great way to spot problems early and refrain customers from writing negative reviews.
3. Helps in getting to know the customer
Voice of the customer surveys is one of the optimum ways to capture honest feedback about a product or service. It helps you understand what customers think about using a particular product or service.
Conducting feedback at crucial touchpoints helps in identifying whether the offered product is able to provide what customers actually want or not. If you know how your customer feels about your services, you will better be able to plan and strategize your future plans accordingly.
4. Scaling customer experience
Given that the current customers are the biggest potential buyers, they can help increase ROI and costs way less than acquiring new customers.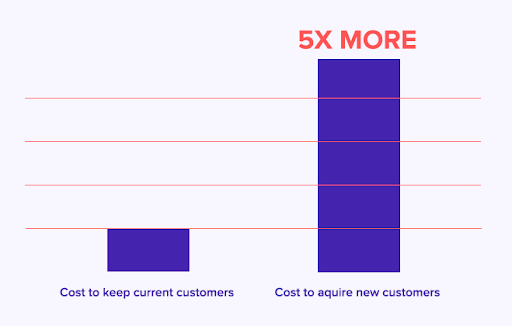 Source: Fortunly
Thus, successful businesses offer their customers a platform to share their voices and opinions, and leverage that feedback data for offering exceptional services. If you don't actively reach out to ask for their feedback, you can probably lose such potential customers. And it isn't hard for the customers to share their experiences when the lines of communication are open.
So, when you receive feedback via surveys, the most crucial step is to properly organize the responses and create a plan of action. Because what you will do with feedback data, decides whether you will be able to take your business to the next level or not.
Hence by all appearances, surveys are meaningful for the ones who wish to listen to their customers, who want to scale customer experience, avoid customer churn, and keep them loyal.
Tips to Keep in Mind When Creating Voice of customer (VoC) Surveys
You must carefully design your surveys in order to yield promising survey response rates. And here are the top tips you must follow for exceptional results:
1. Define your goals
It's not feasible to capture details from your customers with just one type of survey. So, you need to have clear goals as to why you want to create VoC surveys. For example, if you want to know why your customers are raising frequent support tickets. Your goal should be: "I wish to understand the key problem areas faced by the customers" rather than "I wish to understand the customer satisfaction".
This way you'll be able to come up with a clear goal and create relevant survey questions around the same topic.
2. Do not go for lengthy surveys
People often find it difficult to spare time to complete a consumer survey. If you really want them to complete one for you, then you should value their time by creating shorter and straightforward surveys.
In return, you will be rewarded with a higher survey response rate along with accurate and honest responses from the customers.
3. Avoid asking personal questions upfront
For your VoC surveys to sound conversational and professional, keep initial questions relevant and straightforward. Engage in specific questions at the beginning and gradually turn towards demographic survey questions by the end.
This will spark customer's interest and show that you really care about asking their opinions and how they feel.
4. Start with an overall rating question
Let's say you start a survey with a straightforward question as "Does our product offer value for money? Please rate". This way customers will share their instant reaction to the question rather than getting influenced by other in-depth questions. This way, arranging your questions in the correct manner could help yield accurate and honest responses for a better understanding of the customer perception.
5. Include both qualitative and quantitative questions
For best results and data, you must create a good combination of both open-ended and closed-ended questions for capturing qualitative and quantitative data respectively. Although close-ended questions demand less time to fill out responses, customer service open-ended questions are also important as they offer more nuance and deep insights on a particular topic.
6. Avoid internal jargon
Consider using the language of your customers rather than relying on using jargon. Using internal or technical jargon can make things confusing for layman customers and could end up capturing erroneous responses – ultimately ruining the overall efforts of a VoC campaign.
7. Offer a free form text field
Customers may have a few more concerns or want to share an issue that hasn't been asked in the survey. Thus, offering a text field enables them to share novel responses which ultimately could pop up a major issue that you've never thought of. Also, such text fields offer an opportunity for your customers to share their personal experiences instead of just switching over to a competitor.
8. Make sure to personally and instantly respond to a strong negative feedback
Considering the potential impact that a negative customer experience can have on your brand image, don't ever delay approaching the customers with strongly negative experiences. These customers could spread a negative word of mouth, however, they can also be retained via instant resolution or response to their queries.
9. Consider including an incentive
Despite following every possible practice, the most probable issue that you may still face with your VoC surveys is the lower response rate. So what's best you can do to counter this issue?
Offer an incentive for the respondents for completing a survey because people often think about a tangible benefit as one of the main reasons for completing a customer survey. You can offer incentives in various monetary and non-monetary forms including shopping vouchers, discount cards, extended free plans, premium plans, and much more.
10. Send out surveys soon after an interaction or a purchase
Usually, the best time to send out a survey is soon after a customer interacts with your brand or makes a purchase. Doing this will increase your chances of capturing fresh insights about customers' experiences with your brand.
Voice of Customer (VoC) Questions with Examples
The above-mentioned tips are certainly crucial in order to create effective Voice of the Customer Surveys. However, you might not know which questions to ask in your voice of customer questionnaires.
Knowing the right survey questions to ask customers could assist in capturing what your customers have to say about your brand, products, and services. So, let's explore the most effective questions that you can ask right away.
Voice of the customer purchase intent questions
These are the critical VoC questions that help understand the purchasing behavior of your customers. For example, to identify the gaps that could halt the users to make a final purchase, or to reveal the problems that customers might be facing after a purchase.
Sample questions include:
If you have not made a purchase today, can you tell us why?

Have you achieved your purpose for the visit today?

What influenced you to purchase from us today?

Can you think of something that could have convinced you to complete the purchase of the pending item(s) in your cart?

If you aren't making a purchase today, what stopped you?
Voice of the customer service questions
You can send out these questions to know whether your customers are satisfied with the support offered by your company or not. You can compare the responses with your own benchmark to understand if you're improving on your customer satisfaction score.
Sample questions include:
How would you rate our customer service on a scale of 1 – 10?

Did you get the solution for your query?

What are the most relevant characteristics you look for in a brand, product, or service?

How easy is it to connect with our support team?

How do you want our customer service team to handle your queries?

What do you expect from our customer service team after purchasing a product?
Voice of the customer origin and purpose questions
These customer survey questions can provide deeper insights into how people usually discover your brand. And once they hear about your brand name, what's the first thing they think.
For example, a specific product, friendly interface, online content, and more.
Sample questions include:
How did you hear about our brand, product, or service?

What were you hoping to find on our website?

Where did you learn about our brand, product, or service?

What do you intend to purchase from this site today?

Have you found what you were looking for?
Voice of the customer brand perception questions
As the title suggests, brand perception questions focus on understanding how customers, prospects, employees, and stakeholders perceive your brand. Hence, to obtain a clear picture of customer perception of your brand, you just need to focus on question types that capture cognitive, emotional, descriptive, or action-based behavior of the customers.
Sample questions include:
When you think about our brand, product, or service, what comes to your mind?

Where have you seen or heard of our brand, product, or service in the past months?

Are you familiar with what we offer? If yes, how did you hear of our brand?

How would you describe our products to a friend or a colleague?

How likely are you to recommend our brand to your friends or colleagues?

How was your last experience with our brand?

What have you heard about our brand, products, or services?

What was your first impression when you interacted with our brand for the first time?
Voice of the customer loyalty and recommendation questions
Loyal customers are certainly the happy ones among your customer base. These customers are valuable and can help you with word-of-mouth marketing. Therefore, capturing the voice of customers is crucial to measure their loyalty and how likely they are to recommend your brand or products to their family and friends.
Sample questions include:
How likely will you switch a company if a competitor offers cheaper alternatives?

Do you consider us as a high-quality brand?

How would you rate our products as value for money?

Do you trust our company and services?

In comparison to our competitors, where do you rate our products/services on a scale from 1 to 5?

How likely are you to recommend our products and services to others?

Will you purchase more products from our company in the future?

What have our products helped you achieve so far?
Voice of the customer questions for new product/feature testing
The success of a newly launched product or a feature can only be determined when your customers feel it's the perfect solution to their problem. But in order for them to voice their opinions, you have to share VoC surveys that specifically target questions related to the newly launched concept.
Sample questions include:
How helpful did you find the new product/feature?

What is the least favorite part of the product/feature? and why?

What aspects do you consider when deciding on a version of the product?

How do you feel about this new feature?

Do you think the newly added feature will improve the existing product? and why?

What other products would you like us to launch in the future?

Have you ever experienced something similar to this feature with another company?

How do you consider using this product in your daily life?

Do you think this new feature will improve your overall product experience?
Voice of the customer questions for competitive analysis
These voice of customer survey questions are particularly crucial for analyzing what your customers think about your competitors. It offers you the chance to capture market insights along with the strengths and weaknesses of both your services and your competitors'.
Sample questions include:
How would you feel if you couldn't use our product?

What made you choose our product over our competitors?

What are the things we do better than our competitors?

Who should we analyze and learn from them?

Who would you consider as an alternative if our product/service is no longer available?

What are the top three brands in this category?

What do you think we can do to stand out from the competition?

Please describe your overall opinion of our brand/product/service?

Do you want to share any additional feedback with us?
Voice of Customer (VoC) Templates
Survey templates usually include sample questions and questionnaires that help businesses efficiently plan their survey campaigns. Similarly, VoC templates can help you create Voc surveys in minutes and ask the right questions to the right audience.
There could be several VoC templates available online, however, you need to choose carefully as to which templates suit best as per your business needs.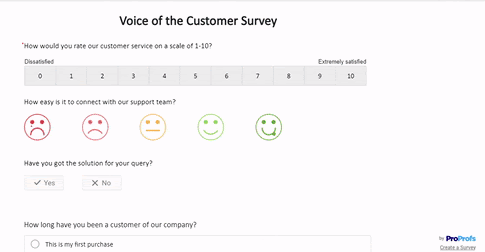 Voice of Customer (VoC) Survey Methodologies
Out of the methods mentioned below, companies can follow any approach that best suits their needs. However, one may also choose multiple options to have a perfect picture of their customers.
1. Customer Interviews
Interviewing customers is one of the popularly used VoC methodologies. This method may cost you time but it offers the chance to build strong customer relationships. You can directly peek into the customer's viewpoints via personalized interviews that offer a deep understanding of their needs. An interview can either be in-person, over the call or via video chat.
While being on a live conversation with the customers, you always have a chance to dig in more for additional insights that other methods may miss. For example, if a customer mentioned that they are struggling with X aspect of the product, then you can pull out more specific insights about the issue, and prepare how your team can fix it quickly.
Customer Interviews are usually conducted with a smaller list of potential customers to reveal the key areas of improvement for a specific product or service. Once you have the data, be proactive with seeking solutions to the problems and document the insights to share with internal teams.
2. Online surveys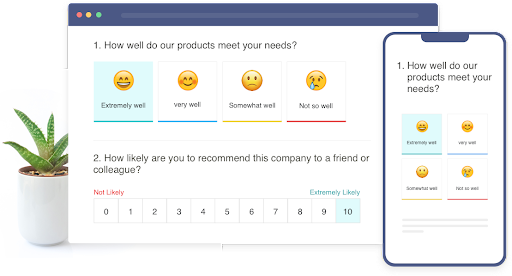 Online surveys are useful when you want to target a large group of customers. Surveys are usually sent right after the customer's interaction with your brand. It offers them a chance to voice their opinions about a recent purchase, the interaction with a team member, or the quality of online content.
However, for online surveys to be successful, it's necessary to leverage the best survey software to ask the right set of questions. For example, to measure the customer satisfaction level you should send out Customer Satisfaction (CSAT) Surveys, whereas to measure customer loyalty, you can share Net Promoter Score (NPS) surveys.
Also, online surveys are the best way to capture both qualitative and quantitative data. You can easily combine both open and close-ended questions to garner feedback as per your business needs.
3. Live chat
Live chat support is fast and convenient, which makes it the most preferred support channel among customers. Live chat offers the customers an effective means to reach out to your brand at the time they seek help.
Take eCommerce brands for example. Such brands receive hundreds of customer queries, feedback, and responses, every single day. Thanks to the Live Chat Software that can be used to share important surveys, capture real-time responses, and store all the chats in an organized manner for further analysis.
Such interactive features will contribute to creating a good impression among customers and help you establish trust.
4. Net Promoter Score
Net Promoter Score is a commonly used CSAT metric to gauge customer loyalty by asking a question such as "How likely are you to recommend this business, product, or service to a friend or colleague?".
Although you will not be able to capture the context behind the feedback via NPS Surveys, yet you can get a fair understanding of customer engagement levels, identify customers who can be open to sharing more feedback, and find detractors who are likely to share negative feedback elsewhere.

You can calculate the NPS by subtracting the percentage of 'Detractors' from the percentage of 'Promoters'.
Read More: How to Calculate Net Promoter Score
5. Social media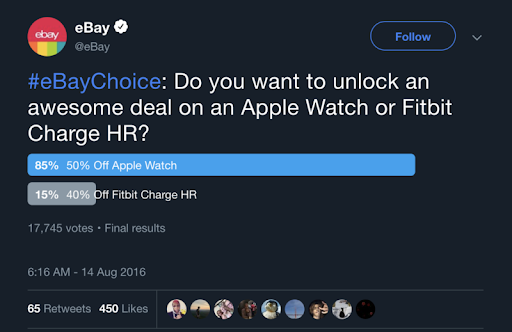 Social Media has an enormous user count and billions of people are already engaged in the social media communities. This has enabled businesses to leverage social media platforms for customer engagement.
Even customers find social media platforms as the best way to interact, engage and share their valuable opinions about brands, products, or services.
For example, you can monitor your brand mentions over social media platforms to identify the customers who are facing issues with your products and services. While monitoring competitive mentions, you can have the list of potential buyers, who are presently not happy with them by using your competitor's products.
Therefore, social media can provide honest and unfiltered customer feedback because customers aren't directly speaking with your brand, rather they share what they actually feel.
6. Focus groups
Like customer interviews, focus groups aim to provide in-depth research about the customer preferences and help you understand what the customers think. However, focus groups are different from customer interviews in a way that they involve a small group of customers rather than one on one customer interviews.
Focus groups are a great way to capture fresh customer insights and can help you make instant changes for precise data collection.
7. Active and passive feedback methods
Capturing customer feedback is a two-way system that collectively involves the initiation from both parties i.e. the brand and the customer. Active feedback methods incorporate the company's efforts to reach out to their customers for their valuable feedback, whereas Passive feedback methods involve customer initiation to share their experiences for a specific product or service.
| Active Feedback Methods | Passive Feedback Methods |
| --- | --- |
| NPS | In-app Feedback |
| CSAT Surveys | Support ticketing system |
| Polls, Forms, and Surveys | Social Media |
| Customer Interviews and Focus Groups | Feedback Forms |
In a nutshell, it's always wise to leverage both Active and Passive feedback methods for collecting customer insights. However, Active feedback methods are highly recommended when you are up for capturing the opinions of an online audience for deeper insights.
8. Customer support call data
Customers often call businesses when they face issues with the products and services they're using, Hence, it's always important to record such calls and share the data with internal teams to analyze how customers perceive their brand and what problems they are facing with the existing products or services.
9. Online reviews
Over the decade, online reviews have emerged as social proof, and gained popularity among people to make better buying decisions. And the facts suggest that nearly 79% of online shoppers consider online reviews as personal recommendations from their friends and family.
Online reviews are powerful enough to make or break a customer's purchase decision. Hence, it's important to pay attention to the online customer reviews to know about their experiences with your brand and to enhance your online brand reputation.
10. Website behavior
Analyzing the user website behavior is the best way to gain insights into the actions of the silent customers. Simply analyzing user behavior on your website can offer detailed data, however, analyzing users' actions is crucial to understand the reason behind such behavior.
This can be done by utilizing tools such as Google Analytics and heat maps. After installing these tools you will have valuable data on how users behave on your websites including where they click, what pages they visit, and how much time they spend.
Such data will enable you to improve your website content and make your customers spend more time on your website.
11. In-Person Surveys
Another form of interviewing potential survey population is via in-person surveys. Companies conduct such surveys for market research purposes in order to be prepared before launching a new product or make amendments to an existing one.
The interviewer has an added advantage to swiftly add any relevant section during ongoing discussions. This method will help you get genuine responses that offer deeper insights compared to any other VoC method.
12. Feedback Form
Having a feedback form on your website is a great idea to offer customers a chance to share whatever they feel and whenever they like. It attracts unsolicited feedback as these feedback forms are always available for people to share their positive or negative experiences.
Feedback forms could appear in the form of a pop-up or be shared by Chatbots while interacting with customers. These forms may vary in length from single-question-based to multi-question. However, the feedback form template and form length completely depends upon the type of information you're seeking to capture.
Bring Voice of Customer into Action
Listening to your customers and taking necessary actions to solve their challenges is the foremost step to customer success. The above-presented details about the voice of the customer survey are invaluable and can help you understand whether your products are fulfilling your customer needs or not.
If administered well, the voice of the customer survey could help you become customer-focused and a trustworthy brand. Remember, you are here to offer your customers what they actually need, and you will inevitably fail if you don't know what their pain points are.
Hence, you must go for tools such as the ProProfs Survey Maker that can help you create, share, and analyze surveys in a matter of minutes. We have ready-to-use VoC survey templates that can get you started in no time.
Do you want a free Survey Software
We have the world's most versatile survey tool starting at $0