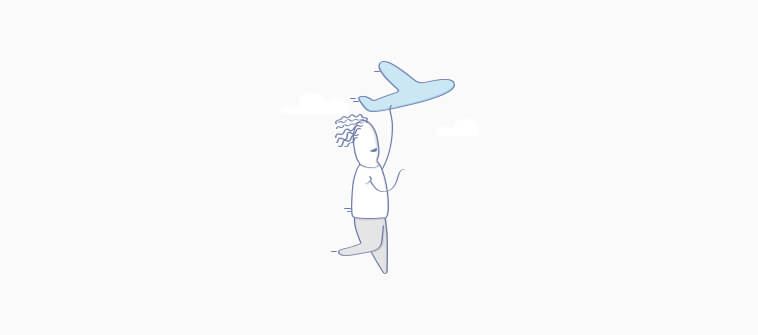 "Success in life is about project management. Determine deliverables, make milestones, and always pursue the critical path."
― Ryan Lilly
It wouldn't be wrong to say that 'Deliverable' is the favorite word of every project manager, as they use this term multiple times in a day.
For project managers, attaining project deliverables is significant because that's how they can maintain client relationships in the long run. You must have the required resources to achieve the desired deliverables. It doesn't matter how obvious it sounds; this fact holds the utmost importance.
According to the latest industry reports, '47% of projects fail to meet their goals due to poor management of requirements.'
Be that as it may, another factor that will leave you amazed is, 'Many project managers get confused when they are asked the difference between project deliverables, goals, and objectives. '
It happens because these 3 words sound similar and are used in cohesion, but have a totally different meaning. And today, I am going to discuss project deliverables in detail so that you never find yourself in a tough spot. So, let's roll:
What Are Project Deliverables?

Project deliverables are the specific outputs that you must achieve within the specified timeframe and budget. Client-based businesses get projects once they agree to meet the desired deliverables. Simply put, project deliverables are the factors that decide the longevity of client relationships.
It is important to remember that there is no harm in saying no to unrealistic deliverables because if you agree first and then fail to meet, your business's integrity will be questioned for sure.
What's more, this triggers negative word-of-mouth, which consequently puts you and your business in a vulnerable state.
How Are Project Deliverables Different From Goals and Objectives?
Instead of making things complicated for you, I am going to try to answer this question briefly:
Project goals are the targets you set before initiating a project. Actually, your goals show a glimpse of what you are really trying to achieve. While project objectives are nothing but a combination of small targets, which you try to meet in the pursuit of ensuring success.
But deliverables in project management are what you must deliver to keep clients' trust and loyalty for ages.
Still, have some concerns? Don't worry, check out this blog to get more insights: Why Differentiate Between Project Goals and Objectives?
What Are the Types of Project Deliverables?
Generally, deliverables in project management are classified into two types: 'Internal deliverables' and 'External deliverables'.
Internal deliverables are those work activities that you do for the sake of project success. Such work activities have nothing to do with clients' consent, but they are essential for project completion.
External deliverables are quite the opposite of internal ones. These signify those tasks that you do to meet clients' demands/expectations or win more business.
Before you start thinking which ones hold more importance, I would like to state that both project management deliverables are significant for business growth.
Examples of Project Management Deliverables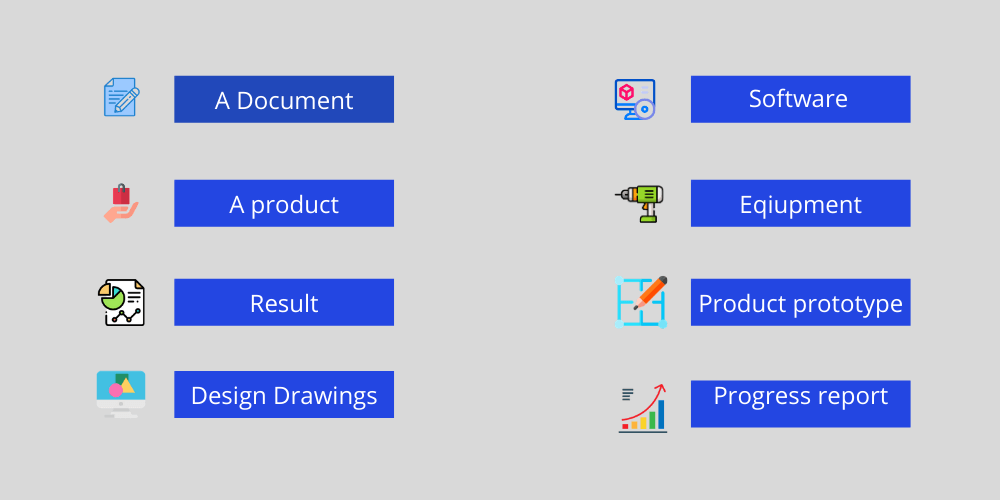 Well, I have simplifies the meaning of project deliverables, but I don't want to leave anything to chance, so here're a few examples:
1st example
:
Let's say that you have got a project to build a house, what would be the main deliverable?
Still, thinking? It's completing the construction and giving possession to the rightful owner.
In addition, your project objective would be to make a significant profit without jeopardizing the bond of trust you have established with your client.
As far as project goals are concerned, completing tasks related to the foundation, plumbing, exterior, etc. should be your priority.
2nd example:
This time, consider yourself as an owner of a reputed software development company.
Now, your prime project deliverable will be to deliver a well-developed application to the client.
The main project objective would be to meet clients' expectations and uplift the profit levels.
And project goals would be to stick to the SRS document and stay away from insignificant changes.
It's time to end our list of project deliverables examples, as we have more interesting things to discuss.
How to Manage Project Deliverables Like a Pro
Managing project deliverables is significant because of your business's credibility, client relationships, and much more are at stake.
Here are some sure-fire ways that will help you manage project deliverables like a pro:
✔️Don't Take the Planning Stage for Granted
The way you do project planning decides how much you are likely to accomplish promised deliverables. Most of the project managers struggle during the project development cycle due to vague targets, which further creates a chaotic situation.
So, don't be reckless while project planning, as your cautious approach, can save your team a significant amount of time and effort later.
✔️Be Clear Whether Deliverables Belong to Internal or External Stakeholders
As we have discussed, there are two types of deliverables in a project life cycle. You must be clear about whether deliverables belong to internal or external stakeholders to maintain the workflow and prevent all sorts of confusion.
External stakeholders are none other than clients, who expect you to bring the desired project deliverables to the table. On the other hand, internal stakeholders are project executives that want deliverables from different departments to complete their job.
So, make sure that your internal stakeholders get deliverables timely so that you don't have to upset external ones.
✔️Don't Be Confused Between Process Deliverables and Project Deliverables
We have already discussed the types of project deliverables, but there is one more distinction you should be acquainted with: 'Project vs. Process Deliverables.'
Project deliverables

are the results that you promise to deliver to clients.

Process deliverables

are the path you pursue to attain project deliverables.
If you know the difference between these two, you are likely to plan and execute project activities up to perfection. As a consequence, you manage project management deliverables with the utmost ease.
✔️Deploy Inimitable Project Management Software
By now, you most probably have understood the importance of project deliverables, and how the fate of client-centric companies revolves around them.
So, you must put your best foot forward when it comes to managing and accomplishing project deliverables.
In simple words, you should deploy inimitable project management software, which can lend a hand during the project development process.
Features you should have on your checklist while searching for unrivaled project management software are:
Intuitive dashboard

Gantt charts

Team collaboration

Recurring task management

Calendar view
You can try out the ProProfs Project as this tool has all these features along with other crucial ones.
✔️Keep your Project Executives on the Same Page
The margin of errors multiplies when your team size increases. It doesn't matter how favorable conditions are to you, ensuring collaborative work will stay as an enigma.
It's no brainer that when you struggle to bring employees across different departments together, the chances of securing project deliverables drop.
So, strive to keep your project executives on the same page if you desire for strong client relationships. For the same, you can use the software mentioned above, which also paves the way for seamless team communication.
Final few words
The term 'Product Deliverable' sounds easy, but it isn't in reality. This blog post covers all pertinent information related to project deliverables, right from easy-to-understand definition to examples, and the difference concerning goals and objectives. There is also some reference to vital tips so that you can understand how project deliverables can be managed.
Do you want a free Project Management Software?
We have the #1 Online Project Management Software starting at $0