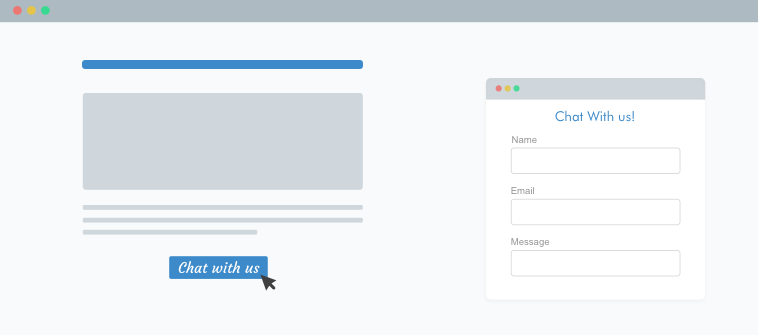 It's been more than a year that you started your business. It's doing well so far, but now you feel that it's time to go online.
You know that reaching your audience is important and taking your business online can help you do so in lesser time and investment. Thinking of it like that, you finally build your website. But even after a month or so, you do not see much traffic on it. You are worried and confused as to why aren't you getting to see leads for your business. And now you feel stuck with one question in your head, "what to do next?".
Sounds similar? Well, this is something that can happen to a lot of newbies. But worry not, this can happen to anyone, even those who've been in the market for a decade. Lead generation has been a challenge for many, but only a few have overcome this hurdle effortlessly. That's because they have understood that no matter how many people visit your website, they cannot be stopped from leaving until the right live chat software is not in place.
According to Kissmetrics, live chat is a beneficial tool that helps to boost lead generation for a business. The consultancy stated compelling statistics that are sure to help you take a final call about live chat support. Some of them are as follows:
44% visitors felt that getting answers to their queries from a live person during the purchasing process is an important feature that any website can offer

63% visitors claimed they are likely to return to a website that offers live chat

38% got converted into customers after having a session with a support operator through live chat

62% of customers were likely to make a purchase from a website that offers live chat
The real-time communication abilities of live chat software lead to:
Improved customer service

A boost in lead generation

Increase in conversions and sales

Opportunities where support operator can upsell a product or service

Reduction in support cost

A boost in customer trust and loyalty
Now, you may wonder how does live chat achieve so much during real-time communication! Well, a good live chat support software will include a lot of features that help your operators build a delightful experience for customers in real-time. Let's see how live chat for lead generation actually works!
Features Offered by Live Chat for Lead Generation
It is no more sufficient enough to know that a visitor is currently browsing through your website. You need to understand:
Their activity pattern on your website

How many times have they visited your website

Which particular page did they land first

How long did they browse a particular page

Where are they from
And so on.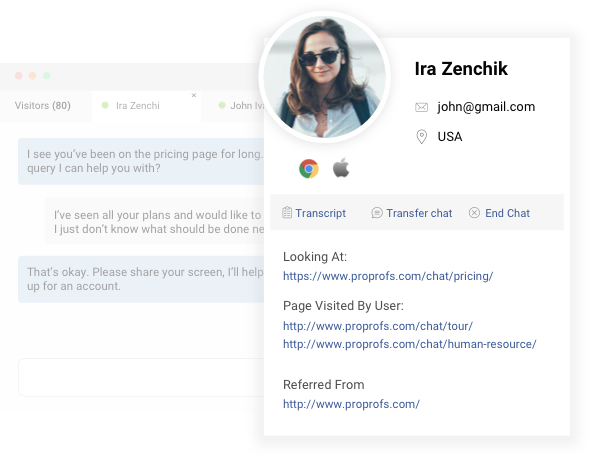 Without getting access to this information in real-time, it can be difficult for your business to actually convince visitors to stay and convert into customers. But with live chat for lead generation, you not only get access to such information but also use it to start a conversation with a visitor in strategic moments.
How this feature helps in lead generation: real-time tracking allows you to understand visitor behavior and expect what questions can they come up with. Getting such lead generation for customer service can help you close more sales effectively.
You do not want the purchasing process to be a cumbersome act for your website visitors. But what if they have to wait for your operators to get free so that their queries get answered faster? They'll probably leave.
Forrester claims that 69% of customers are willing to shop from a retailer that knows how to offer consistent customer service. But if your customers online have to wait for their turn to arrive, then they'd probably reach out to your competitors. Who would like that? No one.
And what can you do in this case? Integrate a live chat software that helps you route visitors to operators so that no query goes unanswered. After all, you wouldn't want confused customers to leave you just because they didn't get answers to their queries on time.
With the best live chat support solution in place, you can retain these leads and convert them into customers. Chat routing allows you to distribute workload for all your operators. With this feature in place, you can help support operators maintain a quality throughout their conversation that will keep your customers delighted. All you have to do is apply simple rules that will help you assign chats to support team members automatically, thus assisting you to reduce response time hassle-free.
How this feature helps in lead generation: Chat routing can help visitors automatically get connected to dedicated account managers who can provide instant response. This helps you to free up the bandwidth for your support team members who can reach out to other leads and convert them to customers.
My metric for success can be summoned up in one phrase: earn customers for life

Mary Barra, Chair & CEO, General Motors
If you wish to earn customers for life, make sure that support experience with your brand is delightful every time for every visitor. But you may ask, "how do we accomplish the goal of delightful customer experience with live chat?".
Besides real-time visitor monitoring, live chat also supports features like proactive chat sessions. Products like ProProfs Chat offer a feature called Chat Greetings. With this feature, you can approach customers at the right time and ask them what are they really looking for. Other than that, the feature also helps you to:
Provide an in-store experience to website visitors

Create a personalized support experience that becomes memorable for visitors

Understand visitor's pain points, show empathy and provide a solution that suits their needs
How this feature helps in lead generation: Chat greetings helps you to increase leads up to 30%. That happens when you have the ability to proactively connect with your visitors before they reach out to you, which helps you to increase conversions, and speed up your customer acquisition process. It is only possible once you get a tool to boost lead generation with customer service.
Tracking your performance among customers is an essential drill you need to practice. That's the only way you'll understand where you need to improve as a brand and learn more about potential leads. How does this work?
Before you put any strategy into action, you need to have access to numbers such as:
Website traffic

Operator performance

Support experience (whether visitors were satisfied with the support process)
Access to these numbers can help you know the following:
Who are your best performing operators

Who brought the customer satisfaction rate down

Were your visitors delighted with the support provided

Were the queries answered in real-time

How many chats were missed and converted into tickets
Once you get access to these numbers, it is easy to understand where your support process needs to improve. You'll also learn whether your operators need training that helps them convert potential leads into customers. Getting a managed live chat lead generation services will help your brand come up with marketing strategies that boost conversions efficiently.
How this feature helps in lead generation: Chat reports help you to understand what is actually working for your brand during the support process. Getting access to such insightful reports can assist you to build lead retention strategies that ultimately result in conversions.
Other than these features, you can also generate leads with live chat software by getting access to the following:
Pre-chat form:
Before a chat is initiated, you can gather visitor information and learn which leads can become potential buyers for your brand.
Post-chat form:
To nurture leads and convert them into buyers, it is important to know

how their

experience with your brand. On this basis, when you approach them

in the future

, you can build a personalized experience that compels them to return to your business every time.

CRM integration:


It is always ideal to integrate your live chat software with powerful CRM tools like MS Dynamics and SugarCRM. Such integrations allow you to generate leads with live chat and keep a track on them to understand their purchasing patterns hassle-free. This integration can also help you store chat transcripts that can be used as references later when the same lead visits your website.



---
Recommended Read:
Integrate Your Live Chat With CRM And Unlock Its Full Potential!

---
Generate Leads with Live Chat
Over the years, live chat has become an essential tool to gather leads for a business. However, its potential as a lead generation tool is yet to be discovered among industry players. The use of live chat has become prominent in eCommerce, customer support, healthcare, automotive, IT, enterprises, and other industries. But some industries are yet to discover its use not just as a lead generation tool, but also as a support software. It is only possible once they add live chat software to their website.
In case, you'd like to suggest some other features of live chat that can help businesses improve lead generation, then do leave a comment below.
Do you want a free Live Chat software?
We have the #1 Live Chat software for delightful customer support starting at $0