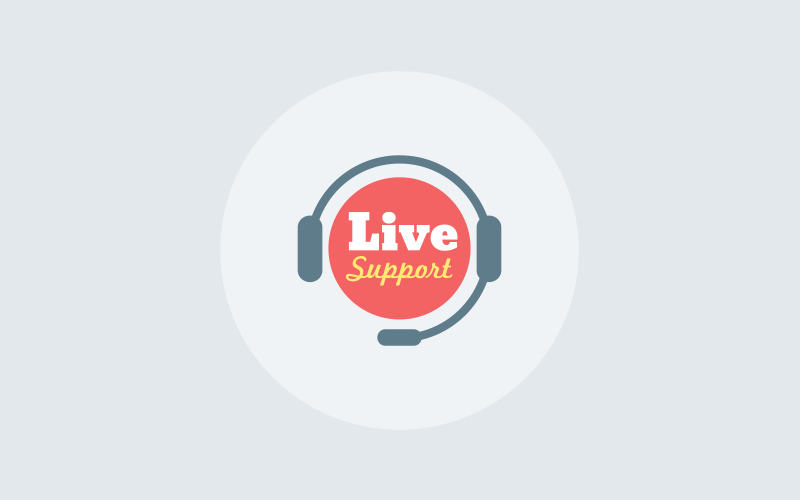 In this digital age where we spend most of our time online interacting with automated response bots, a little human touch goes a long way in making things personalized. Call centers came into existence with the aim to support sales and after-sales services of companies. However, customers do not have the time and patience to spend hours in waiting queues to have a real person answer their queries.
Like it or not but customers look for efficiency. In fact, the faster their problems are resolved, the higher customer satisfaction is. Good news is that with live chat (also popularly known as a multi-tasking communication tool), handling multiple visitors simultaneously is possible in real-time. Probably this is one of the reasons why it is considered as the lifeline between the company and the customer.
While most businesses nowadays face the cash crunch and don't have much room for bigger customer support divisions, using a live chat tool can do wonders. By adding live chat to your website, the visitors receive a prompt response and it improves sales as well. Most of the online ventures have a customer support and it is even more efficient when it's based on live chat service.
Most of the research done in this area shows that customers appreciate the fast and useful support. Live chat enjoys the highest satisfaction levels for any customer service channel, with 73%, compared with 61% for email and 44% for phone.
Who are the Most Frequent Users of Live Chat

Besides shopping websites, an increasing number of online ventures are choosing live chat for to support the needs of their clients while offering quick response, strengthening sales and loyalty in the process. Here are some of the industry verticals that use live chat in their day-to-day activities -
IT solution providers
Real estate
Web hosting companies
Airlines
Every result-oriented online business aims to build a good reputation when it comes to the service they provide to their customers. There is a broad list of websites that use live chat and the below-mentioned ones use a personalized approach.
Aid In Recovery is a counseling website focused on the people who are addicted. They used live chat integration in order to approach users instantly because a quick response is key in this field.
Ruffwear, an online business that focuses on the sale of pet accessories, also offers initiative support providing guidelines already in the welcome message. It directs customers quickly to the parts of the website they would prefer.
Canyon offers customers choice of preferred language during a live chat while quickly connecting them to the most suitable member of their team.
Unconventional ways live chat improves customer support
Quick Navigation - How live chat helps in improving customer support
Live chat has successfully positioned itself as a revolutionary tool in the field of customer support. There are multiple advantages of implementing live chat for a business. Let's explore all the varied ways in which live chat is capable of improving customer support.

1. It lowers costs
Every business aims to curtail costs and live chat offers ample scope for this. With this tool, the agents are more productive because a single support rep can handle multiple customers simultaneously which isn't the case with the phone or email support. Also, they are able to focus on other important issues and a business doesn't need to invest in multiple phone lines. The efficiency of a single employee is higher with live chat, which leads to lower employee count, resulting in saving salary costs. In other words, a company saves money when it serves more customers and visitors every hour. Businesses with fewer support executives can use this tool and still satisfy the customers.
2. It bolsters the conversion rates
It has been observed that many businesses are able to achieve high traffic to their websites but still witness lower conversion rates. With live chat implementation, conversion rates improve. According to the American Marketing Association, live chat increases conversion by 20% and results in a 305 percent overall return. No business can dare to overlook this figure. Moreover, upselling can be done with live chat, which impacts the conversion rates in a positive way.
3. It improves the customer experience
With live chat, businesses can raise the chances of having repeat business. Customers prefer to do business with brands that meet their needs and make them feel important. When a customer receives an immediate solution to their problems, they would prefer to do business with you.
4. It allows continuous outreach
When a business wants to expand its reach, live chat implementation is the perfect solution. Remote communication (using phone and email) is slow and expensive, but with live chat, you can engage in quick communication, irrespective of the customer location. This chat tool also allows monitoring the behavior of your website visitors, which will help you understand and make offers accordingly.
5. It offers greater sales potential
When you use a chat platform like ProProfs Chat, it brings many advantages in regard to understanding your customers and website visitors better. For instance, if you use Salesforce, you can integrate ProProfs Chat with Salesforce CRM platform. This integration will let you improve information sharing, effective management of sales and support workflow all at one place.
Here are some of the key benefits of live chat integration with CRM:
The customer/visitor information collected during live chat sessions gets directly posted to your Salesforce CRM.
The new leads, customer's information, and contact get automatically updated right at the start of a live chat session.
Chat transcripts collected via ProProfs will be added to Salesforce which the sales rep can refer to in future.


Conclusion

Improvements live chat brought to the field of customer support are the best example of influence it has on modern online businesses. In this world of growing competition, using a live chat software can improve your business in regard to higher profits, increased conversion rates and strengthened number of returning customers. So, if you haven't implemented live chat yet on your website, go for it and improve relations with customers.
Do you want a free help desk?
We have the #1 Help Desk for delightful customer support starting at $0.