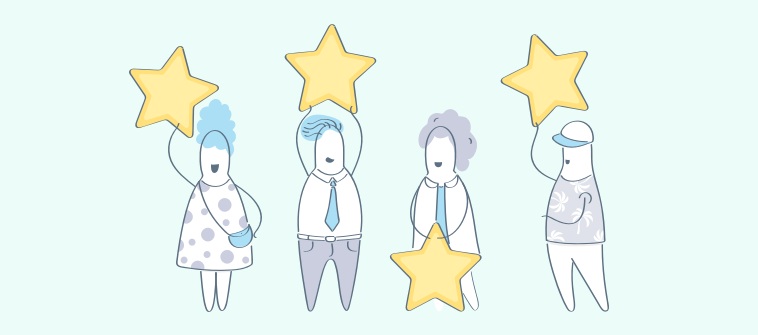 In today's day and age, offering proactive and solution-oriented customer support has become essential. Companies that are not able to provide state of the art customer support don't grow at the same pace as their competitors. That's why every brand needs to understand the importance of customer experience and how to leverage the collected customer feedback to continually improve it.
According to McKinsey & Company, 70% of buying experiences depend on how you treat your customers. Most of the customers speak up when they are shopping for something new or require customer care support. As a brand, you need to make sure that they are treated well and get what they want to get exceptional customer feedback in return.
The Best Ways to Collect Customer Feedback
Now, the question is how do you ask for feedback from customers? Well, there are numerous ways to do so, but you need to choose the best way to collect customer feedback that matches your company's requirements. Thus, we have narrowed down five of the most effective customer feedback methods.
#1. Opt for a Popup Customer Survey
We live in an era in which no one has the time to fill lengthy and tedious forms or participate in a survey that takes ages to complete. With that in mind, brands have started using surveys that can help collect customer feedback, One such trending customer feedback method is a Popup survey that works as an invitation to take part in a short survey with minimal time requirements.. This online survey triggers strategically in instances such as,
When the customer is scrolling through web pages.

After a user spends a certain amount of time on a web page.

If a customer is showing exit intent or is about to close the website.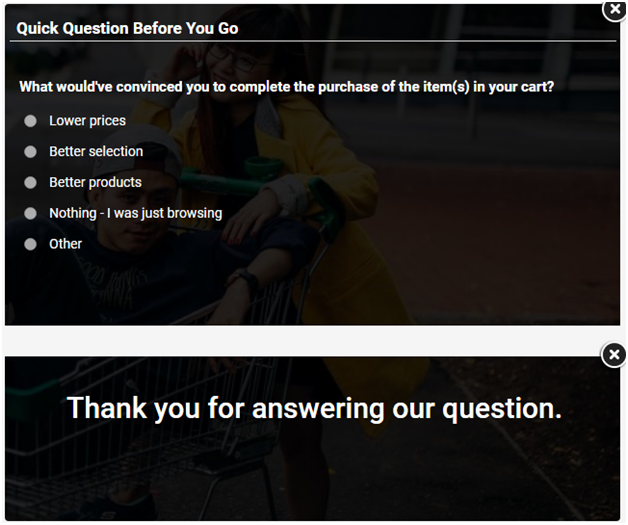 With the help of this online survey, you will be able to generate additional leads and collect customer feedback quickly by re-engaging them. You might be thinking, how can I create a survey for my business?
#2. Offer 24/7 Live Chat Customer Support
Next up on the list is proactive live chat support, which is one of the most sought after ways to listen to your customer's queries, resolve them instantly, and then ask for feedback. This entire process will significantly help in improving your services as per customer's feedback. Some of the most amazing features of 24/7 live chat support:
Access live chat software from anywhere, anytime through any device.

Offer product tours.

Set individual customer representative greetings.

Make announcements.

Keep track of users on crucial web pages.

Get visitor details through a pre-chat form.

Save leads on the preferred CRM platform.

Monitor and track reports, as well as ratings.

Evaluate operator performance reports.
Did you know that 73% of brands with more than average customer feedback, perform better financially than their counterparts in the same field? So, if you intend to do the same, your revenue will undoubtedly reach new heights.
#3. Dedicated Customer Help Desk
Having a specialized customer help desk system has its advantages and is a tool that can help you retain customers more often. A help desk is a tool that can be easily integrated with an online survey to measure delight and work accordingly on improving the service quality. If you are using ProProfs Help Desk Ticketing System, you will get to make the most of the latest features like,
Manage all customer-facing inboxes in one place.

Lessen the number of tickets raised by 80% with the help of a knowledge base.

Resolve tickets anytime from anywhere through chat.

Enhance customer experience with real-time reports and surveys.

Assign tickets to relevant departments by using labels, priorities, and previous notes.

Keep track of which customer operator is working on what.

Offer 24/7 customer support without answering similar questions, time, and again.

Get access to customer insights and ticket ratings.

Monitor every operator's performance with daily reports and analytics.

Train your team and make them a pro with the help of

ProProfs Training Maker

.
As per Microsoft's recent study, customer service companies are the ones that generally portray the face of a business as well as play a significant role in enhancing the overall customer experience. However, brands first need to understand the importance of customer experience and get a better idea of their expectations.
#4. Make the Most of Analytics and User Activity
Tracking your website's performance and understanding user activity is a must to learn the importance of customer experience and change your strategies accordingly. As a business owner, you must enable analytics into your survey to collect customer feedback, and you are good to go. There are loads of other advantages of using analytics, such as
Traffic Flow – It allows you to get a better idea of individual web page performance and how the poor performing pages can be fixed.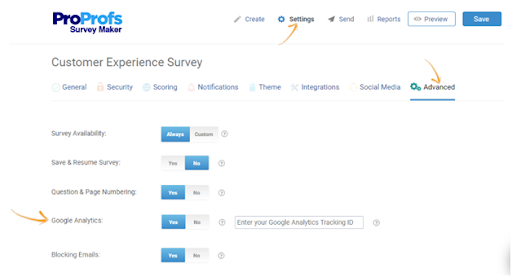 Most Visited Web Pages – Being aware of the pages that your audience loves to visit often can help increase traffic and business.
Failed Searches – At times, there are errors on the website, but we are not able to fix them because most of us are not that technically sound. And this is when analytics come into the picture and helps us get rid of those bugs.
Better Decision Making – Instead of letting digital marketing agencies make crucial business decisions for your company, why not allow real-time data perform that task for you. Finding the root cause of a problem with the help of data is pretty quick and cost-effective, which in turn helps attain higher numbers with respect to customer satisfaction.
#5. Evaluate Customer Satisfaction through NPS
One of the most effective ways to collect customer feedback is through the Net Promoter Score (NPS), which is considered the benchmark for customer satisfaction. Because it is quick and lets you know whether or not the customer will recommend your brand to their friends and family.
In this online survey, users usually rate your services on a scale of 1 to 10, allowing you to compute customer loyalty and detraction.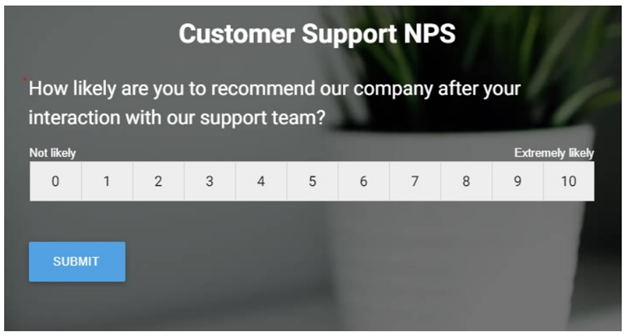 ---
Read More: Top Net Promoter Score Software for 2020
---
How to Implement the Feedback?
Once you have gathered all the necessary data related to customer feedback, it is time to implement the required changes to achieve the utmost level of customer satisfaction.
The first thing that you need to keep in mind is that you will not be able to take action on every single piece of feedback and that you'll need to filter the most relevant ones.

Keep a check on trends and check if there are any queries raised by multiple customers if yes, and then act accordingly.

Recognize the areas of improvement and align the respective department or team to make the changes.

Narrow down a list of prospective brand advocates and make them your loyal customers.

Always keep your employees motivated and well aware of the changes taking place.
Last but not least, when it comes to customer satisfaction, you need to understand that your customer care representatives/team know more about what precisely the customer wants. So, it's crucial to discuss future changes with them along with the product team.
It is highly recommended to go with an approach that matches your business goals . Going with an online survey tool, which has got it all, is the key to collecting customer feedback through multiple channels.
Try your hands on ProProfs Survey Maker because it's user friendly and can be managed using almost any kind of device like smartphones, tablets, and laptops. So, what are you waiting for? Explore the various features available on ProProfs Survey Maker and get mesmerized.
Do you want a free Survey Software
We have the world's most versatile survey tool starting at $0