Record detailed learning experiences & improve trainings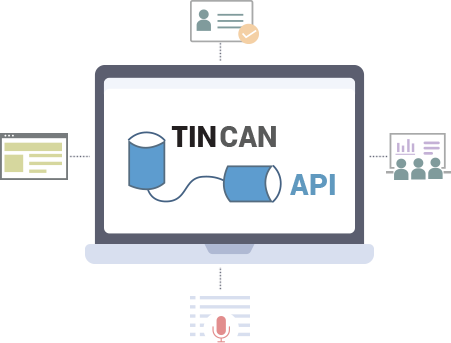 What is Tin Can API?
Tin Can API helps two different eLearning tools to talk to each other. It is a new and improved version of the older technical standard for eLearning tools known as Sharable Content Object Reference Model (SCORM). With SCORM, you can capture only certain data such as course completion and test scores.
Related Blog: What is Tin Can API
With Tin Can API you can do much more, such as:
Record every single interaction of learners with your course-content.
Identify not just who took your course but also whether they liked your course.
Assess the impact of training on learners by recording learning experiences.
Improve your course based on the data around learning experiences.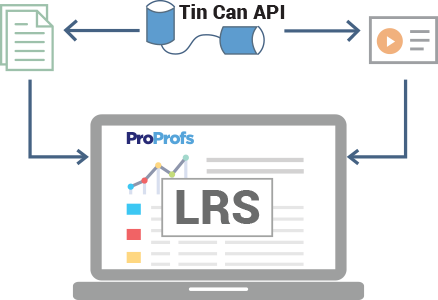 ProProfs as a Tin Can compliant LMS
ProProfs Tin Can LMS lets you track not just courses made in ProProfs Training Maker but also courses made in other elearning tools such as Articulate, Adobe Captivate, iSpring etc. When you upload your course to ProProfs Tin Can LMS, it is able to record learning experiences such as a chapter read or quiz taken by your learners, even if the course was created using other Tin Can LMS. The data is captured in a Learning Record Store (LRS) and provided in an easy to access report.
With ProProfs Tin Can LMS, you can:
Author courses.
Track courses made in ProProfs Training Maker & any other LMSs
Learn across different platforms.
Access the learning record store & reports.
Use ProProfs Training Maker as an authoring tool & LMS.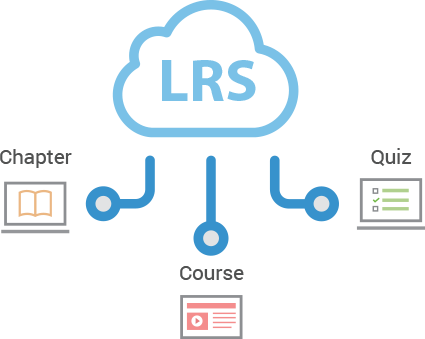 What is an LRS?
An LRS is defined "as a repository for learning records that can be accessed by an LMS or a reporting tool". In simpler words, it is a tool which stores learners' interactions with your course-content.
The data in an LRS tells you which learners read a chapter, took a particular quiz or watched a video in your course. For instance, when a learner say John takes your course, the data in the LRS may store Tin Can statements such as:
John read 'Chapter title'
John took 'Quiz title'
John watched 'Video title'
John attempted 'Course title'
All such interactions of learners are stored in the LRS as Tin Can statements.
What are Tin Can statements?
Tin Can statements consists of three parts of speech: Noun > Verb > Object (e.g. John > experienced > First Chapter). These statements help you identify learners' interactions with your course content.

Let's take the example of John's (your learner) interactions and possible Tin Can statements. To keep things simple, let's assume your course has:
John's Interactions
John opens his course welcome page
John reads the first chapter
John takes the test with 1 question, which he answers correctly.
He submits the test to complete the course.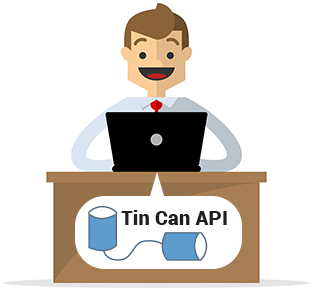 Tin Can Statements
John experienced ' Course Welcome Page'
John experienced 'First Chapter'
John experienced 'Question 1'
John experienced 'www.testurl.com'
John correctly answered 'question title'
John passed 'quiz title'
John attempted 'course title'
Integrate with other elearning tools

You can create a course in a different authoring tool and host it in a separate LMS. Using Tin Can API, the tools share data with each other, so that you can track the reports from a central location. As a result you can use multiple eLearning tools to create a successful training program.

Collect data from multiple devices

You can track the progress of learners across multiple devices. For instance, let's say a learner starts the course on a desktop, reads a part of it on a tablet, and finally finishes the course on a smartphone. You will be able to track all the activity of this learner, regardless of which device she uses to take the course.

Track scores of multiple tests

SCORM, allows you to track the test scores of learners for a particular course. With Tin Can, you can further track the scores of multiple tests (pre-training and post-training), which are not necessarily a part of the course or training:

Pre-training tests:

You can track the reports of pre-course or pre-training tests, which evaluate the knowledge and aptitude of learners before the training begins.

Post-training tests:

You can also track the reports of post-training tests, which help you identify the impact of the training program on learners.

Assess & improve training programs

You can track all and any interaction of learners with your course content, such as how many learners clicked a particular image or watched a certain video in your course. Such information helps you to accurately identify the impact of your course and improve your training programs
Top questions on Tin Can API
Can an LMS also serve as an LRS?
Yes. For instance, ProProfs LMS runs a native LRS which uses the LMS's reporting tools and provides you meaningful data around the activities of your learners.
Are Tin Can API, Experience API, XAPI, SCORM & AICC the same?
Yes and No
Experience API and XAPI are just synonyms of Tin Can API.
Sharable Content Object Reference Model (SCORM) is different because it was an eLearning standard before Tin Can API.
Similarly, Aviation Industry Computer-Based Training Committee (AICC) developed certain computing standards for the aviation industry, which was widely used by many Learning Management Systems as an alternative to SCORM.
When we say ProProfs is a Tin Can API compliant LMS, it means that ProProfs supports all of the above eLearning standards.
If my course is Tin Can compliant, is it automatically SCORM and AICC compliant?
A course which is Tin Can API compliant is automatically SCORM and AICC compliant. In fact, SCORM and AICC are outdated elearning standards and most eLearning companies have already replaced SCORM with Tin Can API.
All the courses you create with ProProfs Training Maker are Tin Can API Compliant, which automatically makes them SCORM and AICC compliant.
Do I really need my courses to be Tin Can API Compliant?
Today learning happens anytime and anywhere. You can learn a new concept by watching a YouTube video or reading a Facebook post. Similarly, you have the option of using different eLearning tools to create and host a course such as an authoring tool like Articulate Storyline and a Learning Management System like ProProfs LMS.
Alternately, you can use ProProfs Tin Can compliant LMS to create as well as host courses, in this case the data will be stored in ProProfs native LRS.
With Tin Can API compliance, you can effectively track the interaction of learners with different kinds of instructional content in your courses. Additionally, tracking the learning experiences across different technologies and separate platforms is also possible with Tin Can API.
Great for companies doing Online exams!

Painless to execute an exam to several 100 global employees!

Brenda Kesler,

Ph.D. Manager, Thermo Fisher Scientific

Drive up traffic & website engagement

ProProfs quiz maker is a great way to engage your visitors (most people will take the quiz, thus spend some time on your site and will be more willing to browse it further Quizzes are greatly shared and can be used to drive up traffic.

Ann Smarty,

Editor, Search Engine Journal